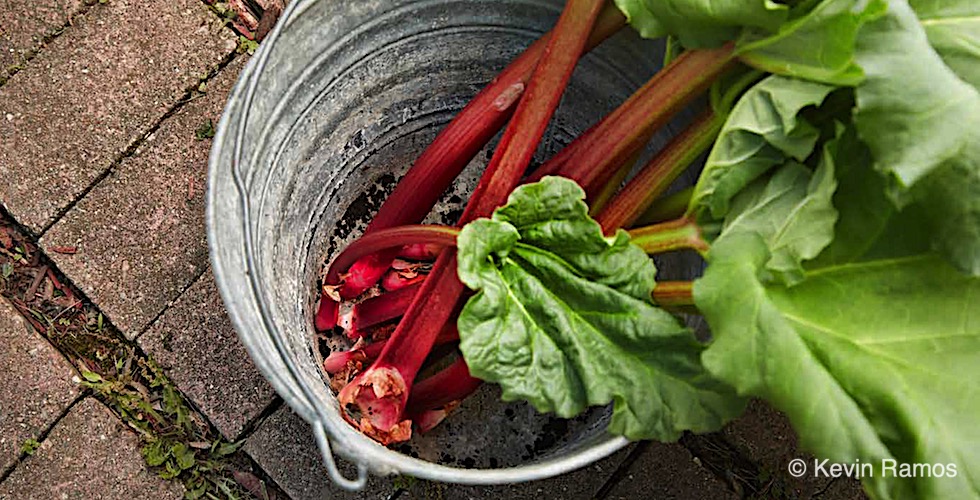 Rhubarb Cheesecake Fit for a Party
Posted on
February 15, 2019
Corrine Kozlak, author of our upcoming cooking book Rhubarb, shares with us this wonderful Rhubarb Cheesecake recipe.
Ingredients:
2 1⁄2 cups chopped rhubarb (4–6 stalks, cut into 1⁄2-inch pieces)
1 1⁄3 cups sugar, divided
2 tablespoons orange juice
2 cups crushed graham crackers (14 whole crackers)
1⁄4 cup butter, melted
4  packages of (8 ounce cream cheese each), softened and at room temperature
1⁄2 cup sour cream, at room temperature
1 tablespoon cornstarch
2 teaspoons vanilla extract
1⁄4 teaspoon salt
3 large eggs, at room temperature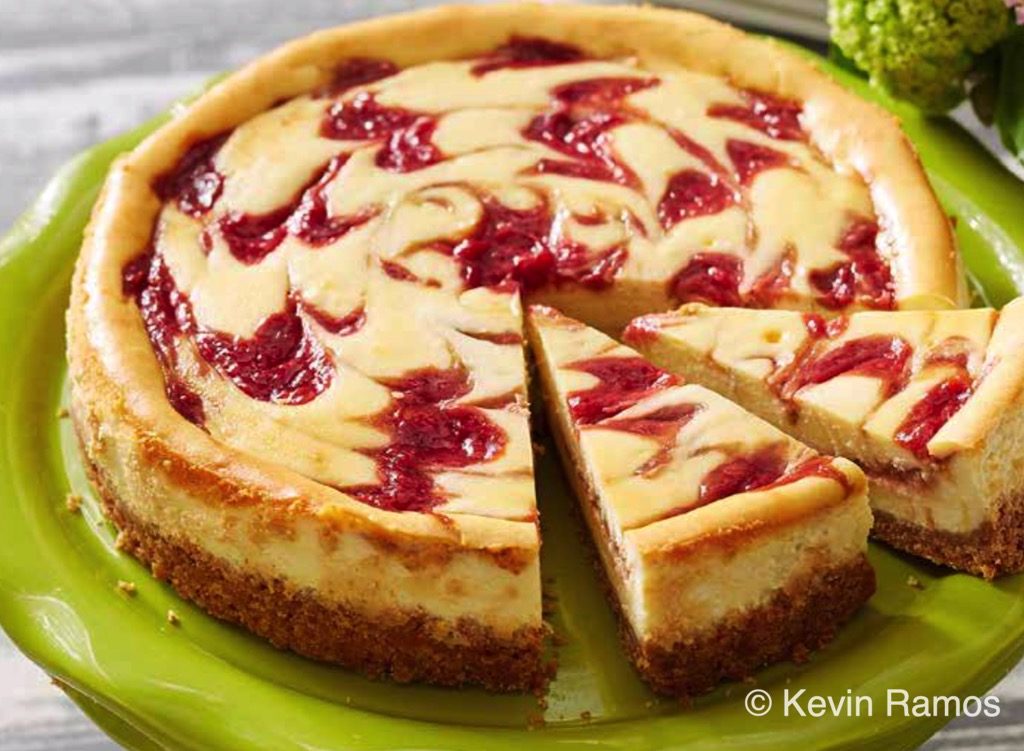 Let's put this Rhubarb Cheesecake Together!
Combine rhubarb, 1⁄3 cup sugar, and orange juice in a medium-size saucepan over medium-high heat; bring to a boil. Cook 10 minutes or until rhubarb is tender and sauce is thick. Remove rhubarb mixture from heat; cool.
In a medium-size bowl, combine graham crackers, 1⁄4 cup sugar, and butter; press mixture into the bottom of a 10-inch springform pan. Wrap outside of pan with aluminum foil.
Preheat oven to 350 degrees.
In the bowl of a stand-up electric mixer, beat cream cheese, sour cream, remaining 3⁄4 cup sugar, cornstarch, vanilla, and salt until well blended. Add eggs, one at a time, beating just until combined after each addition.
Pour half of cream cheese mixture into prepared crust in pan. Spoon 1 cup rhubarb mixture over cream cheese mixture, spreading evenly. Top with remaining half of cream cheese mixture. Dollop remaining rhubarb mixture on top. Gently swirl rhubarb mixture with a wooden skewer in an artful manner. Bake in a hot water bath or put a pan of hot water in the oven. Bake for 1 hour.
Tips & Tricks
It is essential that the eggs, sour cream, and cream cheese start at room temperature if you want to make a successful rhubarb cheesecake. I achieved my design by spooning 8 equal dollops of the rhubarb mixture on top (placing one in the middle) and then making smaller dollops in between the 8. I then used a wooden skewer to pull through the dollops (like cutting a pie), staying above the graham cracker crust. I then pulled the skewer through the dollops in three concentric circles.
Did You Know?
Native to Asia and now found around the world, rhubarb has been grown for medicinal purposes for centuries. Nonetheless, as a food, rhubarb is a relative newcomer; the first rhubarb crops grown as a food date back to the 1600s. The first recipes calling for rhubarb are even more recent, dating back to the early nineteenth century.
Photography courtesy of Kevin Ramos.
If you enjoyed this post, sign up for our newsletter now!