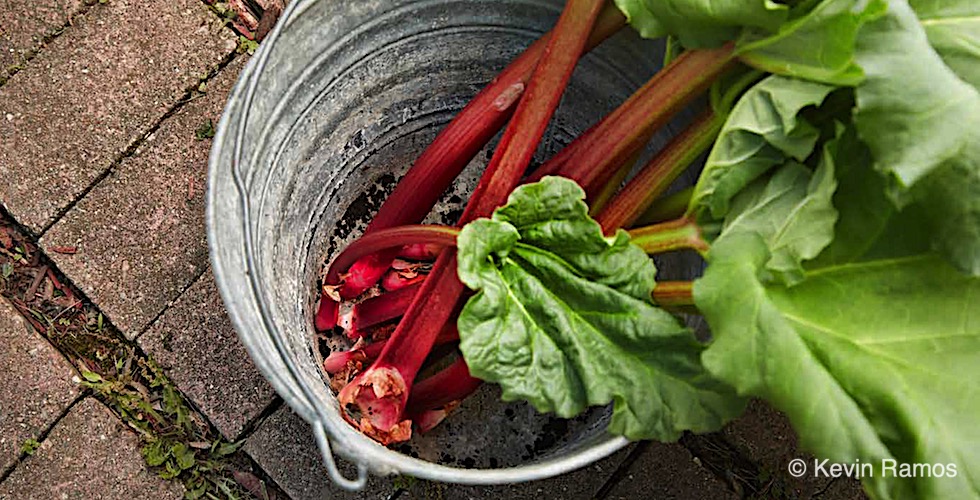 'Tis the Season for Rhubarb Festivals
Corrine Kozlak, the author of our cookbook Rhubarb: 50 Tried & True Recipes, loves rhubarb. Every year Corrine visits several rhubarb festivals, such as the Annual Rhubarb Festival in Lanesboro, Minnesota, and the Aledo Rhubarb Festival in Illinois.
At a past Lanesboro Rhubarb Festival her friends celebrated her birthday with a "Rhubarb Fashion Show Through the Decades." Check out this amazing photograph. Starting on the right side, the 50s are represented by Vicki in a black dress, holding the doll cake the author always wanted. The 60s are represented by "Peace Girl" Holly wearing a tie-dyed dress, flowers in her hair, and carrying a rhubarb peace pie. Janise sports the 70s in a disco-style pantsuit, complete with side ponytail and a lattice-topped rhubarb pie. The 80s, the decade when Corrine and her friends all got married, is represented by Bride Jackie with her lovely rhubarb leaf-and-flower bouquet. Karen, with her rhubarb-decorated cap, represents the running and exercising era of the 90s. Representing the 2000s is the author herself. Sporting a rhubarb-striped tunic she is holding a small rhubarb plant, soon to be installed in her organic garden.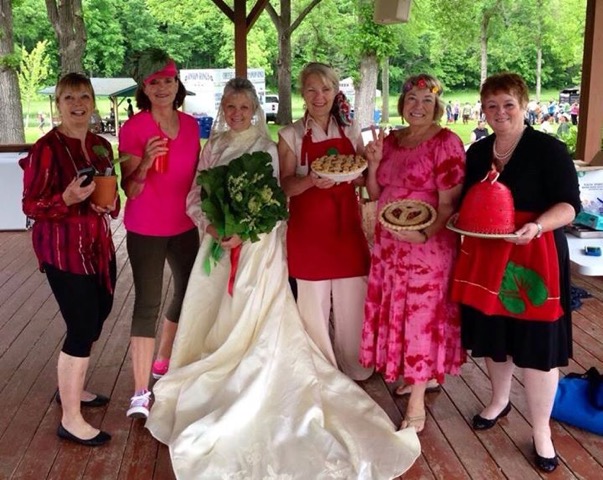 Now that we, hopefully, inspired you to check out your local rhubarb festivals, we also want to share one more of Corrine'"s recipes with you. We are sure that the Rhubarb-Strawberry French Toast, served in little ramekins, will be a great addition to your breakfast or brunch table.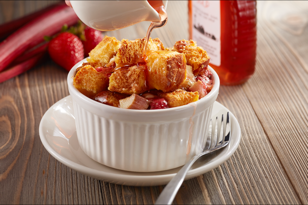 Makes 8-10 (8-ounce) ramekins 1-cup ramekins make for easy eating and a fun presentation. If you do not have them, a 9×13 baking pan will work too. (Cut into squares to serve.)
INGREDIENTS
1 stick butter, melted
12 slices or 12 ounces Challah or egg twist bread (toasted, if fresh), cut into ¾-inch cubes and divided
1 cup chopped rhubarb (about 2-3 medium-size stalks, cut into ½-inch pieces)
1 cup strawberries, quartered
1 (8-ounce) package cream cheese, cubed into 30 pieces
1 cup whole milk
1 cup half-and-half
9 eggs
1 teaspoon vanilla extract
¼ teaspoon salt
TOPPING
½ cup brown sugar
½ teaspoon cinnamon
HOW TO
Brush 8-10 ramekins with melted butter and place on a heavy baking sheet. Line ramekins with half of bread cubes. Layer evenly with rhubarb and strawberries; top each with 3 cream cheese cubes. Top with remaining bread cubes.
In a large measuring cup, combine milk and half-and-half; whisk in eggs, vanilla, and salt to combine. Pour milk mixture over bread cubes to coat (flipping bread pieces, if necessary).
To make topping, combine sugar and cinnamon; sprinkle evenly over bread mixture. Cover tightly with plastic wrap, and refrigerate overnight.
Preheat oven to 350°. Bake 25-30 minutes or until puffy and golden. Drizzle with warm maple or rhubarb syrup.
Love rhubarb? Check out Corrine's Rhubarb Cheesecake recipe. If you enjoyed this post, sign up for our newsletter now!