The Great Minnesota Hot Dish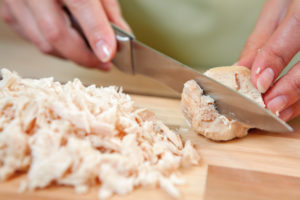 Hot dish is a tradition throughout the Midwest, but in Minnesota, it's legendary. In print since the year 2000, Theresa Millang's Great Minnesota Hot Dish has been the go-to source for this comfort food for years. Now it's getting the update that it deserves. Wholly revised and updated with a fresh design, the second edition includes new recipes, thanks to new coauthor and noted cook, Karen Corbett. The revised book also includes "make it modern" options to help freshen up traditional hot dish recipes. And if you want to avoid using condensed soups, there's a new section with recipes for making your own cream soups to use instead. So whether you want to make it like grandma made it, or make hot dish with a more modern flare, Great Minnesota Hot Dish has you covered. Here's a sample recipe for you to try out!
Cashew Chicken Hot Dish
Ingredients
2 tablespoons butter
4 boneless, skinless chicken breast halves, cut into cubes
1 medium-size onion, diced
1 (10-ounce) can sliced mushrooms, drained
1 cup long-grain white rice, uncooked
1 tablespoon chicken bouillon granules, mixed with 1 1/2 cups boiling water1 teaspoon ground ginger
2 cups broccoli pieces
1 cup cashew nuts, divided
Pinch ground black pepper
1 teaspoon soy sauce (optional)
Garnish: Parsley sprigs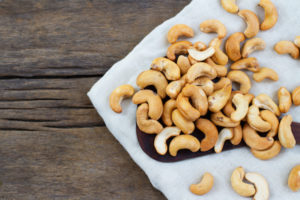 Preheat oven to 375˚F. Melt butter in a saucepan over medium heat; add chicken, and cook 5 minutes or until done. Spoon chicken into a lightly greased 2 1/2-quart round glass baking dish. Add on-ion, mushrooms, rice, bouillon mixture, and ginger; mix well.
Cover and bake 30 minutes. Stir in broccoli; bake 10 minutes or until vegetables are done. Remove from oven; let stand 5 minutes. Stir in 1/2 cup cashews, pepper, and, if desired, soy sauce. Sprinkle remaining 1/2 cup cashews on top. Place under broiler (uncovered) to brown. Remove from oven.
Garnish, if desired. Serves 4.

Note: Serve this hot dish with fresh matchstick carrots, an orange-pineapple molded gelatin salad, and crusty rolls.
Make It Modern: Substitute 8 ounces white or baby bella mushrooms sautéed in butter for canned mushrooms.
Looking for more delicious recipes? Check out this easy to make Caprese Salad Skewers.