Breakfast Hot Dish Great for a Lazy Morning
Posted on
November 8, 2017
Start the morning with a breakfast Hot Dish, or prepare one ahead of time for brunch. Here are two great recipes.
Spuds-Ham-Eggs Breakfast Hot Dish
Ingredients
1 (2-pound) bag frozen hash brown potatoes
2 cups diced cooked ham
2 cups shredded Swiss cheese
11/2 tablespoons butter
1 large red bell pepper, cut into
1/2-inch strips
1 (8-ounce) package fresh mushrooms, sliced
6 large eggs, lightly beaten
1/2 cup whole milk
1 cup cottage cheese
1/4 teaspoon ground black pepper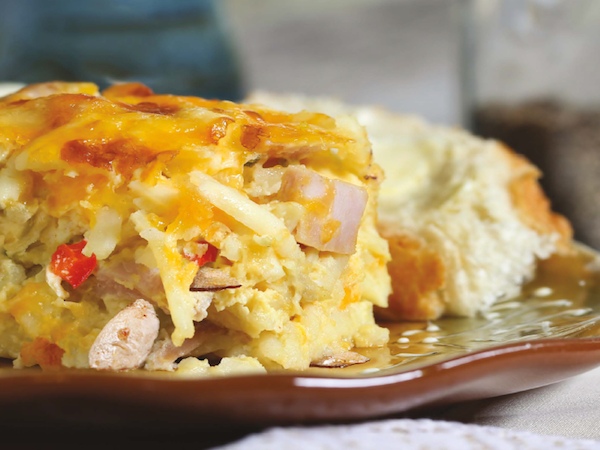 Preheat oven to 350˚F.
Layer 1/2 potatoes into a lightly greased 13x9x2-inch glass baking dish. Top with ham and cheese. Melt butter in a saucepan over medium heat. Add bell pepper and mushrooms; cook while stirring 5 minutes or until tender. Spoon mushroom mixture over cheese in baking dish; top with remaining 1/2 potatoes.
Combine eggs, milk, cottage cheese, and black pepper in a bowl; beat until well blended. Pour egg mixture over potatoes in baking dish. Bake, uncovered, 50 minutes or until light brown and center is set. Serves 8.
Egg and Sausage Breakfast Hot Dish
Ingredients
8 ounces sweet or hot Italian sausage, casings removed, crumbled
2 teaspoons olive oil
2 cups red bell pepper strips
2 medium-size onions, thinly sliced
1 teaspoon salt, divided
4 large eggs
5 cups whole milk
Pinch ground black pepper
1 (1-pound) loaf Italian bread,
sliced 1/2-inch thick and quartered
1 cup shredded Fontina cheese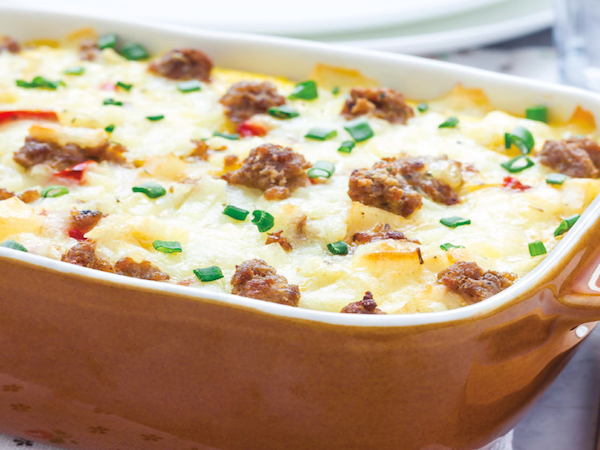 Preheat oven to 350˚F.
Cook sausage in a saucepan over medium heat until browned; drain, and remove sausage to a small bowl. Heat oil in saucepan. Add bell pepper, onion, and 1/4 teaspoon salt. Cook while stirring 15 minutes. Beat eggs, milk, remaining 3/4 teaspoon salt, and black pepper in a large bowl.
Place enough bread to cover bottom of a lightly greased 13x9x2-inch glass baking dish. Spread 1/2 onion mixture over bread; top with 1/2 sausage, and then sprinkle with 1/2 cheese. Pour 1/2 egg mixture over all. Repeat layers. Cover with plastic wrap; refrigerate overnight.
Remove from refrigerator 1 hour before baking. Discard plastic wrap. Cover with aluminum foil; bake 30 minutes. Uncover; bake 25 minutes. Serves 8.
Note: Both dishes are great for brunch or a light supper. Serve with salad and fresh fruit.
In print since the year 2000, Theresa Millang's Great Minnesota Hot Dish has been the go-to source for this comfort food for years. Updated with a fresh design and wholly revised, the second edition includes new recipes, thanks to new coauthor and noted cook Karen Corbett.
Looking for more delicious recipes? Check out this easy-to-make Cashew Chicken Hot Dish.