Favorite Tuna Hot Dish Recipe
Posted on
September 13, 2017
In Minnesota, there are hot dishes for different occasions. Here is a recipe for a yummy Tuna Hot Dish. The Minnesota Hot Dish is something most other folks would call a "casserole;" either way, it is a great recipe the entire family will enjoy.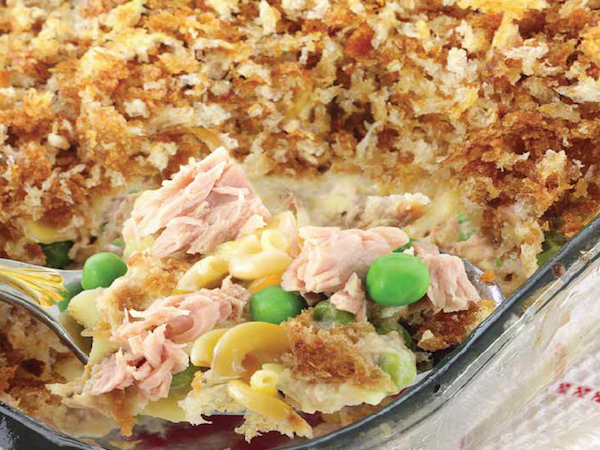 Ingredients
31/2 cups elbow macaroni, cooked 3 minutes less than package directions and drained
2 (4.5-ounce) cans solid tuna, drained
1 (8.5-ounce) can small peas, drained
1 tablespoon minced onion
11/4 cups crushed potato chips, divided
1 (101/2-ounce) can condensed cream of mushroom soup, undiluted
11/2 cups whole milk
Preheat oven to 350˚F.
Combine macaroni, tuna, peas, onion, and 1/2 cup potato chips in a buttered 2-quart glass baking dish. Bring soup and milk to a boil in a saucepan over medium heat, stirring constantly; pour soup mixture over macaroni mixture in baking dish. Top with remaining 3/4 cup potato chips. Bake, uncovered, 35 minutes or until hot. Serves 4.
Note: Theresa's husband's Aunt Mollie served this tuna hot dish to her when she first came to Minnesota as a bride. Aunt Mollie served it with a molded lime gelatin salad. Theresa liked to serve it with a mixed green salad. Both options are good.
Make It Modern
Substitute 11/4 cups Panko breadcrumbs for potato chips.
In Minnesota, there's the "company" hot dish, which has a more elegant presentation and may include seafood but not tuna. The "baby shower" hot dish may indeed contain tuna. Then there's the hot dish you serve at funerals, the contents of which depend upon your area. The "neighbor is sick" hot dish may contain ground beef and macaroni in tomato sauce. There's the "potluck" hot dish, which could be a bean or corn side-dish hot dish. There's the "brunch" hot dish with eggs, of course, or perhaps a bubbly fruit cobbler dessert hot dish. You are expected to serve bread and maybe a salad alongside a hot dish.
In print since the year 2000, Theresa Millang's Great Minnesota Hot Dish has been the go-to source for this comfort food for years. Updated with a fresh design and wholly revised, the second edition includes new recipes, thanks to new coauthor and noted cook Karen Corbett.
Looking for more delicious recipes? Check out this easy to make Cashew Chicken Hot Dish.