Baked Macaroni and Cheese with Chicken Hot Dish
Posted on
January 9, 2019
Here is a fabulous recipe for a baked macaroni and cheese with chicken hot dish from Theresa Millang and Karen Corbett's book The Great Minnesota Hot Dish. As the temperatures fall, hot dishes are the ideal way to lure your family to the the table.
Hot dish is a tradition throughout the Midwest, but, in Minnesota, it's legendary. In print since the year 2000, Theresa Millang's book has been the go-to source for this comfort food for years.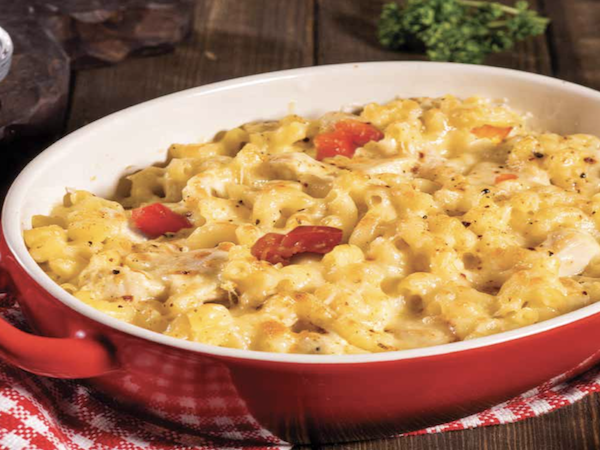 Macaroni and Cheese with Chicken Hot Dish
Ingredients
8 ounces elbow macaroni
2 tablespoons butter
2 cloves garlic, minced
1 (14.5-ounce) can diced tomatoes
1 pound Velveeta
1/2 cup sour cream
2/3 cup half-and-half
1 teaspoon ground cumin
1 teaspoon cayenne pepper
2–4 cups shredded rotisserie chicken
2 cups Cheddar cheese
Preheat oven to 400 ̊.
Cook macaroni; drain. Melt butter in a large skillet over medium heat. Stir in garlic, and cook 1 minute. Add diced tomatoes, and cook until liquid is evaporated. Shred Velveeta; stir into tomato mixture until cheese is melted. Stir in sour cream, half-and-half, cumin, pepper, chicken, and macaroni. Pour mixture into a lightly greased 13x9x2-inch baking dish. Sprinkle with Cheddar cheese. Bake 10 minutes. Serves 6.
Make It Modern: Substitute 2 diced fresh tomatoes for canned tomatoes.
Looking for more delicious recipes? Check out these easy-to-make dishes.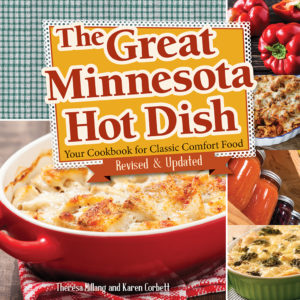 About the Authors: Theresa Millang was a popular and versatile cookbook author. She wrote successful cookbooks on muffins, brownies, pies, cookies, cheesecakes, casseroles, and Cajun food. She cooked on television and contributed many recipes to food articles throughout the USA. Her other cookbooks included the Fruits & Favorites Cookbooks series.
Karen Corbett loves to cook and bake. She was the baker at a public school, as well as head cook at a camp. When she is not cooking, Karen enjoys reading and quilting. She lives in Minnesota with her husband, Dan. They have two children and five grandchildren.
If you enjoyed this post, sign up for our newsletter now!