Cheesy Chicken Enchiladas Hot Dish
Posted on
November 1, 2017
The Minnesota Hot Dish is something most other folks would call a "casserole;" either way, the entire family will enjoy this Chicken Enchiladas Hot Dish recipe.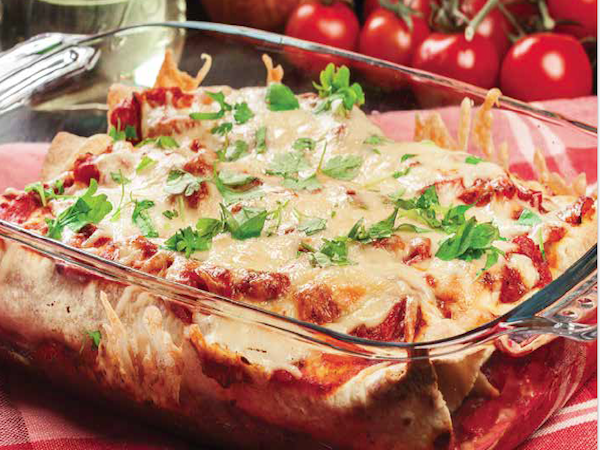 Ingredients
1 (8-ounce) jar Cheez Whiz, divided
1/3 cup sour cream
1/4 cup chopped green onion
1 teaspoon chili powder
2 cups shredded cooked chicken
6 flour tortillas
Salsa
Preheat oven to 350˚F. Mix together 1/3 cup Cheez Whiz, sour cream, onion, and chili powder in a large bowl. Stir in chicken. Spoon 1/3 cup chicken mixture onto each flour tortilla. Roll up. Place, seam sides down, in a lightly greased 11×13-inch baking dish. Top enchiladas with 1/2 cup salsa. Bake 25–30 minutes. Microwave remaining Cheese Whiz until hot, and pour over enchiladas. Serve with additional salsa. Serves 6.
Make Your Chicken Enchiladas Modern
Substitute 8 ounces freshly grated Chedda cheese for Cheez Whiz.
In Minnesota, there's the "company" hot dish, which has a more elegant presentation and may include seafood but not tuna. The "baby shower" hot dish may indeed contain tuna. Then there's the hot dish you serve at funerals, the contents of which depend upon your area. The "neighbor is sick" hot dish may contain ground beef and macaroni in tomato sauce. There's the "potluck" hot dish, which could be a bean or corn side-dish hot dish. There's the "brunch" hot dish with eggs, of course, or perhaps a bubbly fruit cobbler dessert hot dish. You are expected to serve bread and maybe a salad alongside a hot dish.
In print since the year 2000, Theresa Millang's Great Minnesota Hot Dish has been the go-to source for this comfort food for years. Updated with a fresh design and wholly revised, the second edition includes new recipes, thanks to new coauthor and noted cook Karen Corbett.
Looking for more delicious hot dish recipes? Check out these easy-to-make meals:
Cashew Chicken Hot Dish
Favorite Tuna Hot Dish