Easy to Prepare Grilled Buffalo Wings Recipe
Julia Rutland, author of The Campfire Foodie Cookbook: Simple Camping Recipes with Gourmet Appeal, shares with us her recipe for Grilled Buffalo Wings.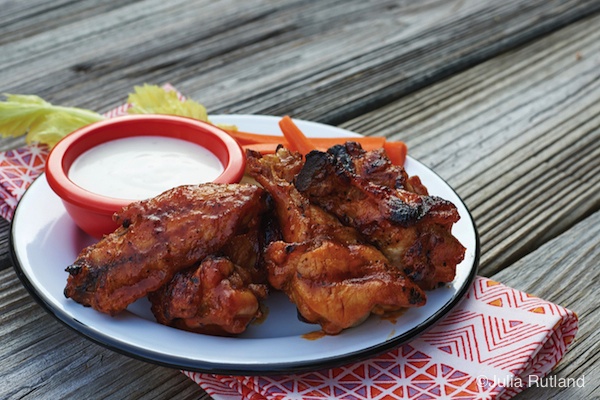 Ingredients:
3 pounds chicken drumettes and/or wings
1 1⁄2 teaspoons garlic salt or 1 teaspoon garlic powder and 1⁄2 teaspoon salt
4 tablespoons butter
1⁄3 cup hot sauce
1 tablespoon apple cider vinegar
1 tablespoon light brown sugar
Blue Cheese Dressing (recipe below)
Carrot and celery sticks
Prep at Home:
Separate chicken drumettes from wings, if necessary. Sprinkle evenly with garlic salt. Store in a large plastic storage bag or airtight container. Refrigerate at least 6 hours to overnight.
At Campsite:
Prepare a charcoal or gas grill for medium-high heat.
Grease grill grates thoroughly. Grill wings, covered with grill lid or foil, turning occasionally, for 20 to 25 minutes until golden brown with crisp skin. Meanwhile, melt butter in a saucepan. Stir in hot sauce, vinegar, and brown sugar. Set aside. Prepare Blue Cheese Dressing.
Remove from grill and toss in hot sauce mixture. Serve with dressing and carrot and celery sticks.
Blue Cheese Dressing to accompany Grilled Buffalo Wings:
Stir together 1⁄4 cup mayonnaise, 1⁄4 cup buttermilk, 2 teaspoons apple cider or white vinegar, 1⁄2 cup crumbled blue cheese, and salt and pepper to taste in a bowl, whisking until well blended. Makes about 3⁄4 cup.
If you liked this recipe check out Julia's English Muffulettas, Minnie Grilled Blackberry Cobbler, and Vegetarian Campfire Chili recipes.
The Campfire Foodie Cookbook: Simple Camping Recipes with Gourmet Appeal, by Julia Rutland, is a camper-friendly cookbook and comes with more than 100 delicious recipes with full-color photographs for every delicious dish.
About the author: Julia Rutland is a Northern Virginia-area food writer and recipe developer whose work appears regularly in publications and websites such as Weight Watchers books, Myfitnesspal.com, Southern Living magazine, Coastal Living magazine, and many others. She is the co-author of the Discover Dinnertime cookbook and contributes to many other cookbooks and websites. Julia serves on the local board of the Washington, D.C., chapter of Les Dames d'Escoffier and is a Certified Culinary Professional (CCP) with the International Association of Culinary Professionals.
Julia has visited all 50 states and camped with her family in most of them, sleeping in tents, campers, or occasionally just under the stars. Her kitchen gear takes up more space than the tent or other supplies because she feels that cooking outside is more fun than hiking. Julia lives in Purcellville, Virginia, with her husband, two daughters, a cat, a couple of dogs, too many chickens, and whatever animals decide to adopt her family.