Mini Grilled Blackberry Cobbler—A Campfire Foodie Recipe
Julia Rutland, author of The Campfire Foodie Cookbook: Simple Camping Recipes with Gourmet Appeal, shares with us her recipe for Mini Grilled Blackberry Cobbler.
I always make sure I have extra Basic Baking Mix in my supplies, in case I run across a bounty of fresh berries. This recipe is very forgiving if pickings are slim or the berries don't make it back to the campsite—you end up with a more cake-like dessert. The nuttier texture of whole wheat pairs well with the berries, but use plain if you prefer.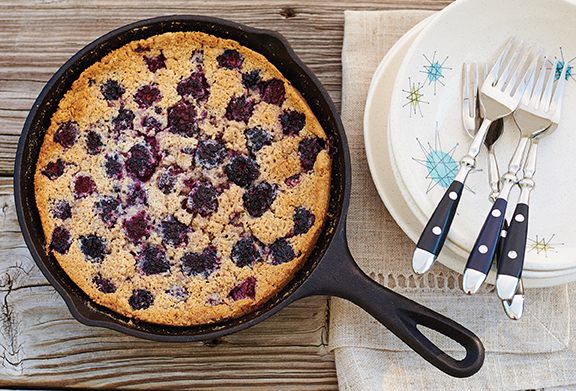 Ingredients:
2 cups fresh or 2 (6-ounce) containers fresh blackberries or raspberries
1/2 plus 2 tablespoons sugar, divided
3 tablespoons butter
¼ cup Whole Wheat or Basic Baking Mix
2/3 cup milk 
Prep at Home:
Prepare baking mix and combine with 1⁄2 cup sugar; label and store in an airtight container.
At Campsite:
Prepare a charcoal fire or a gas grill with lid for indirect heat. Wash berries; drain but do not pat dry (the moisture will allow the sugar to stick to the fruit). Combine berries and 2 tablespoons sugar in a bowl or plastic bag; set aside.
Melt butter in an 8-inch cast-iron skillet. Combine baking mix with 1⁄2 cup sugar and milk in a bowl. Pour batter into skillet over melted butter, stirring gently to combine. Sprinkle fruit evenly on top. Grill over indirect heat, covered with grill lid, 40 minutes or until batter has risen and center is done. Let stand 5 minutes. Serve warm or chilled.
Basic Baking Mix recipe—4 cups
Ingredients:
4 cups all-purpose flour
2 tablespoons baking powder
2 tablespoons sugar
1 teaspoon salt
1⁄2 cup vegetable shortening
Prep at Home:
Combine flour, baking powder, sugar, and salt in a food processor. Add shortening; pulse until mixture resembles coarse meal.
Note: If you don't have a food processor, combine flour, baking powder, sugar, and salt in a large bowl. Add shortening; blend with a pastry blender or fork. Mixture will be slightly lumpy. Store in an airtight container up to 3 months.
Variations:
Real Butter Baking Mix: Substitute butter for vegetable shortening. Store in an airtight container.
If you liked this recipe you may like her English Muffulettas and Vegetarian Campfire Chili recipes.