Vegetarian Campfire Chili—A Campfire Foodie Recipe
Check out this fabulous Vegetarian Campfire Chili recipe by Julia Rutland, author of The Campfire Foodie Cookbook: Simple Camping Recipes with Gourmet Appeal.
Chipotle-flavored meatless crumbles add heat, but any kind works well. You can also prepare this with ground beef, ground chicken, or ground turkey. Cook any of these ground meats with the onion and bell peppers until browned and crumbly. Add toppings such as sour cream and shredded cheese, if desired.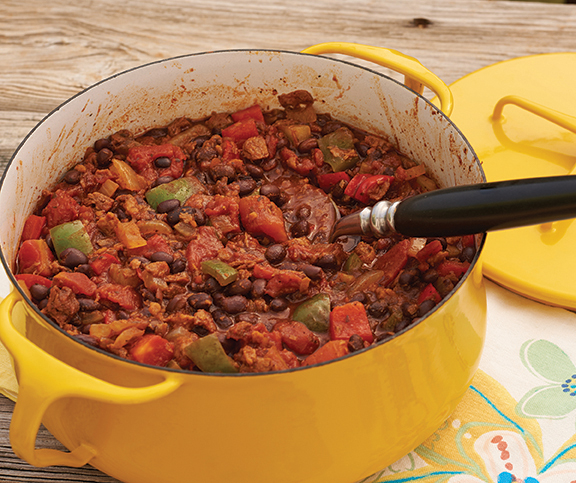 Ingredients:
2 tablespoons olive oil
1 onion, chopped
1 red bell pepper, chopped
1 green bell pepper, chopped
1 (12-ounce) package frozen and thawed meatless crumbles
2 tablespoons Mexican or Taco Seasoning Blend (recipe below) or 1.7-ounce chili seasoning mix
2 (14-ounce) cans diced tomatoes (chili seasoned or plain), undrained
2 (14-ounce) can dark or light kidney beans, rinsed and drained
Worcestershire sauce
Prep at Home:
Chop onion and bell peppers; store in an airtight container in the refrigerator.
At Campsite:
Prepare a charcoal or gas grill, wood campfire, or assemble a camp cookstove. Heat oil in a 10- or 12-quart Dutch oven or soup pot. Add onion and bell peppers; cook 5 minutes, stirring occasionally. Stir in meatless crumbles, seasoning, tomatoes, beans, and Worcestershire sauce. Cook 15 to 20 minutes, stirring occasionally.
Tip: You can also make this chili up to 3 days ahead and reheat in a heavy pan at the campsite. For backpackers or solo meals, spoon individual servings into heavy-duty plastic storage bags and freeze.
Mexican or Taco Seasoning Blend
Ingredients for 2/3 cup:
1⁄4 cup chili powder
1⁄4 cup ground cumin
1 tablespoon garlic powder
1 tablespoon kosher salt
1 teaspoon ground coriander
1 teaspoon dried oregano
1⁄2 to 1 teaspoon cayenne pepper or crushed red pepper flakes
Combine all ingredients; store in an airtight container.
About the author: Julia Rutland is a Northern Virginia-area food writer and recipe developer whose work appears regularly in publications and websites such as Weight Watchers books, Myfitnesspal.com, Southern Living magazine, Coastal Living magazine, and many others. She is the co-author of the Discover Dinnertime cookbook and contributes to many other cookbooks and websites. Julia serves on the local board of the Washington, D.C., chapter of Les Dames d'Escoffier and is a Certified Culinary Professional (CCP) with the International Association of Culinary Professionals.
Julia has visited all 50 states and camped with her family in most of them, sleeping in tents, campers, or occasionally just under the stars. Her kitchen gear takes up more space than the tent or other supplies because she feels that cooking outside is more fun than hiking. Julia lives in Purcellville, Virginia, with her husband, two daughters, a cat, a couple of dogs, too many chickens, and whatever animals decide to adopt her family.
If you liked this recipe you may like her English Muffulettas and Mini Grilled Blackberry Cobbler recipes.