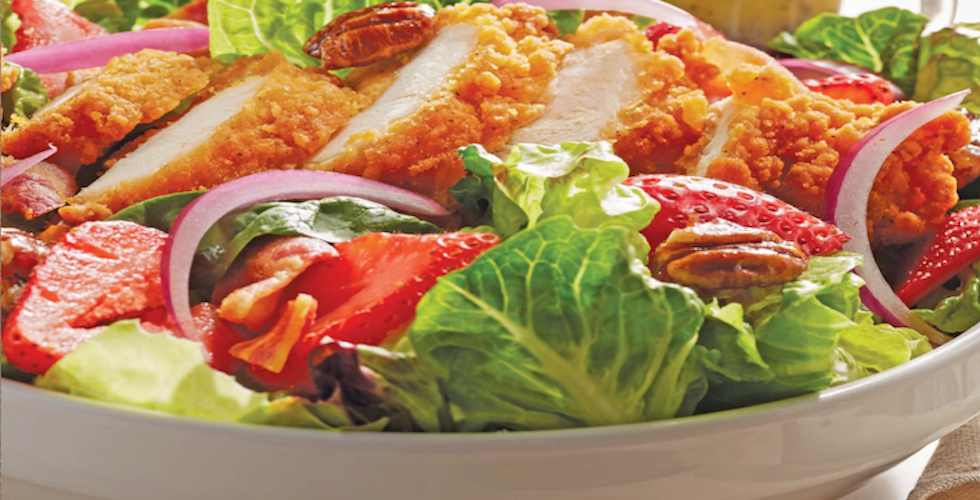 Fresh and Tasty Chicken Salad with Citrus Dressing
In her book Strawberries: 50 Tried & True Recipes, Corrine Kozlak recommends a fresh-and-tasty chicken salad for a casual weeknight dinner. If you are super busy, substitute your favorite store-bought dressing.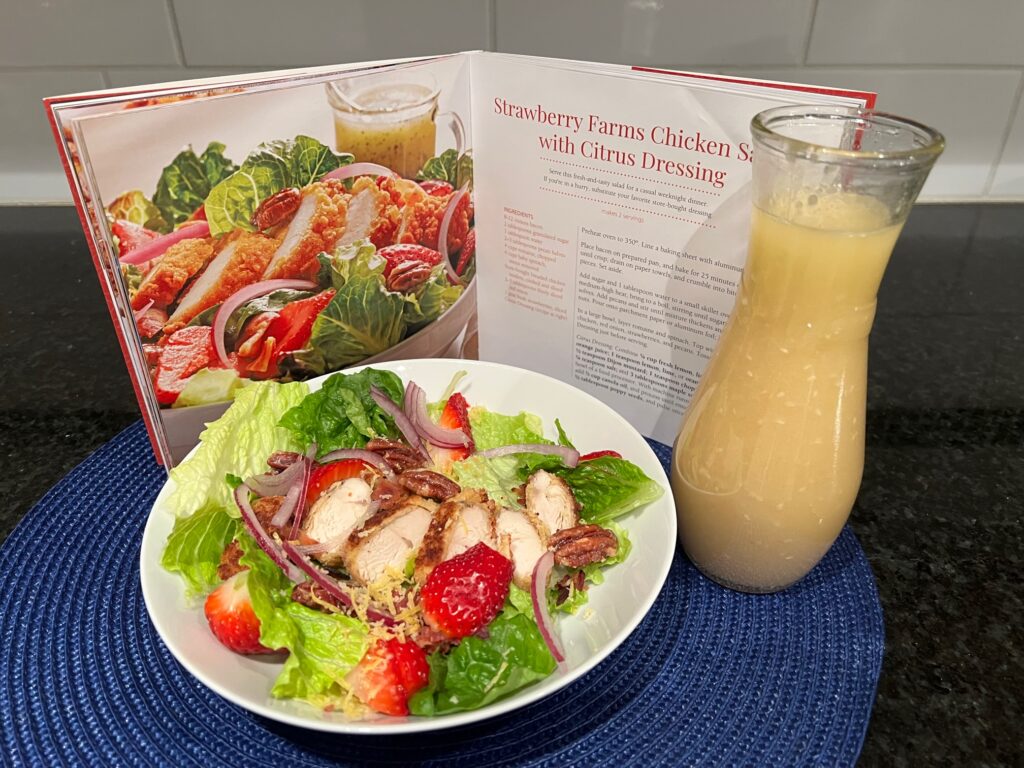 INGREDIENTS
8-12 ounces bacon
2 tablespoons granulated sugar
1 tablespoon water
2–3 tablespoons pecan halves
4 cups romaine, chopped
4 cups baby spinach, stems removed
Store-bought breaded chicken tenders, cooked and sliced
2–3 tablespoons thinly sliced red onion
1 pint fresh strawberries, sliced
Citrus Dressing (recipe below)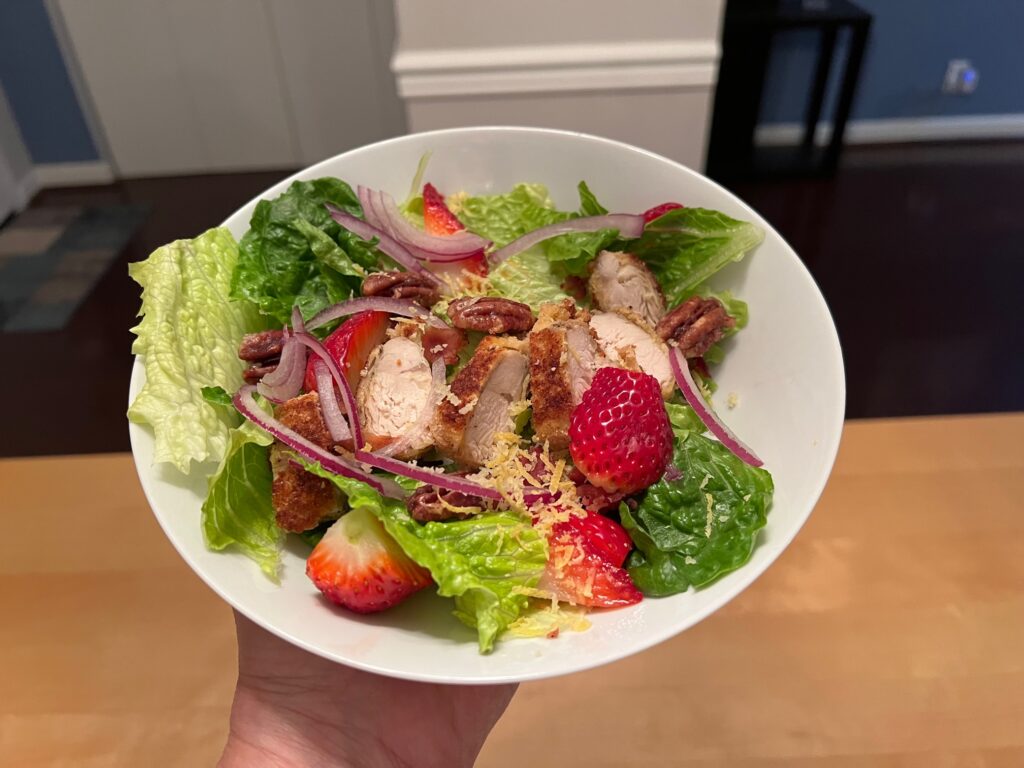 HOW TO
Preheat oven to 350°. Line a baking sheet with aluminum foil.
Place bacon on prepared pan, and bake for 25 minutes or until crisp; drain on paper towels, and crumble into bite-size pieces. Set aside.
Add sugar and 1 tablespoon water to a small skillet over medium-high heat; bring to a boil, stirring until sugar dissolves. Add pecans and stir until mixture thickens and coats nuts. Pour onto parchment paper or aluminum foil; let cool.
In a large bowl, layer romaine and spinach. Top with bacon, chicken, red onion, strawberries, and pecans. Toss with Citrus Dressing just before serving.
Citrus Dressing
Combine 1⁄4 cup fresh lemon, lime, or orange juice; 1 teaspoon lemon, lime, or orange zest; 1⁄2 teaspoon Dijon mustard; 1 teaspoon chopped onion; 1⁄4 teaspoon salt; and 3 tablespoons maple syrup in the bowl of a food processor. With machine running, slowly add 1⁄3 cup canola oil, and process until emulsified. Add 1⁄2 tablespoon poppy seeds, and pulse once.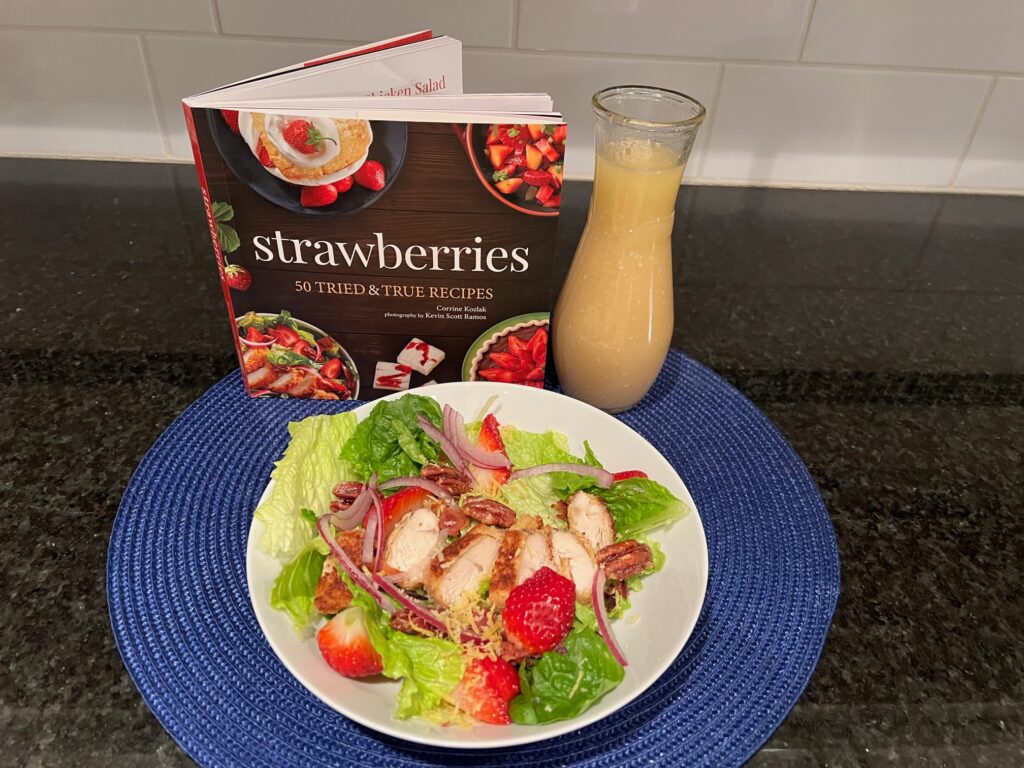 Strawberries: 50 Tried & True Recipes will be available April 11th. Pre-order your copy now. You can also try your luck at our giveaway. Check it out here!
Strawberries: 50 Tried & True Recipes is part of the Adventure Publications Nature's Favorite Foods cookbook series, which includes Rhubarb and Maple Syrup by Corrine Kozlak, as well as Tomatoes, Blueberries, Squash, Apples, Honey, and Eggs by Julia Rutland.
If you enjoyed this post, sign up for our newsletter.