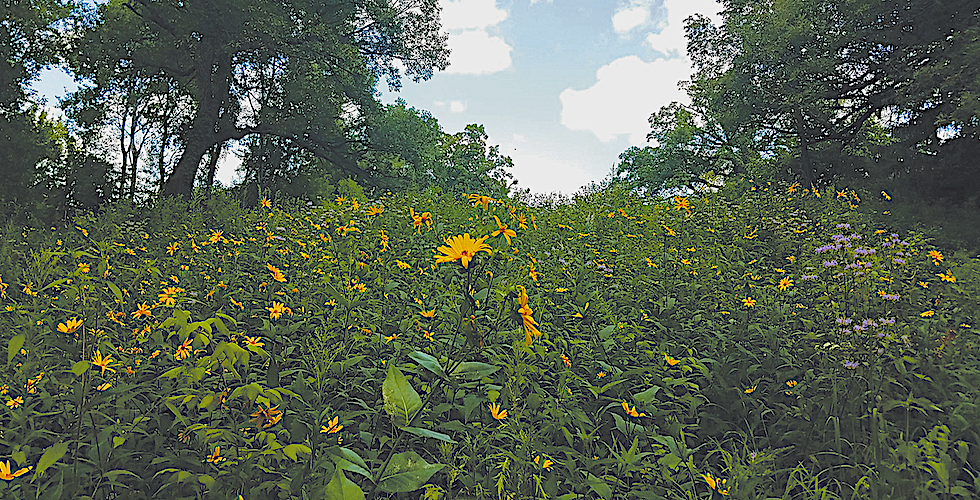 Native Plant Gardening for Birds, Bees & Butterflies in the Upper Midwest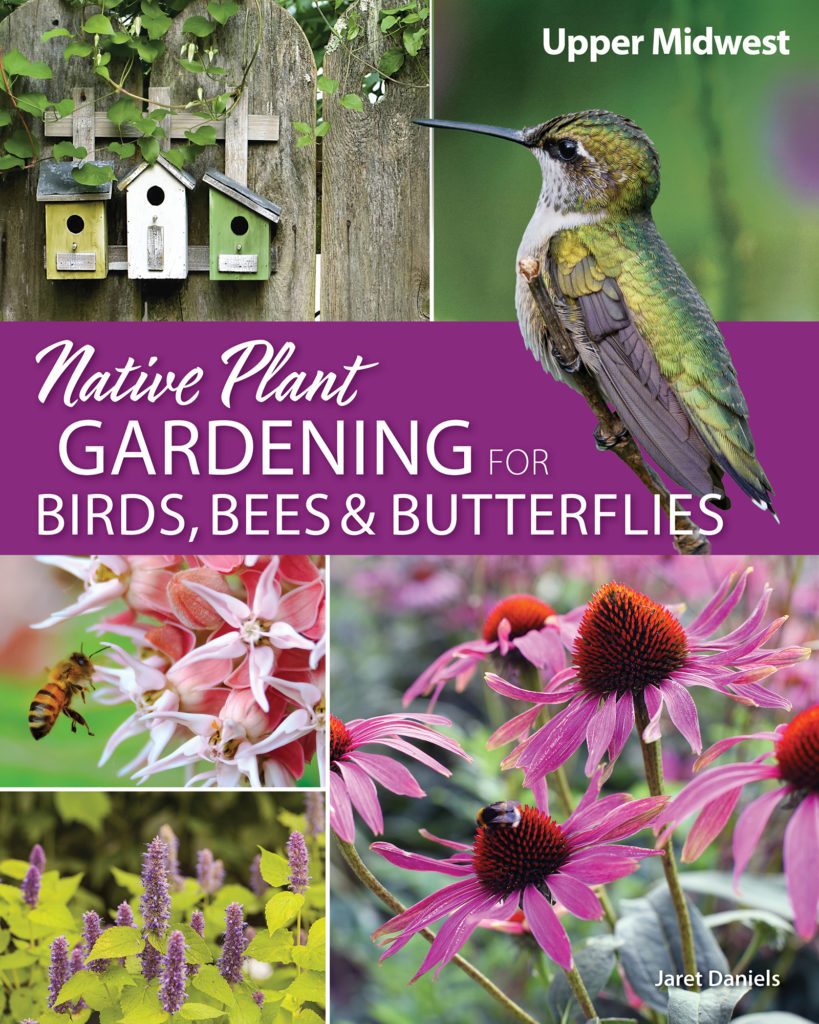 The presence of birds, bees, and butterflies suggests a healthy, eco-friendly place. These most welcome guests also bring joy to those who appreciate watching them. Now, you can turn your yard into a perfect habitat that attracts these creatures and, more importantly, helps them thrive. Acclaimed author and expert entomologist Jaret C. Daniels, author of Native Plant Gardening for Birds, Bees, & Butterflies: Upper Midwest, provides all the information you need in his new guide for Illinois, Indiana, Iowa, Michigan, Minnesota, North Dakota, South Dakota, and Wisconsin.
We at Adventure Publications hope all our readers and their loved ones, remain healthy and safe. Without intending to trivialize the current crisis, we will continue to post positive stories in hopes of bringing some joy into your home as a welcome distraction during these trying times.
Learn how native plant gardening can help you to attract pollinators to your backyard. Today let's look at some of the native plants that are widely available.
As its name suggests, the woodland sunflower is a widespread and common wildflower of dry, open woodlands, forest clearings, and forest borders. The stiff, slender stems boast rough yellow-green leaves and add both height and texture to shadier areas of the landscape.
In late summer, the statuesque plants begin producing numerous golden flowers that brighten wooded sites or nearby meadows. The attractive characteristic sunflower blooms are frequently visited by a variety of insect pollinators. Woodland sunflower spreads vigorously via underground rhizomes and expands into sizable colonies, making the species useful for naturalizing. Its aggressive nature can quickly overwhelm smaller garden spaces.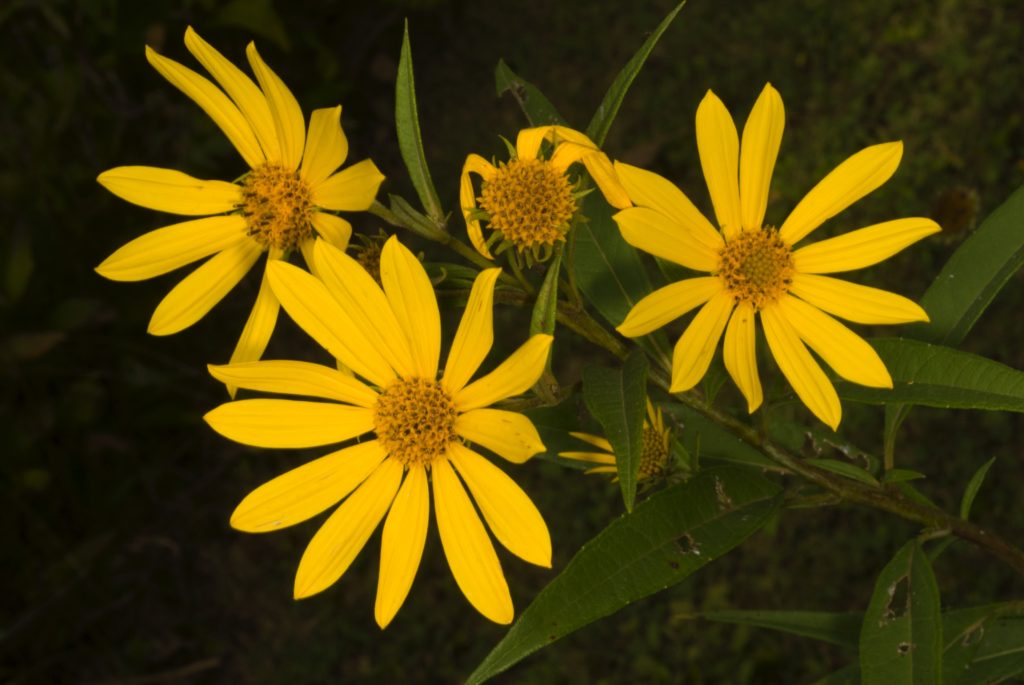 The blue mistflower, also called hardy ageratum, thrives in perpetually moist locations but is adaptable to garden settings as long as the soil is rich with organic material and it's regularly irrigated. Established plants can tolerate some drought, especially in partially shaded areas, but they perform poorly without consistent moisture.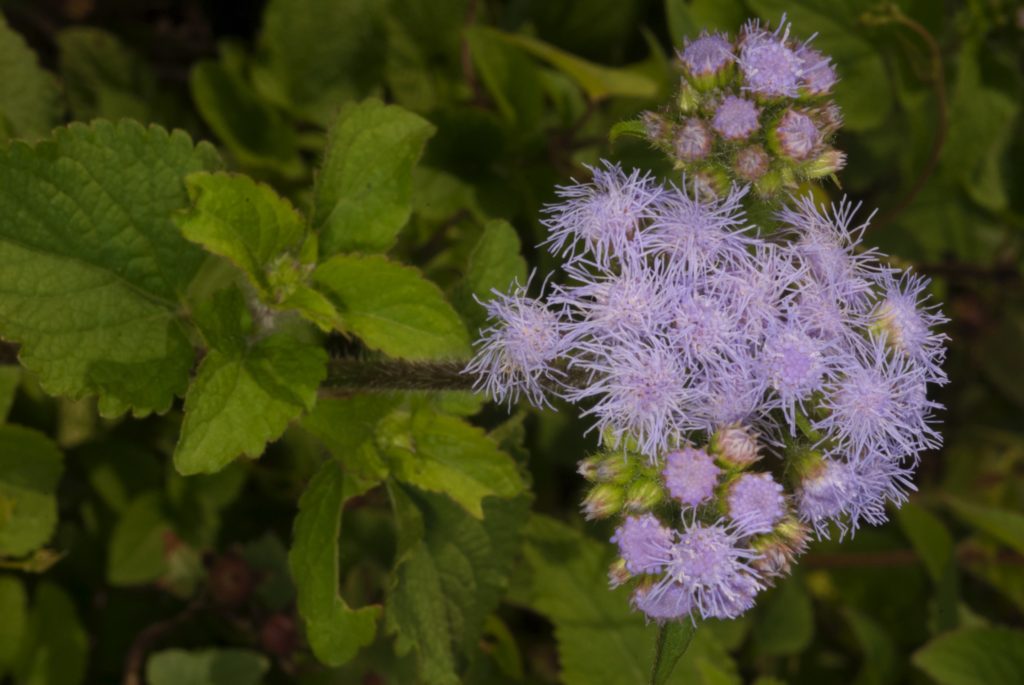 A somewhat weedy plant for small spaces, blue mistflower spreads aggressively via underground rhizomes or seed, often forming dense stands. This growth habit makes it an excellent choice for naturalizing in wetland gardens, open woodlands, or along streams or ponds. A late-season bloomer, its plants produce a profusion of dense, powdery-blue flower clusters that are highly enticing to a wide range of insect pollinators.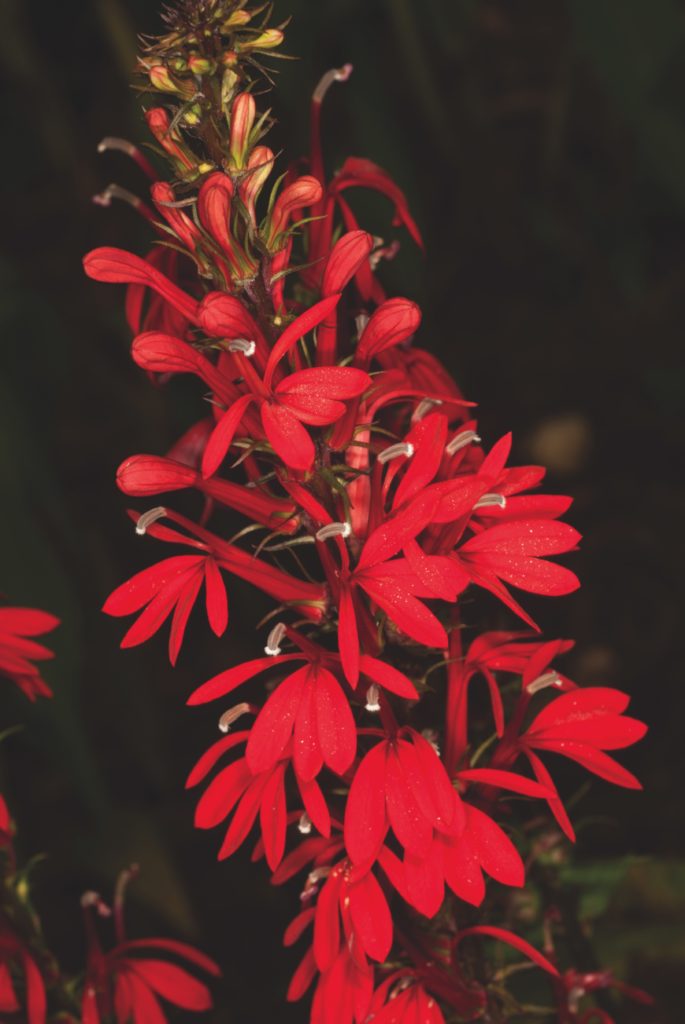 The cardinal flower is named for its vibrant cardinal-red tubular blossoms that are a favorite of ruby-throated hummingbirds. Some larger butterflies, such as swallowtails, also frequent the blossoms. A moisture-loving perennial, it is a showy addition to regularly soggy sites, rain or wetland gardens, or pond and stream borders. It is adaptable to more traditional perennial garden settings with fertile, highly organic soil as long as regular irrigation is provided. It is intolerant of drought, and sites where it is planted should not be allowed to dry out.
Plants are short-lived and typically persist for only a few years, but they freely self-seed as well as reproduce via basal offshoots. The resulting seedlings and young plants grow quickly. Winter mulching is beneficial to help provide insulation from temperature extremes. Cardinal flower is generally deer resistant.
About the author of Native Plant Gardening for Birds, Bees, & Butterflies: Upper Midwest: Jaret C. Daniels is a professional nature photographer, author, native plant enthusiast, and entomologist at the University of Florida, specializing in insect ecology and conservation. He has authored numerous scientific papers, popular articles, and books on gardening, wildlife conservation, insects, and butterflies, including butterfly field guides for Florida, Georgia, the Carolinas, Ohio, and Michigan. He is also coauthor of Wildflowers of Florida Field Guide and Wildflowers of the Southeast Field Guide. Jaret currently lives in Gainesville, Florida, with his wife, Stephanie.
Native Plant Gardening for Birds, Bees, & Butterflies: Upper Midwest, is part our Nature-Friendly Garden series. Also available areNative Native Plant Gardening for Birds, Bees & Butterflies: Southwest ; and Native Plant Gardening for Birds, Bees & Butterflies: Southeast.
If you enjoyed this post, sign up for our newsletter now!