Double-Crust Lattice Blueberry Pie
Posted on
September 3, 2019
Julia Rutland, author of Blueberries: 50 Tried & True Recipes, shares with us her Double-Crust Lattice Blueberry Pie recipe. We loved this pie so much we gave it a try. Though it was extra work, we chose to make our own dough, and we even made mini pies for a party.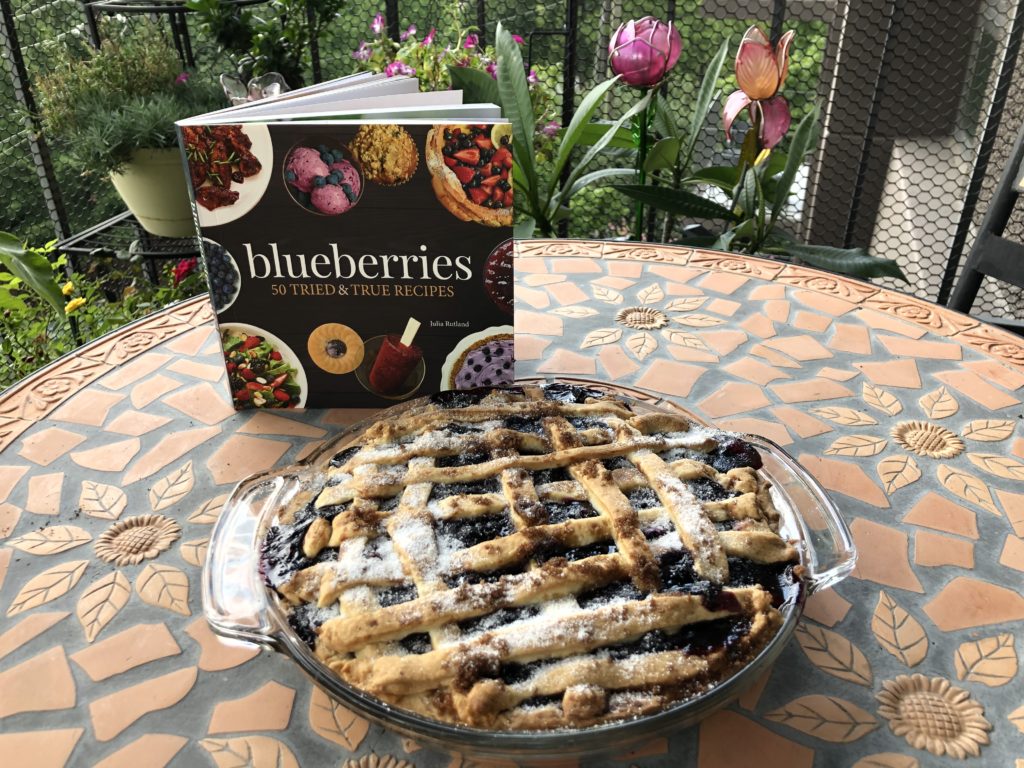 INGREDIENTS
4 cups fresh blueberries, divided
3⁄4 cup granulated sugar
1 teaspoon lemon zest
2 tablespoons fresh lemon juice
3 tablespoons cornstarch
2 tablespoons water
1 tablespoon butter
Double-Crust Pastry Dough or 1 package store-bought refrigerated piecrusts
1 egg, lightly beaten
Sparkling or turbinado sugar (optional)
HOMEMADE DOUBLE-CRUST PASTRY DOUGH
If you want to make your own dough, and we did, here is how to do so. Combine 3 cups all-purpose flour, 2 tablespoons sugar, and 1⁄2 teaspoon salt in a food processor, pulsing until blended. Add 1 cup cold butter, cut into pieces; pulse until mixture resembles coarse sand. Combine 1⁄2 cup cold water and 2 teaspoons vinegar. Sprinkle half of water mixture over flour mixture; pulse to combine. Sprinkle in remaining water mixture; pulse until mixture comes together. Transfer to a lightly floured surface; press together until blended. Roll into 2 disks and wrap with plastic wrap. Chill 1 hour.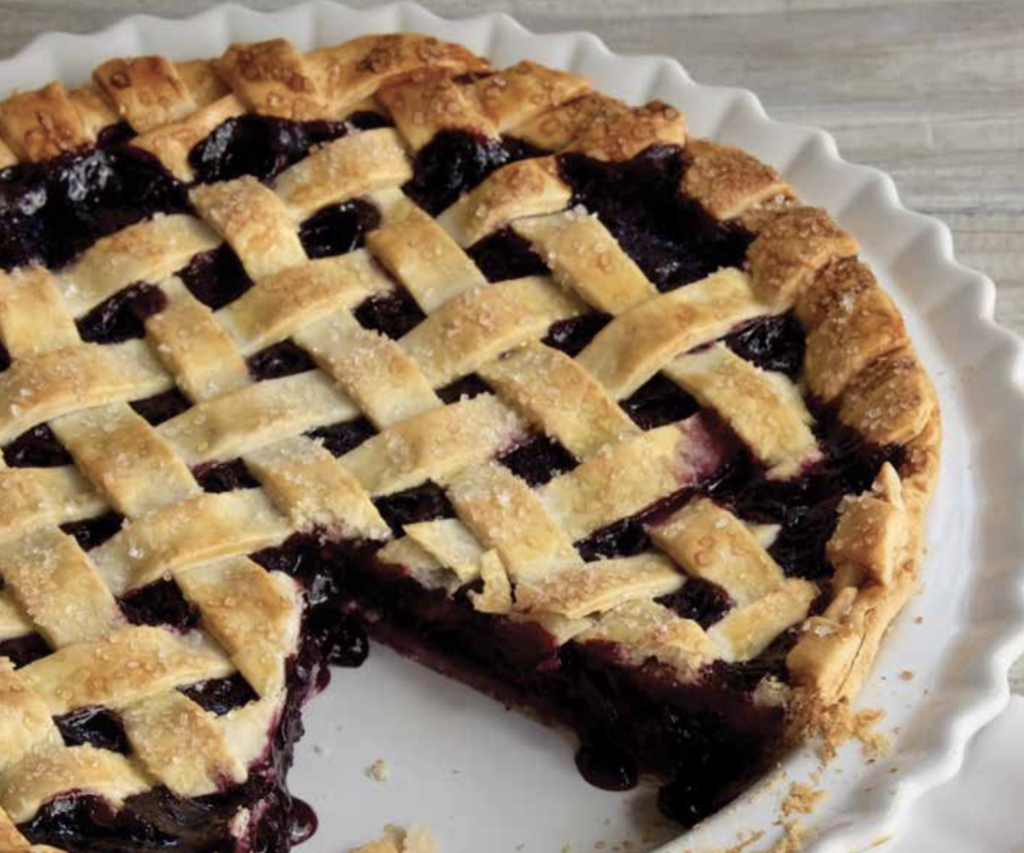 DIRECTIONS FOR BLUEBERRY PIE
Combine 2 cups blueberries (frozen are okay here), granulated sugar, zest, and juice in a small saucepan. Cook over medium heat 8 to 10 minutes, pressing berries against pan with the back of a spoon to crush. Combine cornstarch with 2 tablespoons water in a small bowl; stir into berry mixture. Bring to a boil; reduce heat and simmer 2 minutes or until thickened. Remove from heat and add butter, stirring until well blended. Stir in remaining 2 cups fresh blueberries. Set filling aside.

Preheat oven to 375°.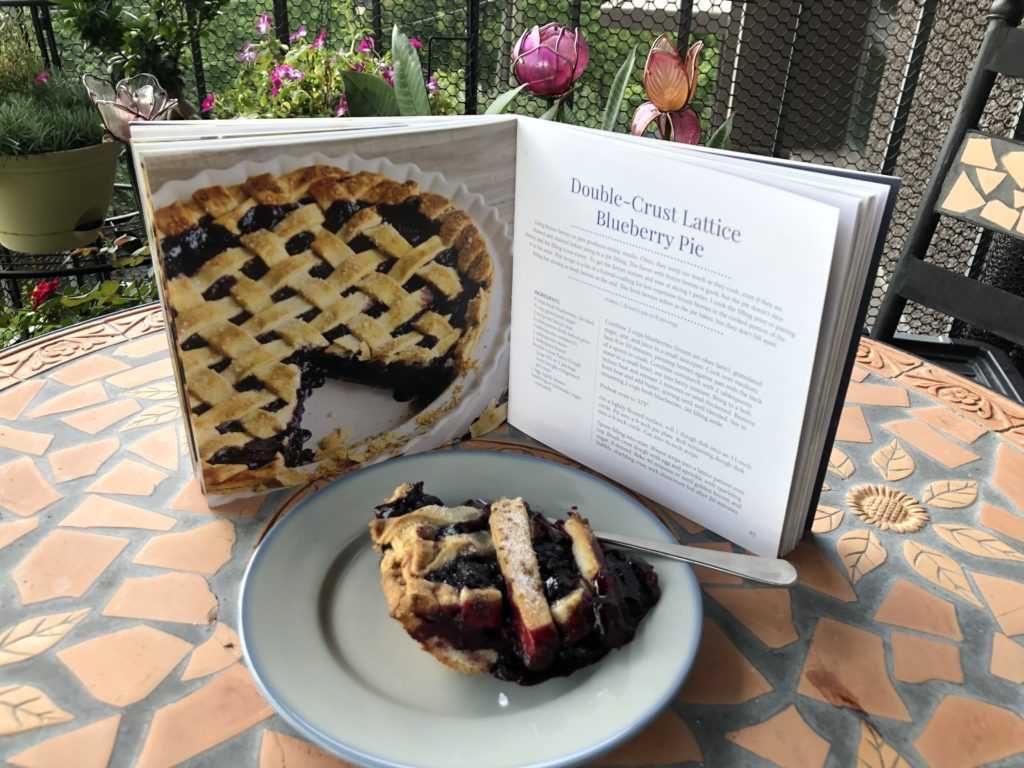 On a lightly floured surface, roll 1 dough disk into an 11-inch circle. Fit into a 9-inch pie plate. Roll remaining dough disk into a 9-inch circle. Cut into 3⁄4-inch strips. Spoon filling into crust. Weave strips into a lattice pattern over top. Brush crust dough with egg and sprinkle with sparkling sugar, if desired. Bake 40 minutes or until golden brown and bubbly, shielding crust with aluminum foil after 20 minutes.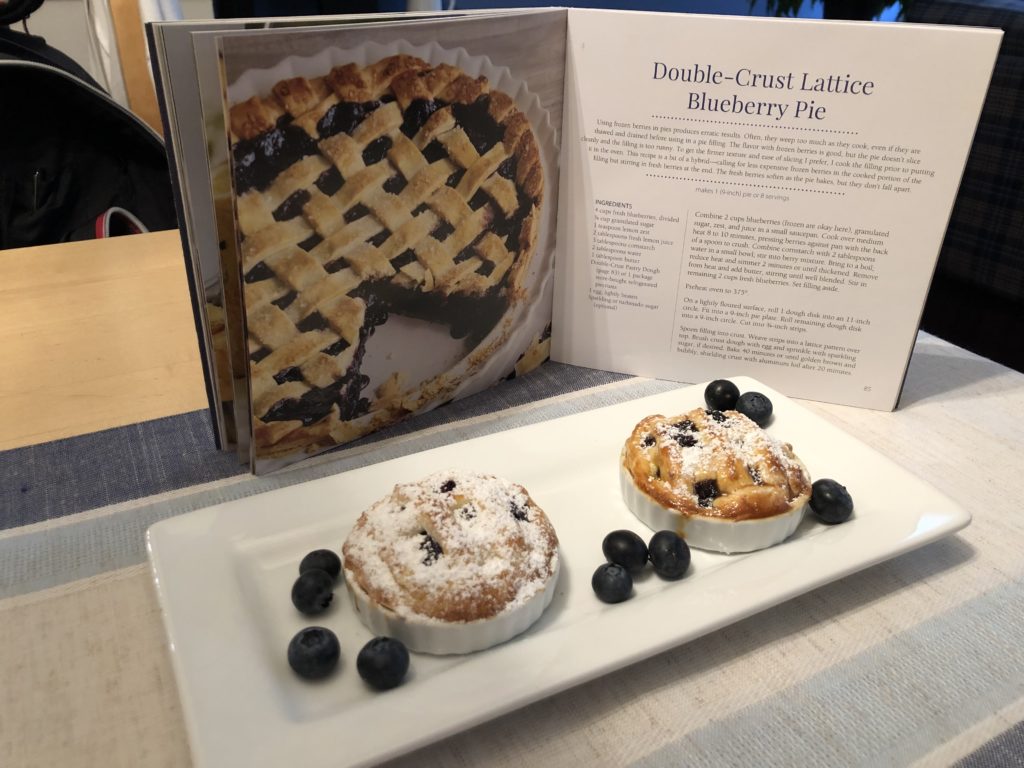 GOOD TO KNOW
Using frozen berries in pies produces erratic results. Often, they weep too much as they cook, even if they are thawed and drained before using in a pie filling. The flavor with frozen berries is good, but the pie doesn't slice cleanly and the filling is too runny. To get the firmer texture and ease of slicing I prefer, I cook the filling prior to putting it in the oven.
This recipe is a bit of a hybrid—calling for less expensive frozen berries in the cooked portion of the filling but stirring in fresh berries at the end. The fresh berries soften as the pie bakes, but they don't fall apart.
You may also want to try these blueberry summer drinks, plus Julia's recipes for Blueberry-Orange Bread and sunny Linzer. For more delicious recipes, consider Blueberries: 50 Tried & True Recipes, a cookbook by Julia Rutland.