Bird Trivia: Amazing Facts to Wow Any Bird Lover
Posted on
September 5, 2018
Bird Trivia: Funny, Strange, and Incredible Facts about North American Birds is Stan Tekiela's latest book that's perfect for the entire family.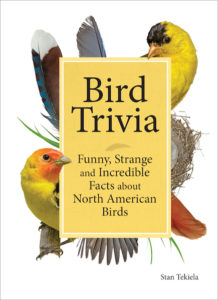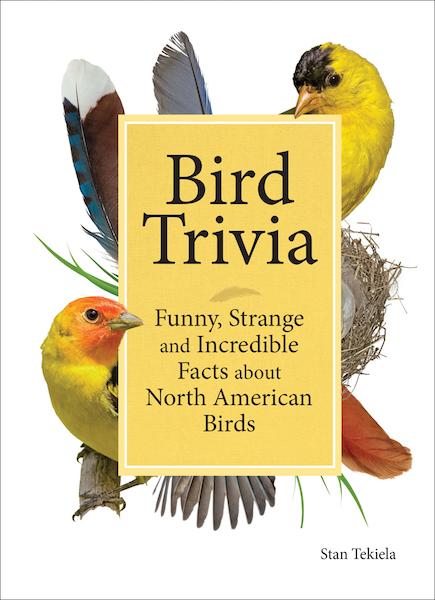 Birds are some of the most beautiful and graceful animals on the planet. It's truly a wonder to observe their fascinating behaviors. Yet even the most seasoned bird-watcher doesn't know everything about our feathered friends.
Acclaimed naturalist and wildlife photographer Stan Tekiela has taken a deep dive into the magnificent world of birds—and he has compiled some of the most incredible, outrageous, unbelievable facts you'll ever read. Why do some birds like to cover themselves with ants? Which birds can mimic the sounds of humans?
Paired with Stan's famous bird photography, Bird Trivia provides hours of enjoyment and is worthy of sharing with family and friends. Give the book as a gift, or keep it for yourself. You'll sound like a birding expert within minutes!
About the author: Naturalist, wildlife photographer, and writer Stan Tekiela is the author of more than 175 field guides, nature books, children's books, wildlife audio CDs, puzzles, and playing cards, presenting many species of birds, mammals, reptiles, amphibians, trees, wildflowers, and cacti in the United States. Stan has a Bachelor of Science degree in Natural History from the University of Minnesota, and he has received national and regional awards for his books and photography.
Bird Trivia will be available in a store near you October 9th. Pre-order your copy now!
Here are some of Stan's other amazing nature books for your consideration: Majestic Eagles; The Lives of Wolves, Coyotes, and Foxes; or Backyard Birds: Welcomed Guests at our Gardens and Feeders. Young readers will delight in his award-winning children's books, such as Whose Butt?, Critter Litter, and Jump, Little Wood Ducks.
For more stories about wildlife and nature, sign up for our newsletter now!
More posts from Stan:
Indigo Bunting—A Familiar Summer Visitor
The Nesting Behaviors of Sandhill Cranes
Big Birds, Baby Birds, Birds Everywhere
Stan Tekiela observes Marsh Wrens 
The Magical, Mystical World of Sandhill Cranes