Remembering Bertil Gustafson, Lost in the Battle of the Bulge
Posted on
February 21, 2018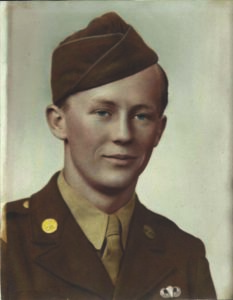 In their book Little Minnesota in World War II, Jill A. Johnson and Deane L. Johnson tell the story of more than 140 soldiers from tiny Minnesota towns—places with a population around 100—who served in the armed forces, and died, during World War II. Today they share the story of Private Bertil Gustafson, who lost his life in the Battle of the Bulge, Belgium.
Eighty-one-year-old Hal Anderson recalls his neighbor Bertil Gustafson: Bertil grew up on a farm less than a mile north of Viking. We were told that he jumped out of a plane and that he did not hit the ground alive. After his death, his parents received a flag with a star in the middle to hang in the window.
Following graduation from Newfolden High School in 1941 and two years at Concordia College in Moorhead, Minnesota, Bertil Gustafson entered the army on June 15, 1943, at Camp Roberts, California. Three months later, he transferred to parachute school in Fort Benning, Georgia, where, after jump training, all units, including the 517th, joined the 17th Airborne at Camp Mackall, Fort Bragg, North Carolina. While many men washed out of parachute training, no one from the 517th failed to meet the high standards for expert marksmanship and superb physical training. One day, an inspection team from Headquarters Army Ground Forces arrived at Camp Mackall to test the unit's physical fitness.
Individuals took the physical fitness test, which consisted of pull-ups, pushups, timed calisthenics, and running various distances. When the results were tabulated, the 517th took first, second, and third in all tests, scoring higher than any unit tested.
On May 17, 1944, Private Bertil Gustafson and the 517th Parachute Infantry boarded the Santa Rosa for Naples, Italy, to support the invasion of southern France. Named the "Battling Buzzards," the 517th experienced heavy fighting in Italy in June before transferring to southern France in August for Operation Dragoon, where they completed their first combat jump. Following the liberation of France, the 517th was attached to the 82nd Airborne Division during the Battle of the Bulge.
Christmas 1944 found the 82nd Airborne stationed in Soissons, France, and about to endure one of the most horrific battles in World War II. Shortly after December 16, the day the German army decided to launch their final offensive in the Belgian Ardennes, Colonel R.D. Graves, combat team commander 517th Parachute Infantry, sent this letter to his regiment: On the occasion of our first Christmas overseas, I would like to take this opportunity to extend my heartiest congratulations and greetings to all members of this command. Although we naturally miss being at home, we do not feel sorry for ourselves but take comfort in living under the best condition possible and also take comfort in being with the comrades with whom we have served and whom we trust. At this Christmas time I wish you all a Merry Christmas. May the New Year strengthen the ties of friendship and loyalty and keep us steadfast in our determination to serve our country well and honorably during the coming year.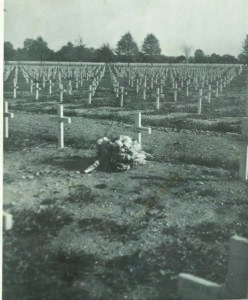 On January 1, 1945, the 517th Parachute Infantry Regiment posted the 2nd and 3rd battalions in an area north of Trois-Ponts (the northern shoulder of "the Bulge"), Belgium, with orders to secure the Salm River Line from Trois-Ponts to Grand-Halleux, a distance of 3 miles. Observation on high ground was impossible due to freezing weather, a thick snow 12 inches deep, and limited visibility of 100 to 200 yards in the low areas.
On January 3, Private Bertil Gustafson and the 2nd Battalion were ordered to attack and seize Trois-Ponts and Mont-de-Fosse. The lead companies, D Company and E Company, suffered severe casualties, including Private Gustafson. Twenty soldiers died and 90 were wounded. Private Bertil Gustafson was buried at Henri-Chapelle American Cemetery in Belgium, and on February 10, 1945, a memorial service for Private Bertil Q. Gustafson was held in Zion Lutheran Church in Viking. Private Gustafson was reinterred in Fort Snelling National Cemetery.
You can read more stories about fallen heroes from Minnesota's littlest towns here:
Stay informed about all our books and sign up for our newsletter now!