The Campfire Foodie Cookbook
The Campfire Foodie Cookbook: Simple Camping Recipes with Gourmet Appeal, by renowned cook, food stylist, and author Julia Rutland, arrives right in time for the outdoor season. Her camper-friendly cookbook comes with more than 100 delicious recipes with full-color photographs for every delicious dish.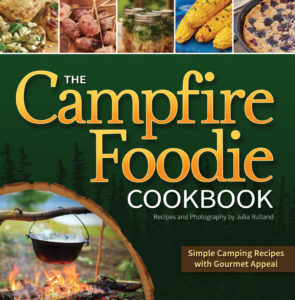 In the weeks to come, the author will share some of her favorite dishes with us. Be on the lookout for English Muffulettas, Vegetarian Campfire Chili, Southwestern Chicken and Lime Soup, and Mini Grilled Blackberry Cobbler.
There's something about a campsite that makes everything taste better. Julia isn't sure if it's the scent of the trees or the campfires—or, perhaps, that nature itself casts a seasoning over your meals, making them richer and more satisfying. Either way, eating by a campfire brings a special kind of satisfaction. Let the evening cicadas and tree frogs serenade you with soothing sounds that you just can't get indoors.
About the author: Julia Rutland is a Northern Virginia-area food writer and recipe developer whose work appears regularly in publications and websites such as Weight Watchers books, Myfitnesspal.com, Southern Living magazine, Coastal Living magazine, and many others. She is the co-author of the Discover Dinnertime cookbook and contributes to many other cookbooks and websites. Julia serves on the local board of the Washington, D.C., chapter of Les Dames d'Escoffier and is a Certified Culinary Professional (CCP) with the International Association of Culinary Professionals.
Julia has visited all 50 states and camped with her family in most of them, sleeping in tents, campers, or occasionally just under the stars. Her kitchen gear takes up more space than the tent or other supplies because she feels that cooking outside is more fun than hiking. Julia lives in Purcellville, Virginia, with her husband, two daughters, a cat, a couple of dogs, too many chickens, and whatever animals decide to adopt her family.