Photographing the Wild Waterfalls in Spring
Lisa Crayford, author of Waterfalls of Minnesota, thinks that springtime and waterfalls go hand in hand. Here are her suggestions for your next waterfall outing!
During this season in northern Minnesota, the snow is melting off the higher elevations. The rivers are flowing with great speed, heading down to meet mighty Lake Superior. If you're not too familiar with the area known as the "Arrowhead" of Minnesota, it's the northeast region that butts up against Lake Superior to our east. Starting in the port city of Duluth with a population of 86,110 and heading northeast all the way to Grand Portage is 151 miles. While driving on Hwy 61 all the way up to Canada, you'll be passing over or around hundreds of creeks, streams, brooks, and rivers. Most of these give us cascades, rapids, and waterfalls. Some are more capture-worthy than others.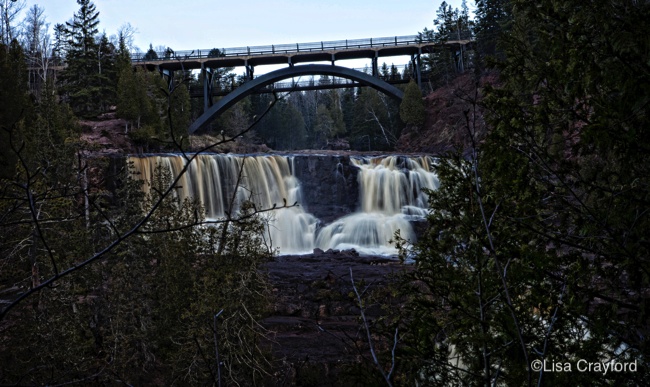 If you're heading up the north shore of Lake Superior, have time to stop at just a couple of waterfall areas, and you don't want to hike for hours, here's where to go. At mile marker 39 (only 39 miles northeast of Duluth), pull into Gooseberry Falls State Park. Here you will see four beautiful waterfalls with an easy, short-distance hike. Grab a map from the visitor center and head up the cement path to Upper Falls. This will begin your 1-mile waterfall loop.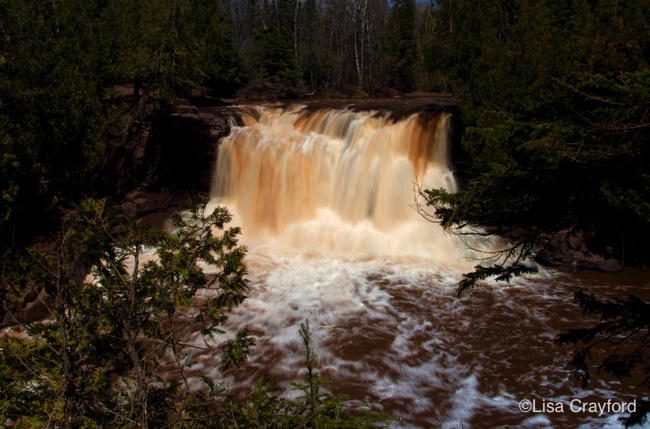 Upper Falls is my favorite at the park. It's a 35-foot waterfall that you'll find stunning in the spring, with water raging over the top. Every time I visit these falls they are different. They start off at their 35-foot crest and fan out to around 60-70 feet at the bottom, as the water spills over multiple rock ledges. In the fall—when the water flow is much lower—you are able to view all these different rocky areas. Next, you can venture down the stairs to Middle and Lower Falls. Just follow the boardwalk to make a complete loop around these falls, if you like. There are multiple steps, but it's worth the view. Once you are downstream (after you've crossed the pedestrian bridge), look back towards the Hwy 61 bridge to see that Lower Falls is actually made up of two falls divided by a small island with twisted Cedar trees. Just above Lower Falls you will see Middle Falls.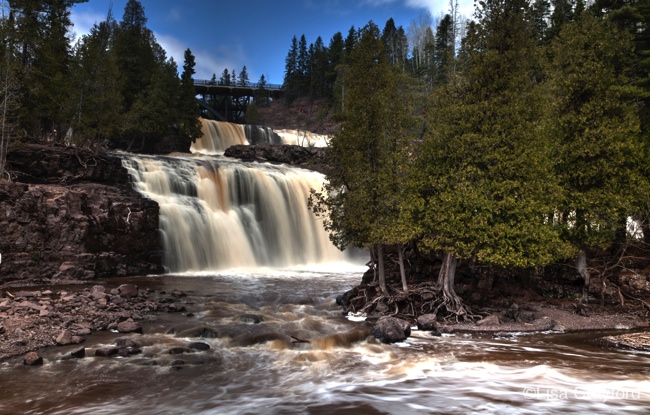 One other "must-stop" area would be Temperance River State Park, where you can view six waterfalls and a deep, dark, scary cauldron. You'll find ample parking on Hwy 61 around mile marker 80 just after the town of Schroeder. If you just want to peek at one beauty, park on the east side of the highway. You'll go down a flight of steps to view Temperance River Falls. Here, the river gets pinched under the Hwy 61 bridge and carves the deep canyon rocks before it meets Lake Superior. For a little bit more adventure, park on the west side of the highway and take the Gorge Trail upstream. This will be about a 1-mile round-trip hike that will be steep at times, with quite a few imperfect stone steps and not a lot of guard rails, so use caution if bringing kids or dogs. You will find seven overlooks, five more waterfalls, and a cauldron. Take your time to enjoy the history and beauty at Temperance River.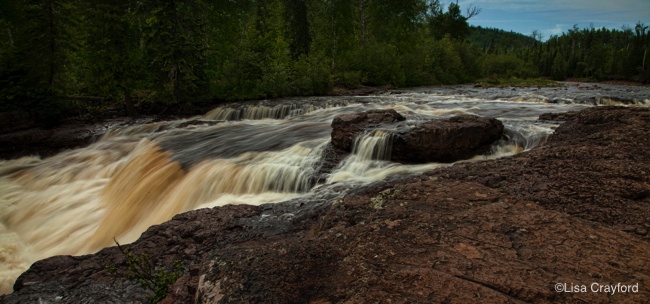 For more information and more of Lisa's beautiful images, check out Waterfalls of Minnesota. For more information about Minnesota State Parks, visit here.
You may also enjoy reading Visiting Winnewissa Falls with Lisa Crayford.