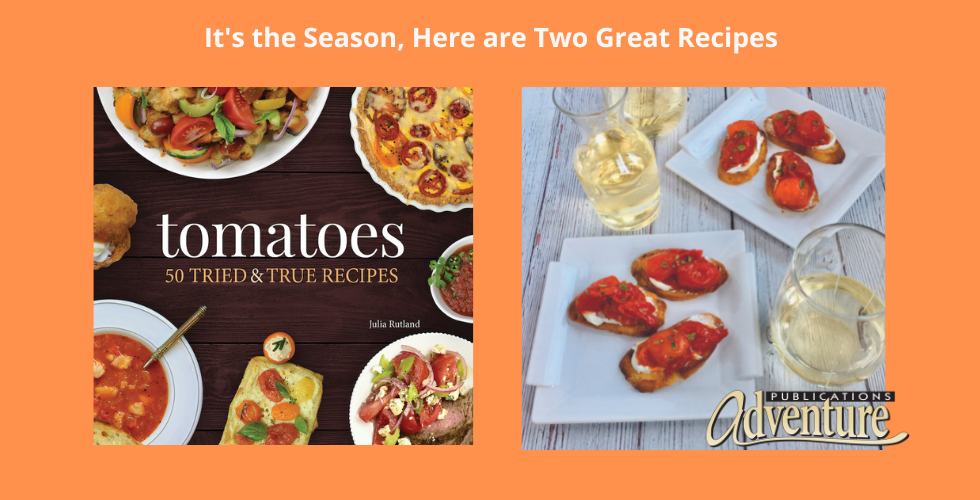 It's the Season, Tomatoes are Abundant. Here are Two Great Recipes
Easy to grow and delicious to eat, tomatoes can be enjoyed raw and are commonly cooked in recipes. Today we share two fabulous recipes from Julia Rutland's book Tomatoes: 50 Tried & True Recipes. Ranging from the size of a grape to that of a softball, tomatoes provide a sweet, tangy flavor, perfect for salads, appetizers, beverages, pasta, and more.
Candied Tomato and Goat Cheese Bruschetta
Here's one of Julia's favorite appetizers to serve to company when the cherry tomato plants
are ripening faster than she can use them. The tomato mixture will hold in the refrigerator up to 3 days,
but you can halve the recipe if you want less. It's similar to Caponata with its sweet and tangy flavor, but it requires less work and fewer ingredients. The flavor goes well with earthy goat cheese, but you can use slivers of brie or even a schmear of cream cheese. Usually a dip like this would make the toasted baguette slices a little soggy, but you can compose some on a platter a bit ahead of time because the cheese serves as a buffer between the sauce and the tender bread. Makes 3½ dozen.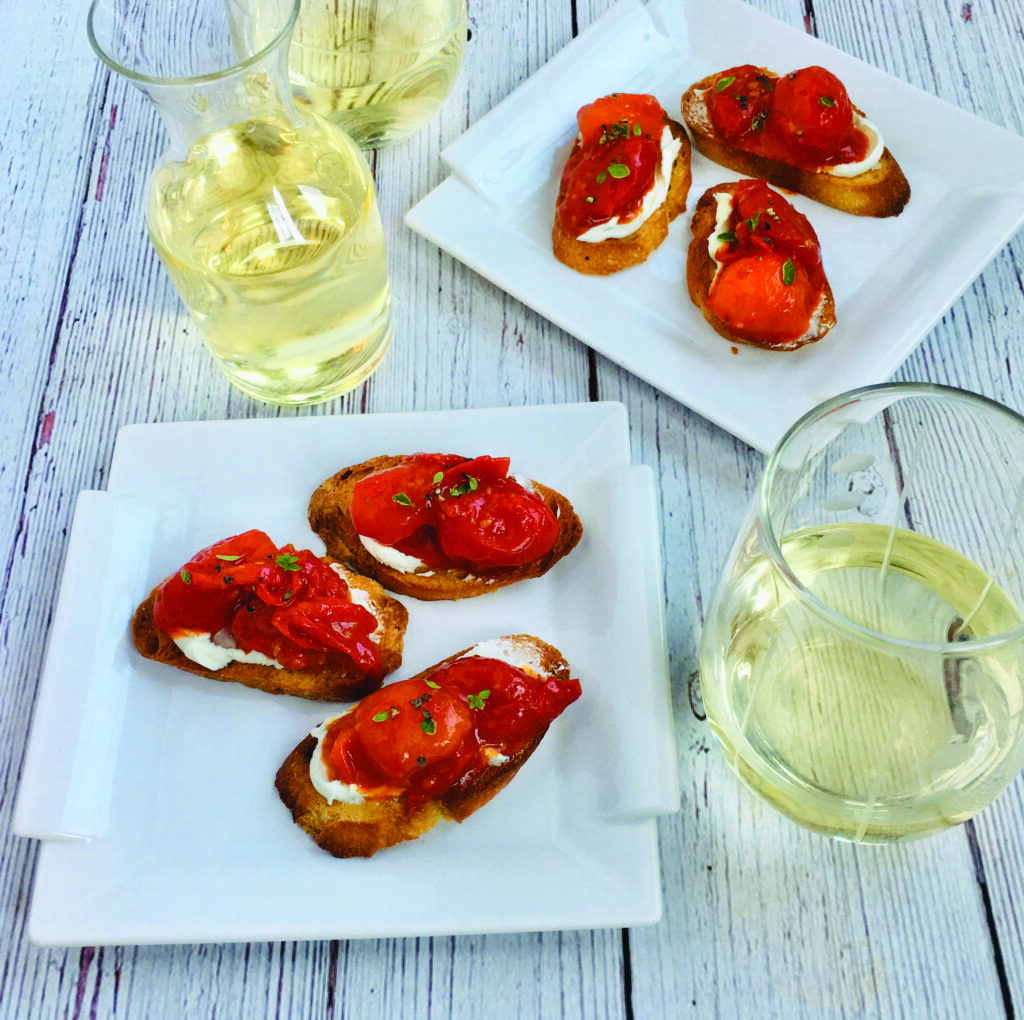 INGREDIENTS
1 (10-ounce) French baguette
¼ cup extra-virgin olive oil, divided
1 tablespoon butter
5 cups (about 2 pounds or
2 [12- to 16-ounce containers]) multicolor cherry or grape tomatoes
¼ teaspoon salt
1⁄8 teaspoon coarsely ground black pepper
¼ cup firmly packed light brown sugar
1 tablespoon balsamic or red wine vinegar
3 to 5 ounces soft goat cheese
GARNISHES
Chopped fresh herbs such as basil, chives, or rosemary
Preheat oven to 375°. Cut baguette into ¼-inch-thick slices. Place on a baking sheet and brush lightly with all but 1 tablespoon olive oil. Bake for 5 to 8 minutes or until golden brown.
Heat remaining 1 tablespoon olive oil and butter in a large skillet over medium heat. Add tomatoes. Cook, stirring frequently, for 10 minutes or until tomatoes soften and shrink. While tomatoes cook, pierce each one with the tip of a sharp knife. This will speed the cooking process and make a bit of sauce.
Stir in salt, pepper, brown sugar, and vinegar. Cook, stirring occasionally, for 5 to 7 minutes or until any liquid is thick and syrupy. Spread cheese evenly over toasted bread slices and top evenly with tomato mixture. Garnish, if desired.
Layered Ratatouille Skillet Casserole
The ingredient list of this pretty vegetable dish might seem long, but the procedure is simple, especially because it bakes unattended in the oven. Try to find vegetables with similar diameters so they shingle nicely and cook evenly. Makes 6 servings.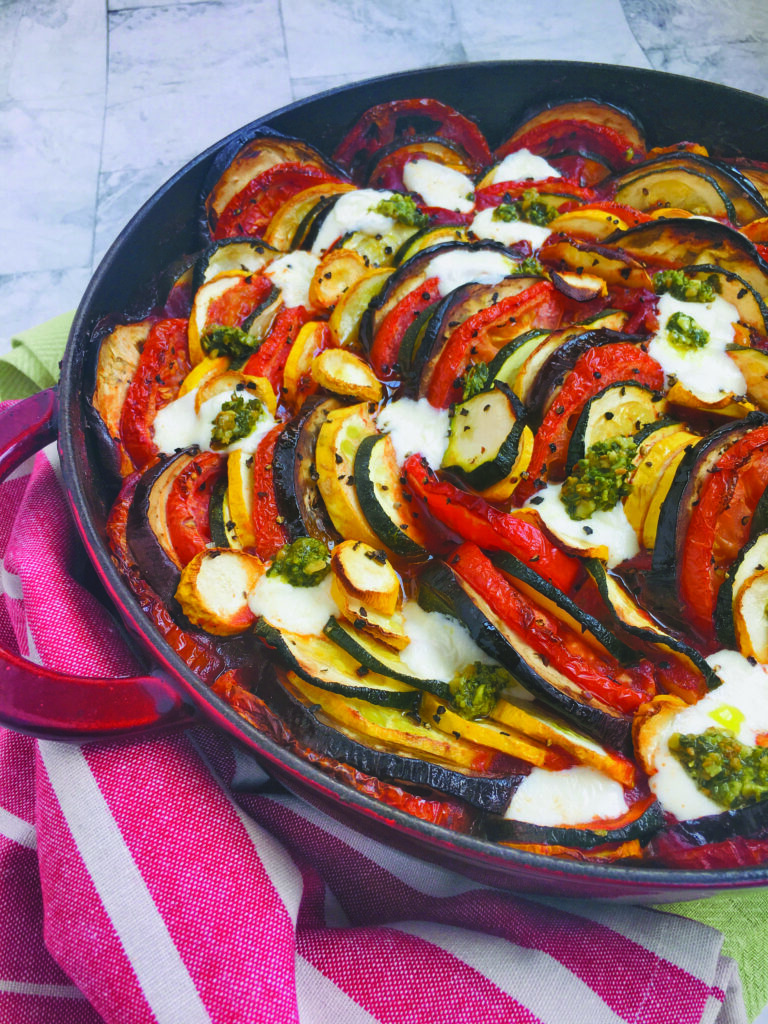 INGREDIENTS
1 small eggplant, peeled, if desired
2 teaspoons salt, divided
3 tablespoons olive oil, divided
1 medium-size onion, chopped
1 red, yellow, or orange bell pepper, chopped
1 teaspoon dried Italian seasoning
Pinch crushed red pepper flakes
3 garlic cloves, minced
1 teaspoon smoked paprika
¼ teaspoon coarsely ground black pepper
1 (28-ounce) can seasoned crushed tomatoes, undrained
2 tablespoons chopped fresh basil
1 teaspoon sugar (optional)
1 tablespoon balsamic vinegar
1 large zucchini
1 large yellow squash
1½ pounds (about 6 medium-size) tomatoes
¼ cup Pesto Sauce (optional)
½ cup (2 ounces) mozzarella pearls or chopped fresh mozzarella
Cut eggplant into 1⁄8-inch-thick slices. Sprinkle both sides with 1 teaspoon salt and place on a wire rack set over a rimmed sheet pan. Let stand for 20 to 30 minutes. (Salting the eggplant is optional but can remove excess bitterness.) Pat dry with paper towels. Preheat oven to 375°.
Heat 1 tablespoon oil in a deep cast iron or other ovensafe skillet over medium-high heat. Add onion, bell pepper, seasoning, and red pepper flakes. Cook, stirring frequently, for 5 minutes or until tender. Add garlic; cook 1 minute. Stir in smoked paprika, remaining 1 teaspoon salt, and pepper. Add canned tomatoes, basil, sugar (omit if using Pesto Sauce), and vinegar, stirring until well blended. Remove from heat.
Cut zucchini, yellow squash, and tomatoes into 1⁄8- to ¼-inch-thick slices. Arrange sliced vegetables, including reserved eggplant, in layers over sauce in skillet. Brush top of vegetables with remaining 2 tablespoons olive oil.
Cover with aluminum foil and bake for 35 to 40 minutes. Uncover and bake for 15 more minutes or until vegetables are tender. Let rest for 10 minutes. Drizzle with Pesto Sauce, if desired, and sprinkle with cheese.
Tomatoes: 50 Tried & True Recipes is part of Adventure Publications' Nature's Favorite Foods Cookbooks series, which includes Blueberries, Rhubarb, Squash, Maple Syrup, and Apples. The next book in the series Eggs: 50 Tried & True Recipes will be available as of October 11, 2022
If you enjoyed this recipe, sign up for our newsletter.