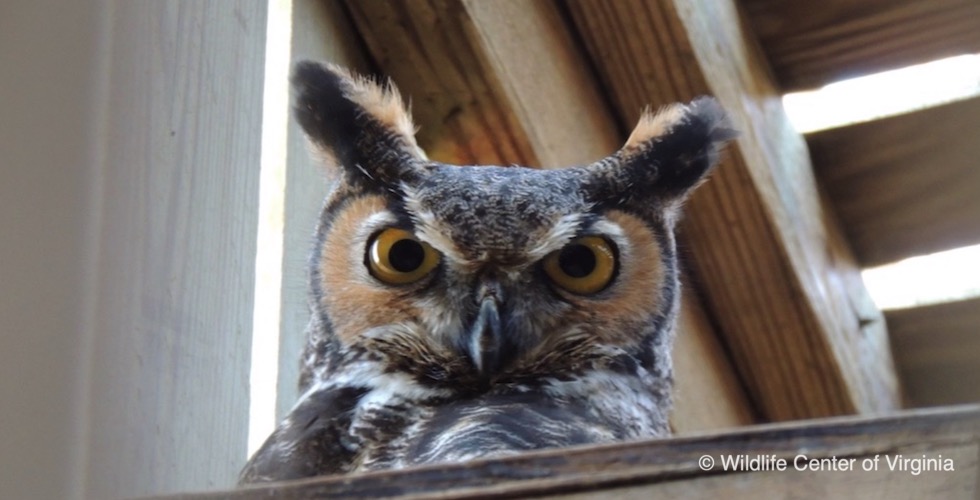 Greta the Great Horned Owl: A True Story of Rescue and Rehabilitation
Posted on
December 19, 2018
We are excited to announce Christie Gove-Berg's latest children's book, Greta the Great Horned Owl, which will be out in the spring of 2019. In celebration of the release, we are launching a GIVEAWAY. But first, let me tell you more about this amazing true story of rescue and rehabilitation.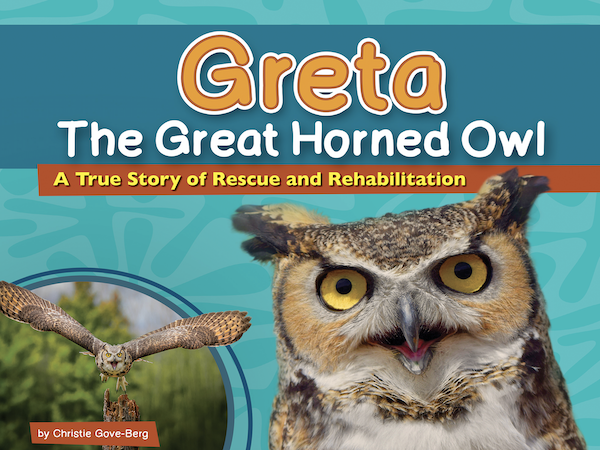 Greta the Great Horned Owl is a true story of an injured owl's recovery and return to nature, told with gorgeous photographs and heartwarming text by award-winning author Christie Gove-Berg. Through Greta's journey, readers learn about owls and wildlife rehabilitation centers. See the inside of a wildlife hospital, and learn how veterinarians help animals to get better. Find out about owl diets, nests, and families.
When Greta was found with a broken leg, she was brought to a wildlife rehabilitation hospital. There, she was able to get pain medicine and the surgery that she needed. She also received long-term therapy for her wing. Thanks to both wildlife rehabilitation centers, Greta was able to return to the wild.
How can you help to protect Great Horned Owls and other raptors?
Try to keep natural spaces open and wild. Birds and other animals need places to live, hunt, and raise their young. When parks close or forests are chopped down, there is less space for animals to live. Consider leaving dead trees standing. They provide homes for owls and many other forest friends. Don't use rat and mouse poison. These poisons kill rodents, but they can also hurt or kill raptors that eat poisoned rodents.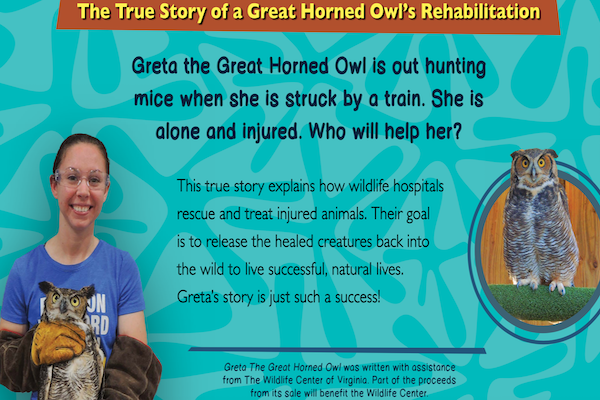 Take down unused soccer nets and remove old barbed wire because owls can get stuck and injured by these. If you find an injured owl, call a wildlife rehabilitation center.
By buying this book, you are donating to The Wildlife Center of Virginia. Consider visiting your local raptor center or wildlife rehabilitation center and donating time or money to their worthy work!
About the author: Christie Gove-Berg loves nature and wildlife. Her first book, Esther the Eaglet: A True Story of Rescue and Rehabilitation, was about the rescue of an injured eaglet on Christie's parents' land. Her second book in the series, Maggie the One-Eyed Peregrine Falcon, was inspired by a young bird that was injured while learning to fly in the middle of a big city. (Now Maggie is an educational bird at The Wildlife Center of Virginia, teaching people about raptors.)
Christie's regional book, Minnesota Must See for Families: An A-Z List, encourages families to document their Minnesota adventures together.
Christie donates a portion of the profits from her raptor books to The Raptor Center at the University of Minnesota and The Wildlife Center of Virginia. When she has free time, Christie enjoys writing, reading, cooking, hiking, and camping. Her perfect day would include a kayak ride to a sandy beach on the St. Croix River with her friends and family—and lots of laughter.
If you enjoyed this post, sign up for our newsletter now! Please also read the review of the book by Publishers Weekly.