Staying at the Two Harbors Lighthouse Inn
Posted on
November 21, 2018
William and Kathryn Mayo, authors of 61 Gems of Highway 61 tell us all about staying at the Two Harbors Lighthouse.
Imagine yourself back in time, 100 years ago, sleeping under the sweeping light of this beacon, in the very bedroom where the chief keeper of the light slept.
During the week, you might climb the stairs of the tower to be sure that all was well at sea. If you could do this today, would you? Well, you can!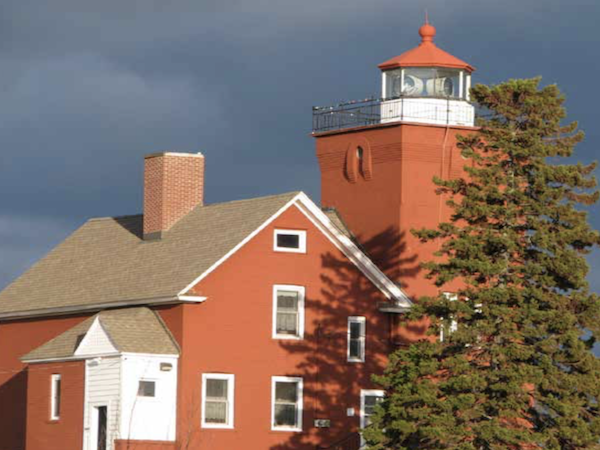 The Two Harbors Lighthouse Inn is open year-round, and you could be one of the few people who can say they've spent a night in a working lighthouse. Guests have the opportunity to explore the rich history of the lighthouse firsthand, with a private look into its inner workings. Here you can spend an evening in the sitting room with a keen eye towards the weather and watch over the harbor with a guardian's care.
Because of the elevation and the view, the weather and sky are more intense, but this sturdy brick house is reassuringly cozy. And the area around the lighthouse is full of wildlife, a strange juxtaposition to the industry of the working harbor. In the morning you can look forward to a sumptuous breakfast served by Lake County Historical Society staff who are knowledgeable about the area and happy to suggest places for you to explore.
If you are unable to stay the night, stop for a self-guided tour of the grounds and exhibits. If you do that, chances are you will want to make plans to stay here!
How to Get There: In Two Harbors, turn right off of Highway 61 onto Waterfront Drive/6th Street. Follow the brown signs directing you to the breakwall at Agate Bay. Once in sight of the water, you'll notice the lighthouse. Follow the narrow dirt driveway to the garage behind the lighthouse. Reservations can be made online through the Lake County Historical Society (www.lighthousebb.org).
Good to know: The inn is not wheelchair accessible.
For more stories about wildlife and nature, sign up for our newsletter now!