Superior Hiking Trail: Oberg Mountain
Posted on
September 26, 2018
Join Katie Berg, author of North Shore Adventures, on a visit to Oberg Mountain, easily one of the most popular short hikes on the entire North Shore.
The Oberg Mountain Loop boasts seven different overlooks where you are treated to a variety of views, including overlooks of Moose Mountain, Lake Superior, and Oberg Lake; on a clear day, you can even see as far as Grand Marais and the Gran.
It would be easy to fill a camera's memory card with all of the overlooks, especially when the fall colors are exploding all over the forest. Look for birch, spruce, fir, and alder as you wind your way back to the parking lot after taking in the views. If you want to linger a bit longer, some of the overlooks have benches and make excellent snack spots.
From the large parking lot, head back to the road you came in on, cross it, and find the well-marked trailhead for Oberg Mountain. Just be sure to stay to the right on your way in towards the Oberg Loop; you'll see the main SHT head left farther up the North Shore. You'll follow switchbacks up for about 0.5 mile to get to the roughly mile-long trail that circles around the top of the mountain. It's up to you whether you head left or right to see all of the views. When finished, you simply head back the way you came.
Be warned, though, this is a popular hike, and local resorts bring guided trips here, so weekends are fairly busy, especially during peak tourist weekends and fall color weekends. With that said, it's generally worth it for the views!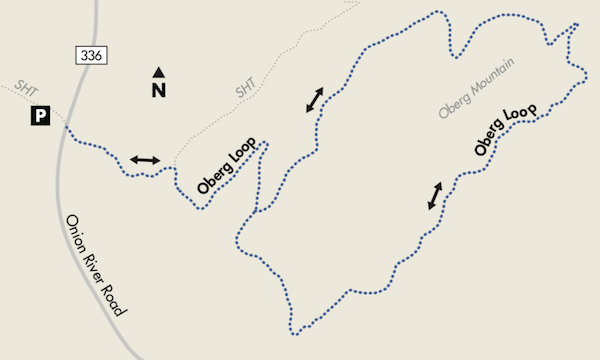 If you want to lengthen your day in this area, it's easy to take the LeVeaux Loop out of the same parking lot for a 3.2-mile loop hike. This hike is more challenging and leads up the steep side of Leveaux Mountain; it's usually a little less crowded. To get started, look for the LeVeaux Loop Hiking Trail signs in the Oberg Trailhead parking lot.
Good to Know when Hiking Oberg Mountain
GPS COORDINATES 47° 37.69′ N, 90° 47.09′ W
GETTING THERE & PARKING On MN 61 just past Tofte, look for milepost 87.5. Head inland on Forest Road 336 (Onion River Road) and go 2.2 miles to a big parking lot on the left side of the road. Look for signs for the Oberg Trailhead once you're in the parking lot. Overnight parking is allowed.
TRAIL CONDITION Other than a short climb up switchbacks on your way to the loop, this hike is easy. After the short climb, the trail levels out and there are many overlooks to enjoy.
DISTANCE 2.2 total miles for this lollipop trail; the short hike turns into a big two-way loop around all the different views before following the same switchbacks back to the parking lot.
You may also like Katie Berg's story as to why Minnesota's North Shore is an adventurer's haven. For more stories about hiking and other outdoor activities, sign up for our newsletter now!