Board Book Series for Babies and Toddlers
Posted on
September 6, 2017
A child is never too young for books, and a board book is the perfect type to get into your little ones' hands. Adventure Publications currently has six titles for the earliest of book lovers: Bird Color, Bird Count, Floppers & Loppers, Paws & Claws, Peepers & Peekers, and Snouts & Sniffers. There are plenty of reasons to introduce them to children. Following are just a few of the benefits of these wonderful books: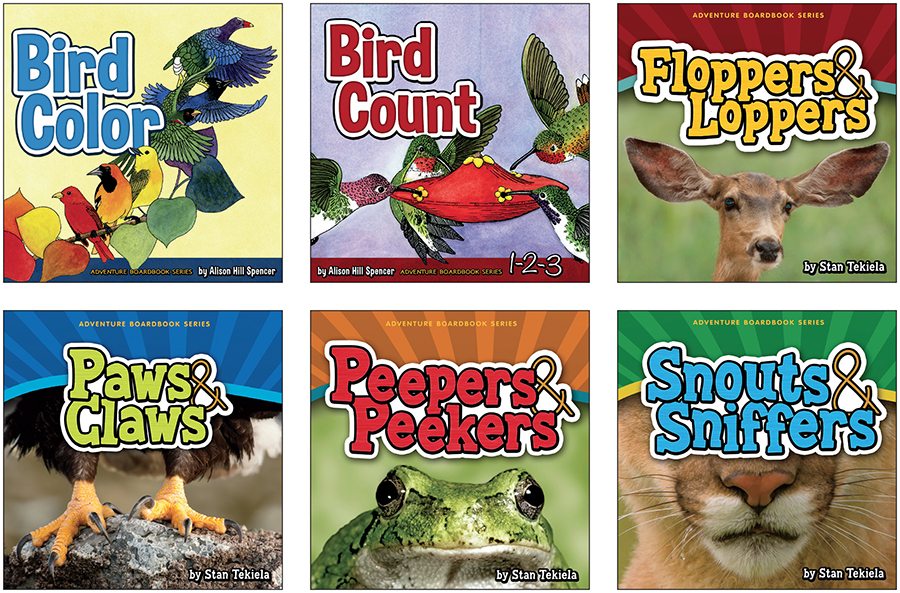 They're Educational
When it comes to babies, any kind of reading is good. They're beginning to learn that words have meanings. However, the best books for toddlers are the ones that add an extra educational component. Of course, books help teach kids to read. But, at the same time, the content can and should be a gateway to even more knowledge. The Adventure Board Book Series presents everything from colors and counting to facts about animals and their physical characteristics.
They're High-Interest
Kids of all ages seem to love animals, so they're interested in books about them. Adventure Publications captures their interest by featuring high-quality photographs and paintings of popular, beloved, and interesting critters. The best books for toddlers are the ones that get picked up, time and again, and Adventure's book series certainly fits the bill.
They Introduce Nature
Parents who want to foster their children's love for nature will appreciate these titles. By exposing babies and toddlers to the positive and interesting aspects of wildlife, we are developing in our kids a curiosity for and an appreciation of the great outdoors. As they get older, they will value and respect our natural world.
They're Durable
The books' physical format is what separates them from other children's books. At a young age, kids are prone to chewing, ripping, twisting, and throwing whatever gets put into their hands. These best books for toddlers are tough enough to take it. Plus, they have the added bonus of easy page turning. As your children are able to flip the pages, reading becomes more interactive and enjoyable.
The Many Benefits of Reading
The American Academy of Pediatrics encourages parents to read to children from birth—with good reason. It increases vocabulary, improves the ability to speak, enhances listening skills, inspires a love of books, calms and relaxes, and expands overall intelligence. Perhaps most importantly, reading is a shared activity that helps to nurture the parent-child bond. So why wait? Grab a board book and spend time reading with your children today.