Animal Books Get Kids into Nature
Posted on
December 9, 2016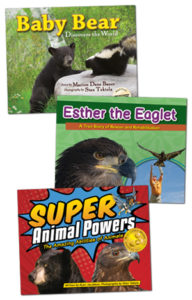 As I peruse my family bookshelf, I can't help but notice that it's filled with animal books. I suppose this isn't surprising, considering how much kids love animals—especially cute ones. From stuffed teddy bears to household pets to beloved children's books, animals are a part of most kids' everyday lives. And that's definitely a good thing. Connecting kids to the critters of the world also connects kids with nature.
Yes, the great outdoors is a wonderful place, waiting to be explored. But if your kids are like mine, they'd often prefer to stay inside and play video games. That's when we go to the bookshelf and grab a copy of Baby Bear Discovers the World, Esther the Eaglet, or, most recently, my new Super Animal Powers picture book. As much as my kids love their digital devices, they can't resist good books about cute animals. But why does that help? How are these children's books getting them outside and interested in nature? Let's take a look at what happens to those young, impressionable minds.
1. Reading Animal Books Activates the Imagination
When I speak in kindergarten classrooms, I like to tell students that reading is exercise for the imagination: The more they read, the stronger their imaginations become. Books about bears, eagles, wolves, and other types of wildlife bring children into the animals' habitats. The kids can imagine themselves as a part of this natural world. And, of course, the more often they read animal books, the better they can imagine—and the more curious they become about wildlife and nature.
2. Imagination Feeds Imagination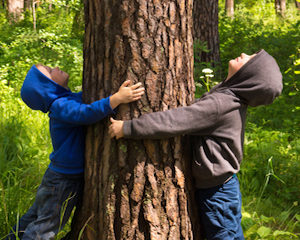 With imaginations "running wild," stuffed animals become living, breathing things. The family cat becomes a mountain lion. The children themselves take turns pretending to be their favorite critters. Now, thanks to children's books, the kids are fully immersed. They have turned their most familiar places into exotic, explorable, natural locales. Imagine how excited they'll be when they get to experience the real thing.
3. Children Become Passionate about Nature
At this point, if you want to see your children do cartwheels, offer to take them on a nature hike, on a day trip to a state park, or even on an overnight camping excursion. It doesn't have to be anything fancy. Just seize the opportunity to get them outdoors and communing with nature. A short bird-watching walk or even a bug search would be a great start.
If your children already have an interest in nature, animal books are a great way to supplement and to strengthen that interest. If you want to build your kids up into outdoors enthusiasts, children's books are a perfect way to start. It won't be long before they beg for the next outdoor adventure!