Just Like Laura Ingalls Wilder
Mary M. Bauer, author of Minnesota Day Trips, takes us on a tour of attractions that visit the home territory of beloved author Laura Ingalls Wilder. It's also a chance for your family to understand the life of real pioneers. Show your youngsters what it was like to live on the prairie without electricity or indoor plumbing.
Walnut Grove—Laura Ingalls Wilder Museum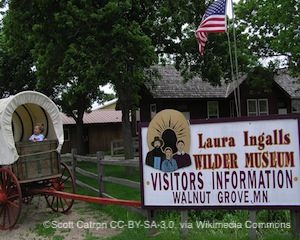 In 1874, 7-year-old Laura Ingalls Wilder and her family traveled from Wisconsin's Big Woods to Walnut Grove, Minnesota, settling on the banks of Plum Creek. The community preserves Laura's past and celebrates with an annual festival in her honor. Visit the Laura Ingalls Wilder Museum, located at 330 8th Street. Here, you'll see "Grandma's House" among the four buildings at the main museum site. The Ingalls homestead site is 1 1⁄2 miles north of the museum. The museum is open daily April through October. The gift store at the museum is open year-round.
Sod House on the Prairie
To reach the authentic 1880 sod house replica, just follow a trail through 8-foot-tall prairie grass. The house has 2-foot-thick walls and a grass roof. Inside, you'll find whitewashed walls, oil lamps for light, two double beds, a fainting couch, a wood-burning stove, a wash pitcher and bowl, prairie clothes to dress up in, and—oh, yes—a backyard outhouse! Explore the trapper's cabin, complete with furs, traps, and Indian artifacts. Sod House on the Prarie is open spring, summer, and fall. Bring cash—no credit cards are accepted.
Gibbs Farm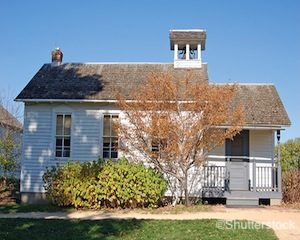 At the Gibbs Farm, costumed interpreters demonstrate what life was like during the nineteenth century. This family-friendly site offers several day camps and seasonal programs. Gibbs Farm is open Saturdays and Sundays from Memorial weekend through October.
About the Author: A full-blooded Irish lass, Mary M. Bauer was born and raised in Lutefisk Country. She and her husband jumped the state line over a dozen years ago and bought a Wisconsin dairy farm. Her two children ran off to college, then found careers to avoid baling hay and painting fences. A former nurse and interior designer, Mary began her writing career as a weekly columnist for a regional newspaper. She discovered ranting in public and getting paid for it is a lot of fun.
She is also the author of Adventure Publications' Wisconsin Day Trips by Theme. Besides family, her major loves are traveling, hiking, books, decrepit Christmas decorations, and Reese's Peanut Butter Cups. She is both a dog and a cat person, and she's thinking about adopting a pig.
Photo credits
Laura Ingalls Wilder Museum by Scott Catron CC-BY-SA-3.0, via Wikimedia Commons