White Sangria—The Perfect Drink for a Gathering of Friends
Cabins and lake homes are meant for friends and family! We gather around decks, patios, and boats for lazy conversations and needed relaxation. Pontoon boats in particular are part of the lake magic, perfect for cruising around and sharing food and beverages, and they've long been associated with the lake-living tradition. In the past two weeks we shared some fun food recipes, but what would an outing be without a great drink? Today, Jon and Erin Davis, authors of Pontoon Food: Easy-to-Serve Recipes for the Water and Deck, share with us their favorite White Sangria recipe.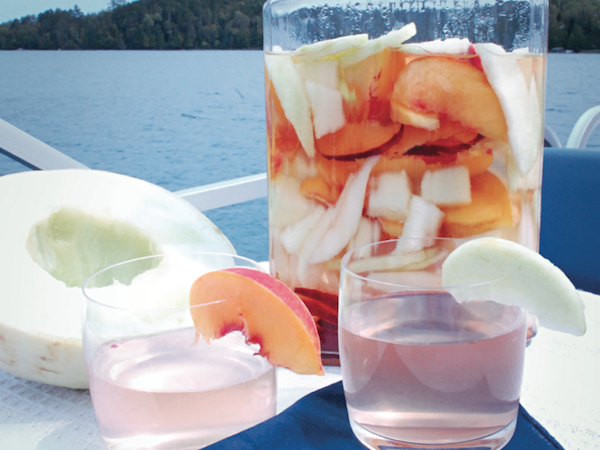 White Sangria
Startlingly, "sangria" is the Spanish word for bloodletting. This describes the deep red color of sangria as it is most commonly made: with red wine. This white sangria variation is a bit lighter and more refreshing. For an even lighter version, substitute sparkling water for the sparkling wine to make a delicious spritzer.
Ingredients

1/2 Bosc pear, peeled and sliced
1/2 Granny Smith apple, peeled and sliced
1/2 cantaloupe or honeydew melon, cut into 1-inch cubes
1 peach, chopped
2 plums, chopped
1 bottle white wine (Pinot Grigio or Sauvignon Blanc)
1 bottle Prosecco or sparkling white wine
Directions

Combine fruit and still wine in a large pitcher. Allow to rest in the refrigerator for several hours or overnight. Just before serving, combine with equal parts sparkling wine or, if desired, sparkling water. Experiment with different fruit combinations.
About the authors: Erin grew up in Minnesota; with its 10,000 lakes, water was never far away. One of her favorite places is the family cabin, where pontoon rides and guests have always been part of the scene. Jon grew up on the Carolina coast, where he loved the water and all the varying cuisines that his state had to offer. Both Erin and Jon are huge food enthusiasts with a passion for outdoor activity, travel, learning about different cuisines, and trying new foods. As adventurous home cooks, they apply the same appreciation and discovery of good food to their own cooking.
Here are two more pontoon food recipes for you:
Caprese Salad Skewers
Pimento Cheese