Pimiento Cheese—A Favorite Pontoon Food Recipe
Jon and Erin Davis, authors of Pontoon Food: Easy-to-Serve Recipes for the Water and Deck, share with us their Pimiento Cheese recipe.
Cabins and lake homes are meant for family! We gather around decks, patios, and boats for lazy conversations and needed relaxation. Pontoon boats in particular are part of the lake magic, perfect for  cruising around and sharing food and beverages, and they have long been associated with the lake-living tradition. Here's an easy recipe that's sure to please.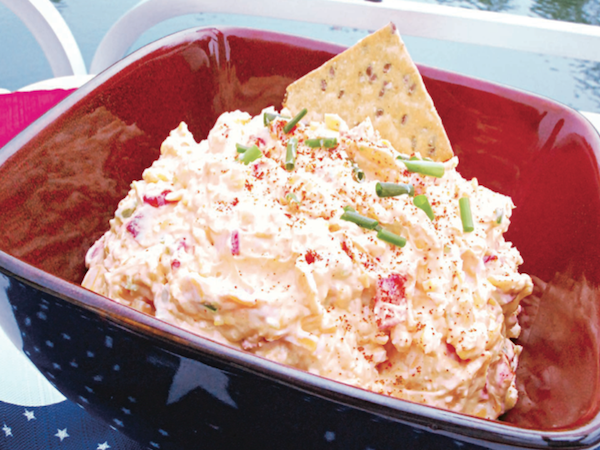 Pimiento Cheese
A southern favorite, pimiento cheese is becoming more and more popular across the rest of the U.S. Try this recipe and find out why! It's amazingly addictive on crackers or raw veggies.
Ingredients

3 cups Cheddar cheese, shredded
8 ounces cream cheese, softened
1/2 cup mayonnaise
1/4 teaspoon garlic powder
1/4 teaspoon onion powder
1/4 teaspoon cayenne pepper
1 Serrano or small jalapeño pepper, minced
1/4 teaspoon paprika
1 (4-ounce) jar diced pimientos, drained
Salt and pepper to taste
Directions

Combine all ingredients in a large bowl. For best results and a gluten-free option, shred your own cheese. (Many brands of shredded cheese contain wheat gluten.) For a creative touch, add 1/8 teaspoon smoked paprika.
About the authors: Erin grew up in Minnesota; with its 10,000 lakes, water was never far away. One of her favorite places is the family cabin, where pontoon rides and guests have always been part of the scene. Jon grew up on the Carolina coast, where he loved the water and all the varying cuisines that his state had to offer. Both Erin and Jon are huge food enthusiasts with a passion for outdoor activity, travel, learning about different cuisines, and trying new foods. As adventurous home cooks, they apply the same appreciation and discovery of good food to their own cooking.
If you enjoyed this Pontoon Food recipe, come back for more next Friday, when Erin and Jon will share their favorite White Margarita recipe. Also check out their Caprese Salad Skewers recipe here.