Meet Maggie
Posted on
September 7, 2016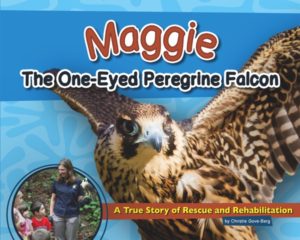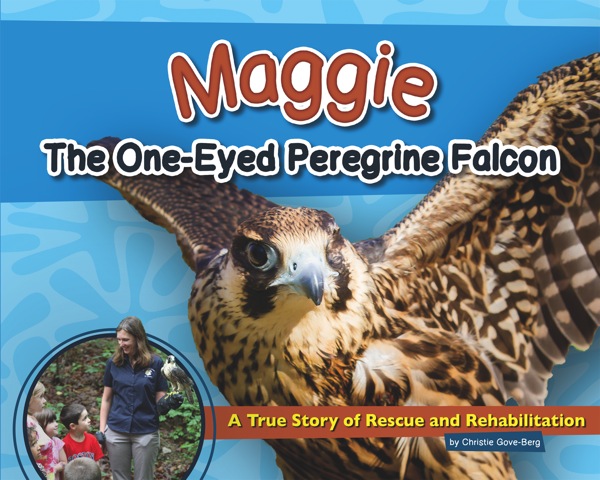 Maggie the Peregrine Falcon is a special bird, and we consider her a friend of ours here at the Adventure Publications blog. Maggie is special because she is a survivor. And Maggie has one eye.
Maggie the One-Eyed Peregrine Falcon is a true story told in collaboration with the Wildlife Center of Virginia, the animal hospital where Maggie lives. The folks at the Wildlife Center do amazing work, and Maggie's story is just one of hundreds they could share with you.
Maggie's Story
When this children's book begins, Maggie has just learned to fly when she crashes into the side of a building. She falls to the ground, alone and injured. Who will help her? This true story explains how wildlife hospitals rescue and treat injured animals. Their goal is to release the animals back into the wild. Sometimes, this isn't possible—but there can still be a happy ending. Maggie's story is just such a success, and she is now an educational bird at the Wildlife Center of Virginia.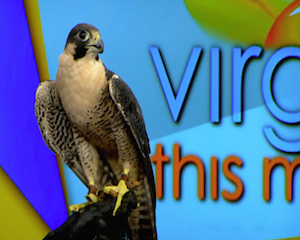 Maggie and author Christie Gove-Berg even went on a book tour, and the popular falcon and the writer were featured on the Virginia This Morning show on CBS6, on ABC8News, and on NBC29. The News Virginian. The Augusta Free Press also covered the tour.  And find out what the Fairfield Falcons tweeted about Maggie!
The story of Maggie the One-Eyed Peregrine Falcon: A True Story of Rescue and Rehabilitation is told with real photographs. A portion of the profits from each book sold will go to the Wildlife Center of Virginia. For updates on Maggie, check out her Facebook page.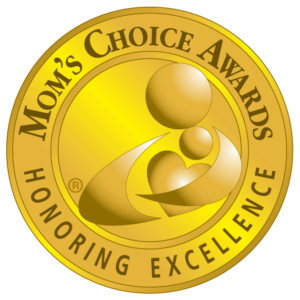 The Mom's Choice Awards® has named Maggie the One-Eyed Peregrine Falcon: A True Story of Rescue and Rehabilitation as among the best in family-friendly media, products, and services. The MCA evaluation process uses a propriety methodology in which entries are scored on a number of elements, including production quality, design, educational value, entertainment value, originality, appeal, and cost.
About the Author
Christie Gove-Berg loves nature and wildlife. Her first book, Esther the Eaglet: A True Story of Rescue and Rehabilitation, was written after an injured eaglet was rescued on her parents' land. This second story was inspired by Maggie, a young Peregrine Falcon who was injured while learning to fly.
Please see the review of the book by School Library Journal:
Combining crisp photographs with simple text, Christie Gove-Berg tells the true story of Maggie the One-Eyed Peregrine Falcon (Adventure Publications, 2016; K-Gr 2). Living with her parents in a nest box atop a Richmond, VA, skyscraper, the fledgling is just beginning to perfect her flying skills when a strong wind causes her to collide with a building. After tumbling to the sidewalk, she's taken to the Wildlife Center of Virginia. Clear photographs illustrate how doctors assess her condition and care for her; there are no broken bones (kids even get a look at her x-ray) and her fractured beak will grow back, but an injury to the eye requires that it be surgically removed. No longer able to hunt and feed herself in the wild, Maggie is trained to work as an education bird that will help to teach children and their parents about peregrine falcons and to "respect nature and, more importantly, to protect it." The story is told from Maggie's point of view, inspiring empathy, but resulting in the text containing some anthropomorphizing ("She dreams of catching her own food."). Still, the compelling story and riveting photos provide an engaging overview of bird rescue and rehabilitation and the important role performed by wildlife hospitals. A Q&A section about peregrines in general and Maggie and her family is appended.