Monsters of the Midwest
Posted on
September 28, 2016
Creepy Tales of Monsters Just in Time for Halloween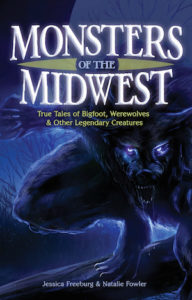 Does telling creepy tales around the campfire sound like a perfect night out? Is scaring yourself silly your idea of a good time? Well, the Midwest is home to some pretty spooky ghost stories, but wait until you read about the region's terrifying monsters in our latest book, Monsters of the Midwest: True Tales of Bigfoot, Werewolves & Other Legendary Creatures by Jessica Freeburg and Natalie Fowler.
Are you brave enough to find out about monsters and the other chilling creatures that have been seen in the Heartland?
In their book Monsters of the Midwest,  paranormal investigators Jessica Freeburg and Natalie Fowler share reportedly true accounts of the strangest, most bizarre sightings of Big Foot, werewolves, and other monsters. Their collection of stories is sure to keep you up at night. Try to remember: That noise you hear… it's probably just the wind.
If you are a skeptic, remember this when you read these stories: Maybe there really is something else out there, waiting to be discovered and to find its rightful place in the animal kingdom. And maybe…it's waiting to strike.
About the authors: Jessica Freeburg is the founder of Ghost Stories Ink (a group of authors and illustrators who go on ghost hunts for creative inspiration) and has performed paranormal investigations at a variety of reportedly haunted locations. She has written YA fiction, middle grade narrative nonfiction, and short stories for children and adults. Jessica lives in Lakeville, MN. Natalie Fowler does freelance editorial work and writes her own stories. She is a staff editor for Fate Magazine and is a paranormal investigator for Ghost Stories Ink. Natalie lives in Saint Paul, MN.