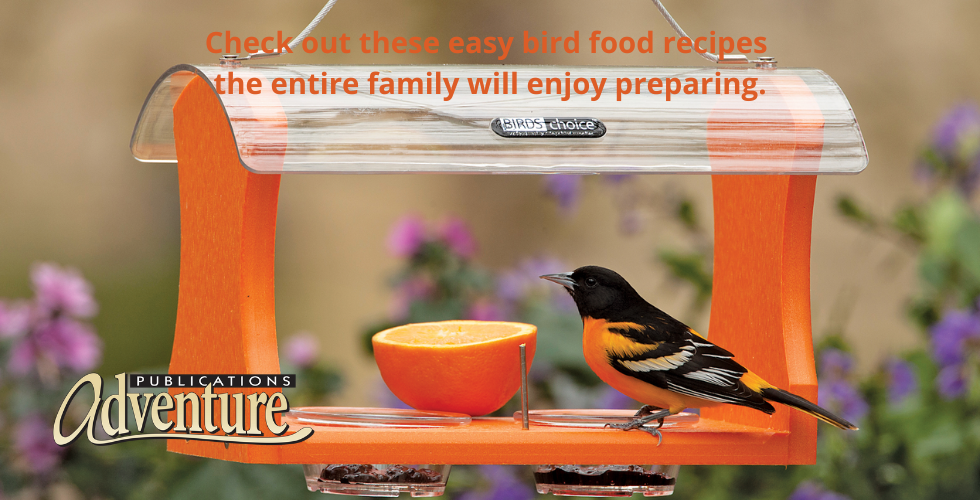 Bird Food Recipes Kids Will Love To Make
In Stan Tekiela's The Kids' Guide to Birds of Missouri, you will find easy recipes for bird food that the entire family will enjoy preparing. Today we share some of them for you to try.
If you and your family like to do fun projects together, you'll have a great time making your own bird food and bird-feeding items! Chances are good that you already have most of the ingredients at home to make delicious and nutritious treats for your wild bird friends.
You'll be doing these projects in the kitchen, so show your mom or dad the following sections. They're written specifically with the whole family in mind. For example, you may need to check with a parent or guardian for help with such tasks as grocery shopping, stovetop cooking, or food preparation (like cutting up fresh fruit).
Starter Snacks and Fruit Treats
You can start by offering some food that's already in your kitchen. Peanut butter attracts a lot of birds! Simply use a spatula to smear some on the bark of a nearby tree, where you can watch it from a window. Or use a piece of firewood: prop it up or hang it with a rope and slather it with peanut butter—then watch the birds go wild.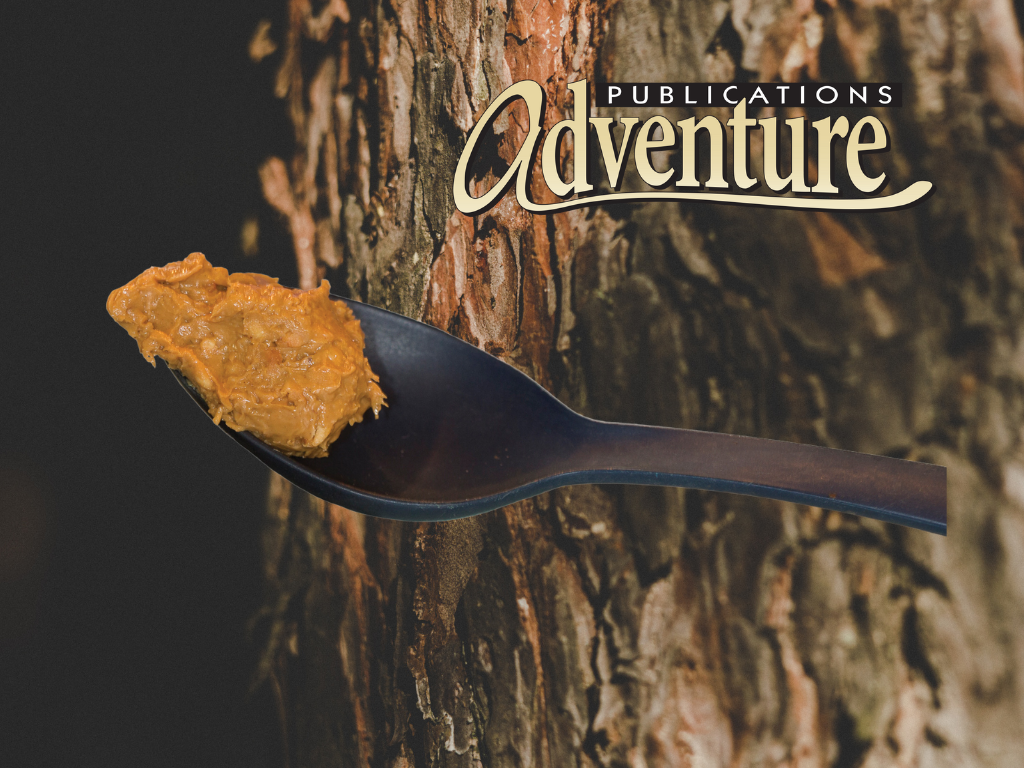 To offer treats like raisins, dates, and currants, place them outside in a nonbreakable small bowl with a few holes drilled in the bottom for drainage. Waxwings, robins, catbirds, and many other birds love small dried fruit, and some will be flying in shortly to get some.
Putting out fresh fruit, such as apples and oranges, is another great way to attract bright and colorful birds to your yard. Cut these into small, manageable pieces, and offer the snacks on the tray of a feeder.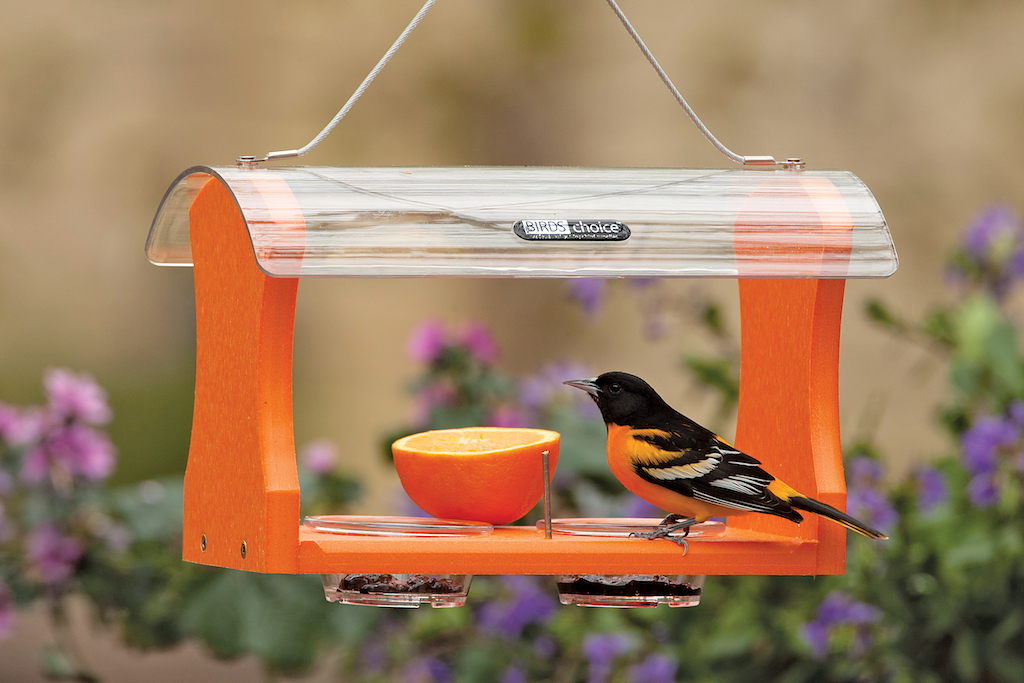 Another cool way to serve an orange is to cut one in half and place the halves sunny-side up on a feeder or branch. This arrangement allows birds to easily feast on the sweet fruit contained inside the rind. Sometimes it's best to impale the orange half on a nail to stop it from rolling away.
Plain and unsalted nuts, especially peanuts, pecans, and walnuts, make wonderful treats for birds. Simply add these to a feeder tray with seeds or place them in a tube feeder for nuts.
Preparing bird food of any kind shows that you care about the birds in your backyard. Now, are you ready to try making some recipes? Below are just a few suggestions.
Sweet Homemade Nectar
Nectar is a superb food for many birds. Studies of nectar from flowers have shown that the average flower nectar is 25% sucrose. Sucrose is a simple sugar, so to make the correct strength of homemade nectar (sugar water), mix a ratio of 1 part sugar to 4 parts water. You'll discover that hummingbirds, orioles, and woodpeckers will thoroughly enjoy the sweet drink that you made.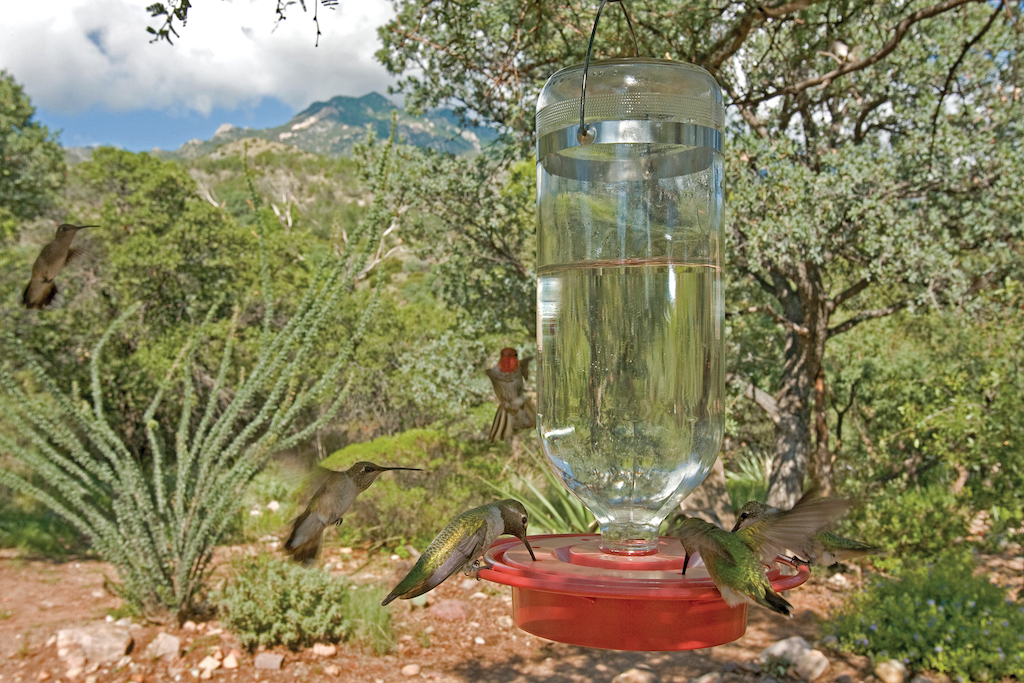 INGREDIENTS
1⁄4 cup granulated sugar
1 cup warm water
DIRECTIONS: Add sugar to 1 cup water and stir to dissolve. If you prefer, you can boil the water first so the sugar dissolves more quickly. Cool to room temperature before filling your feeder. Store any extra in the refrigerator or freezer.
NOTES: Never substitute brown sugar or honey for white sugar. Also, there is no need to add red food coloring because the birds will be attracted to any amount of red on any part of your nectar feeder.
Birds-Go-Wild Spread
INGREDIENTS
1⁄2 cup raisins
1⁄2 cup granola
1⁄2 cup oatmeal
1⁄2 cup Cheerios cereal (without colors)
1 (16-ounce) jar smooth peanut butter
DIRECTIONS: Mix raisins, granola, oatmeal, and cereal in a large mixing bowl. Warm the peanut butter in a microwave or place the jar in warm water to soften. Scoop out the softened peanut butter, and mix well with raisin mixture until smooth. Spread on tree bark or smear a few dollops on the tray of a feeder.
We will be sharing more bird food recipes in a future post, so stay tuned to our website.
About the author: Naturalist, wildlife photographer, and writer Stan Tekiela has written more than 175 field guides, nature books, children's books, wildlife audio CDs, puzzles, and playing cards, presenting many species of birds, mammals, reptiles, amphibians, trees, wildflowers, and cacti in the United States. You can follow Stan on Facebook and Twitter, or contact him via his web page. Stan's nationally syndicated NatureSmart Column appears in more than 25 cities spanning 5 states. Find out all there is to be found in Stan's new book here.
Pre-order The Kids' Guide to Birds of Missouri now. For more stories about wildlife and nature, sign up for our newsletter here!