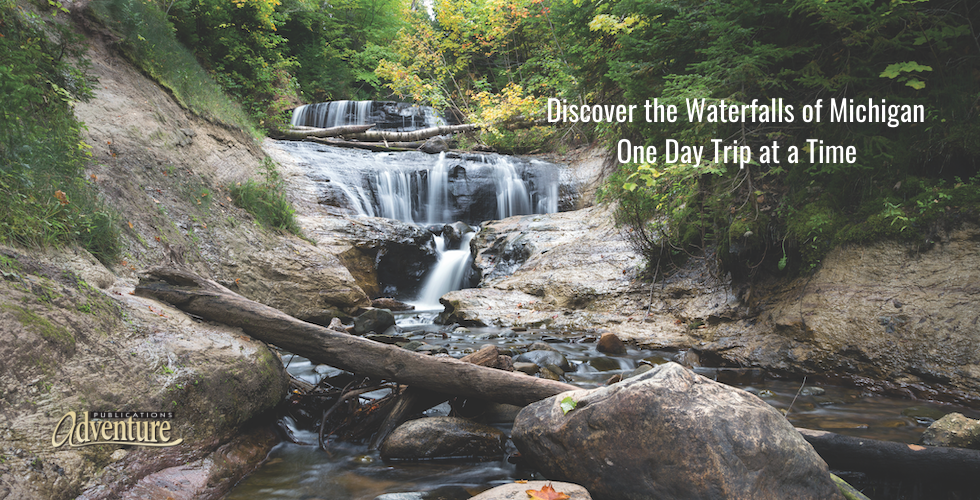 Discovering the Waterfalls of Michigan, One Day Trip at a Time
Posted on
August 20, 2021
In her book, Michigan Day Trips by Theme, Michigander Kathryn Houghton leads you to the fun, the fascinating, and the downright unusual. Her book is packed with more than 300 of the Great Lakes State's top spots for entertainment and enjoyment. Discover the state's unique attractions: beaches, dunes, islands, waterfalls, and more. Today we take a look at 3 of the more than 200 waterfalls of Michigan. 
Sable Falls
Pictured Rocks National Lakeshore, Alger County, MI
On the eastern border of Pictured Rocks National Lakeshore, Sable Falls waterfall is located in a deep valley. Even though the falls are relatively small, they are still dramatic, as the water moves past big boulders and follows a natural stairway to the lake. Approach the falls from the national park trail, and take the stairs that start inland—but be aware that the drive to get here can be rough. If you want an easier drive but a longer walk, start at the Grand Sable Visitor Center and follow the Beech Forest Trail up to the falls.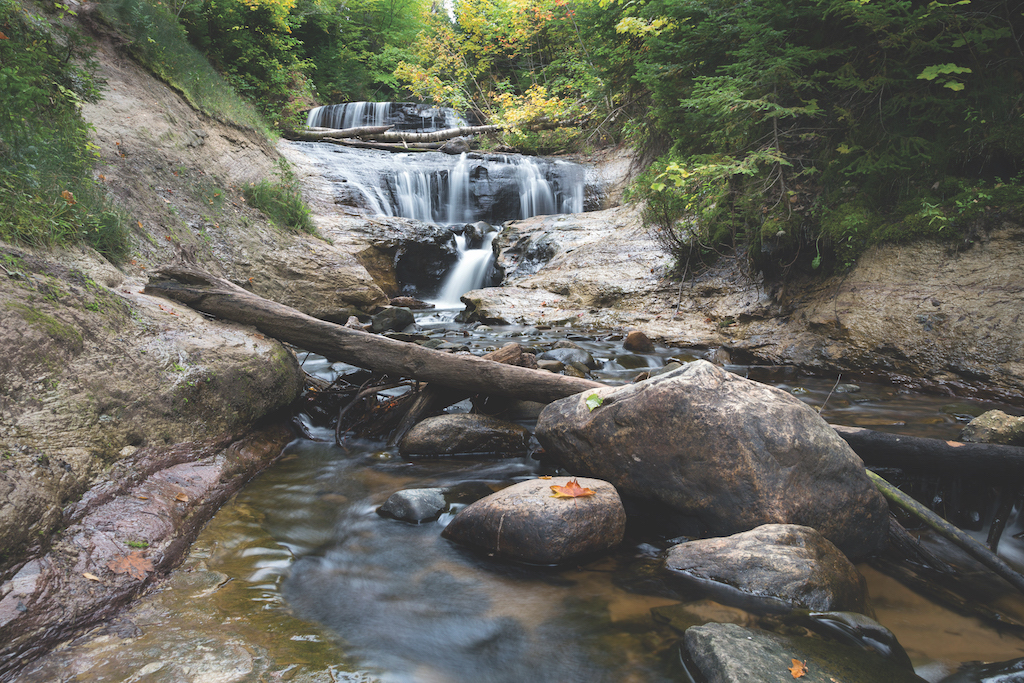 Grand Sable Visitor Center is about 1 mile west from Grand Marais on County Road H-58. For more information visit the website of the center.
Agate Falls
Agate Falls Scenic Site, Trout Creek, MI
An easy waterfall to see on the middle branch of the Ontonagon River, Agate Falls is located at a scenic rest area. The view from the bottom of the falls is really outstanding, though you'll have to leave the main trail to get there. The river itself is 80 feet wide and forested. A hiking bridge, which once carried a Duluth, South Shore, and Atlantic Railway right-of-way, spans the falls.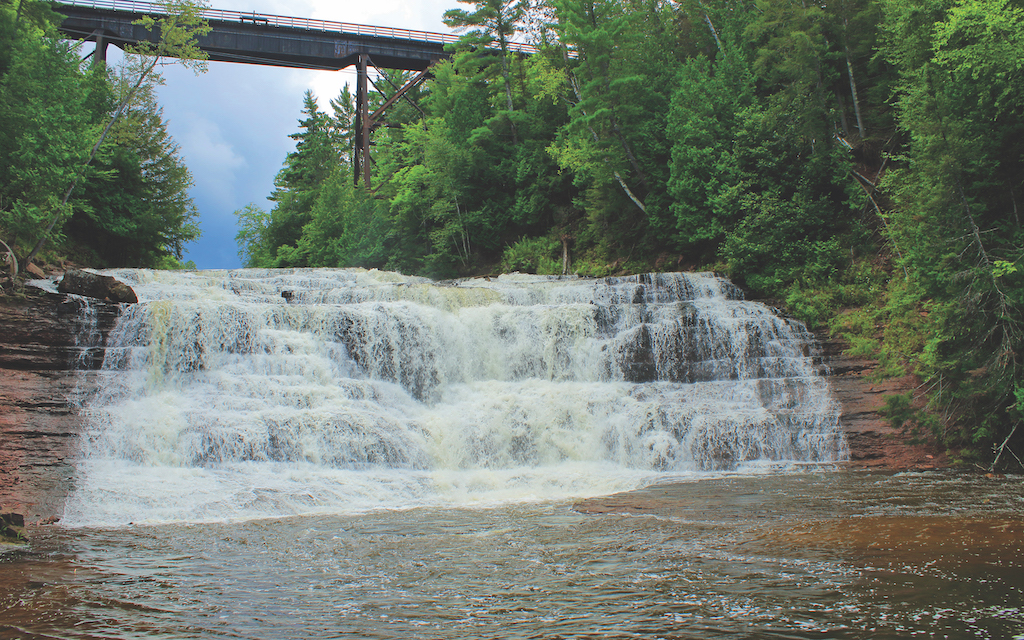 If you want to have a picnic lunch, the rest area has tables. One note of warning: The trail to the falls is steep and can be slippery. Note: A Michigan Recreation Passport is required. For more information visit the website of the Department of Natural Resources.
Tahquamenon Falls State Park
Paradise, MI
This park encompasses almost 50,000 acres of wild beauty and provides access to the magnificent Upper and Lower Falls. In terms of volume, Tahquamenon is the third-largest falls east of the Mississippi River. Lower Falls consists of a series of five drops that cascade around an island.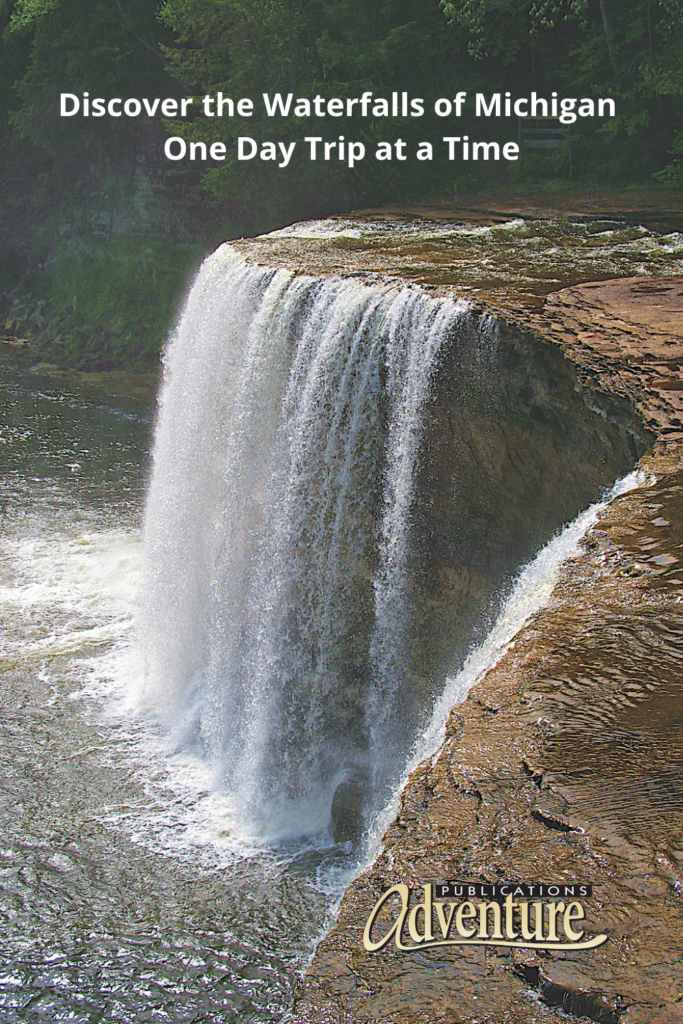 The Upper Falls, 4 miles upstream from the Lower Falls, is 200 feet wide and 48 feet high with an estimated water flow of up to 50,000 gallons of water per second. Steps lead down to the falls, and there is a fully accessible trail and many places to get pictures of the canyon and falls. Note: A Michigan Recreation Passport is required.
For more information visit the website of Tahquamenon Falls State Park.
About the Michigan Recreation Passport: It is a parking/day-use pass required by some state parks and recreation areas. For more information, including details on pricing, check here.
If you like waterfalls, come to Michigan—its Upper Peninsula alone is home to more than 200 named waterfalls. Note, however, that optimal waterfall viewing depends heavily on the weather, so check conditions before you go.
About the author: Born and raised in mid-Michigan, Kathryn Houghton has spent most of her life in the Mitten State. She can't imagine living anywhere else―and not just because no one in Michigan looks at her funny when she calls it "pop" instead of "soda." It's the people that make Michigan feel like home. She teaches writing and editing at Michigan State University. She lives in Holt with her sister and three dogs.
If you enjoyed this post about the waterfalls of Michigan, sign up for our newsletter now!