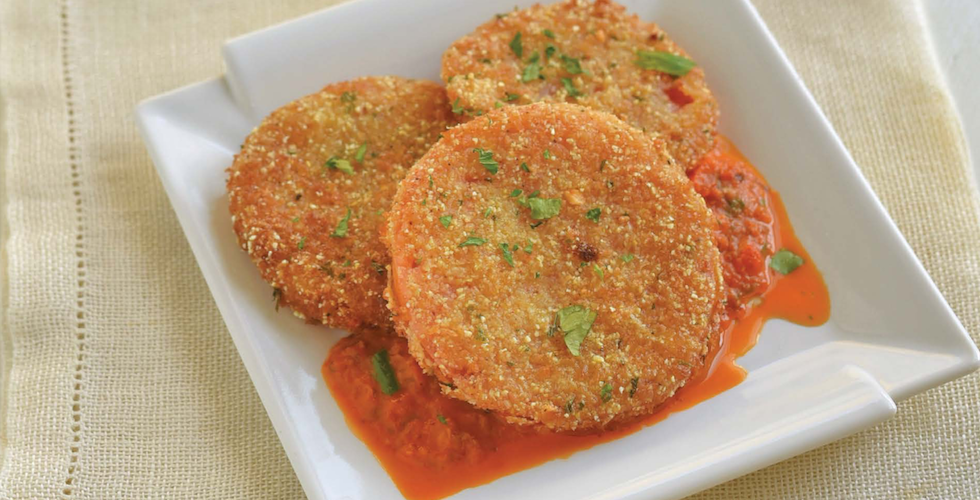 Fried Green Tomatoes: An Amazing Starter for a Great Meal
Julia Rutland, author of Tomatoes: 50 Tried & True Recipes, shares with us her recipe for Fried Green Tomatoes with Romanesco Sauce. We tried it out, and so should you! It is an amazing starter to a great summer meal.
I really can't express how much I love fried green tomatoes. Many recipes use only cornmeal or a bread batter. I like the crispy crunch of cornmeal, but I need a bit of breadcrumbs to soften the texture. If your tomatoes are very hard, slice them thinner so they can cook to tender before overbrowning. You'll get more slices and therefore use up more of the batter. I also use pink tomatoes—the ones just starting to ripen—because they are still tangy and firm.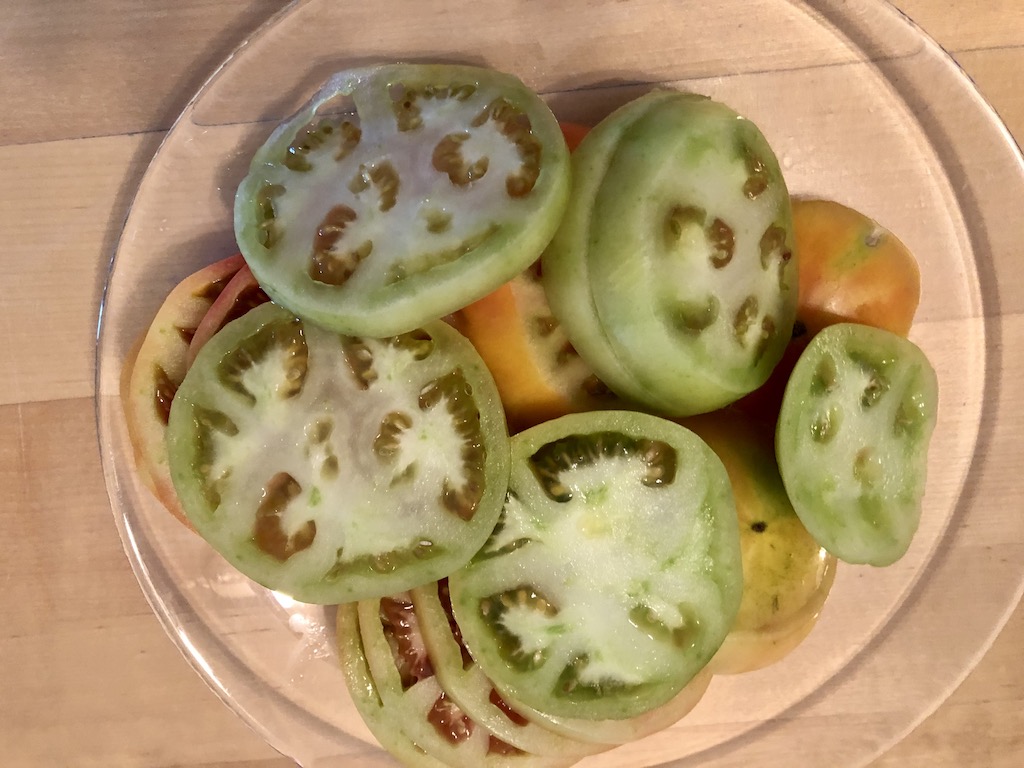 INGREDIENTS
Makes 2 dozen
6 small to medium-size (2 pounds) green or pink tomatoes
1 tablespoon Cajun seasoning blend or seasoned salt
1 cup all-purpose flour
2 teaspoons garlic powder
2 large eggs
1⁄2 cup buttermilk or milk
3⁄4 cup cornmeal
3⁄4 cup seasoned panko or dry breadcrumbs
Canola or vegetable oil
Grated or shredded Parmesan cheese
Salt (optional)
Roasted Tomato Romesco Sauce
Remove cores from tomatoes and cut into 1⁄4-inch-thick slices. Sprinkle both sides evenly with seasoning blend. Stir together flour and garlic powder in a shallow bowl. Whisk together eggs and buttermilk in a shallow bowl. Stir together cornmeal and panko in another shallow bowl.
Pour oil into a deep cast iron or heavy skillet to a depth of 1⁄4 to 1⁄2 inch. Heat to 350° to 375°.
Dredge tomato slices first in flour mixture. Dip in egg mixture and then dredge in cornmeal mixture. Fry tomatoes, in batches, in hot oil for 2 minutes on each side or until golden brown. Cool slightly on paper towels to absorb excess oil. Sprinkle with additional seasoning blend, grated Parmesan cheese, and, if desired, salt.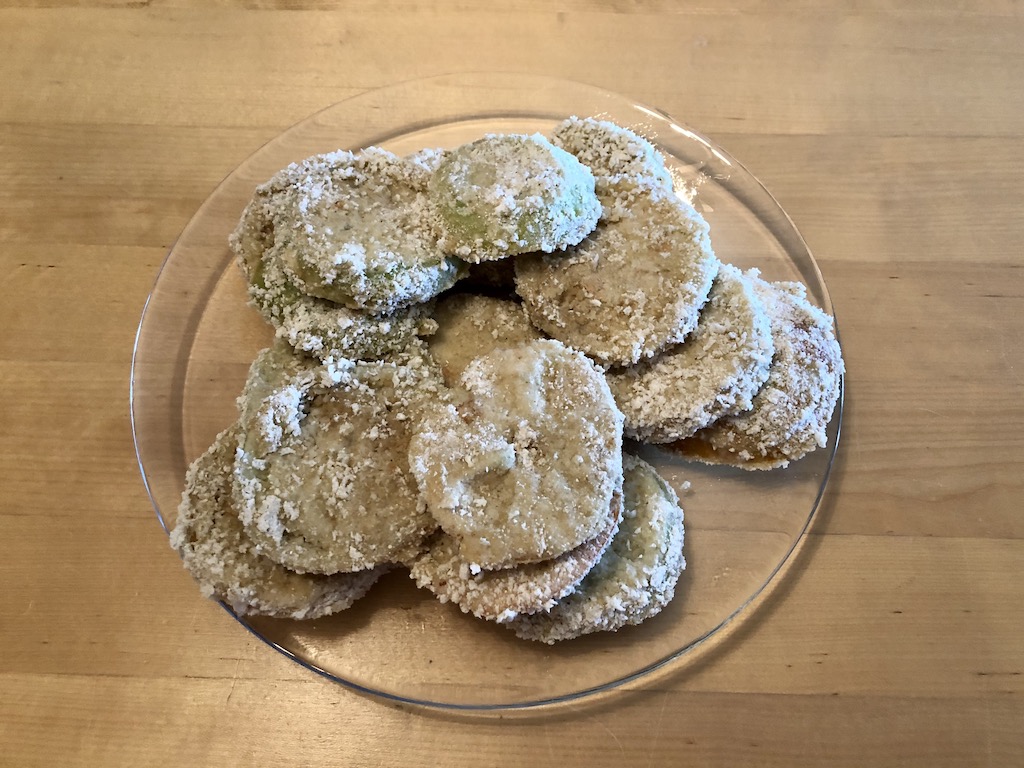 Serve with Roasted Tomato Romesco Sauce.
Roasted Tomato Romesco Sauce Recipe
INGREDIENTS
Makes 3 cups
3 large (about 1 3⁄4 pounds) ripe tomatoes 
2 red bell peppers, halved 
1 large garlic clove, coarsely chopped
1⁄2 cup slivered almonds, toasted 
2 tablespoons chopped fresh parsley
1⁄2 teaspoon salt
3⁄4 teaspoon smoked paprika 
2 tablespoons sherry vinegar 
1⁄2 cup extra-virgin olive oil 
Chopped fresh parsley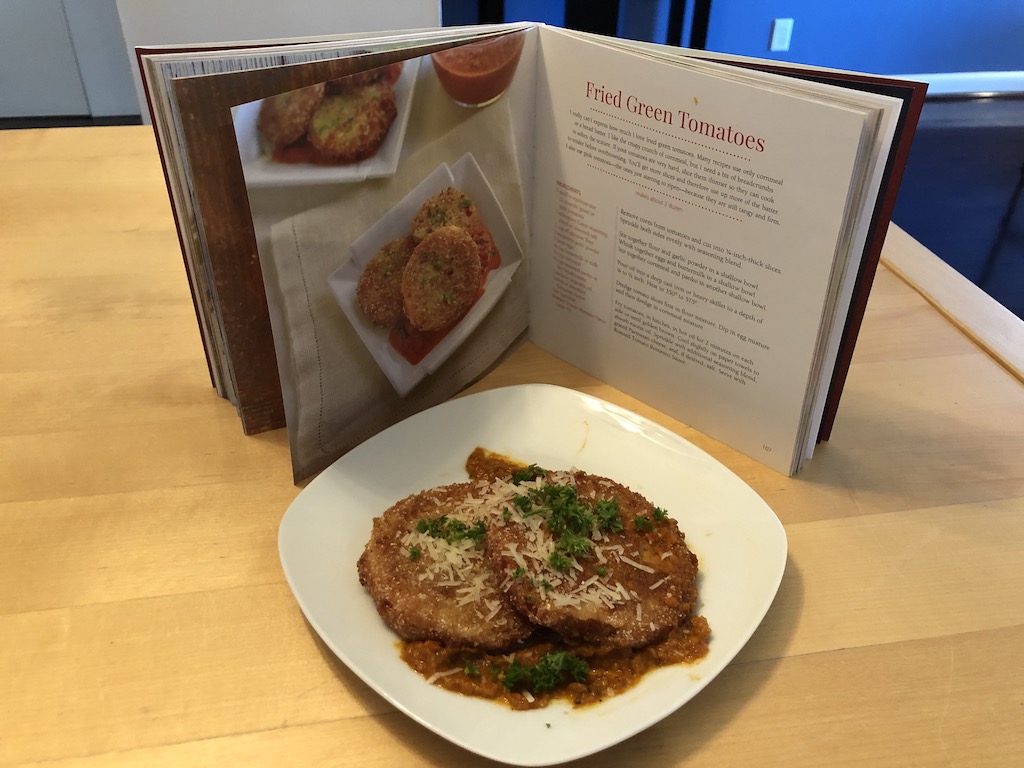 Preheat broiler. Line a sheet pan with aluminum foil. Cut tomatoes and peppers in half. Remove cores and seeds. Place the vegetables, skin side up, on the baking sheet. Broil for 15 minutes, rotating pan occasionally, until skins are blackened. Let stand until cool enough to handle. Remove skins.
Combine tomatoes, bell peppers, garlic, almonds, parsley, salt, paprika, and vinegar in a food processor. Process until finely chopped. Add oil; process until smooth. Adjust the seasonings, if desired. Garnish, if desired.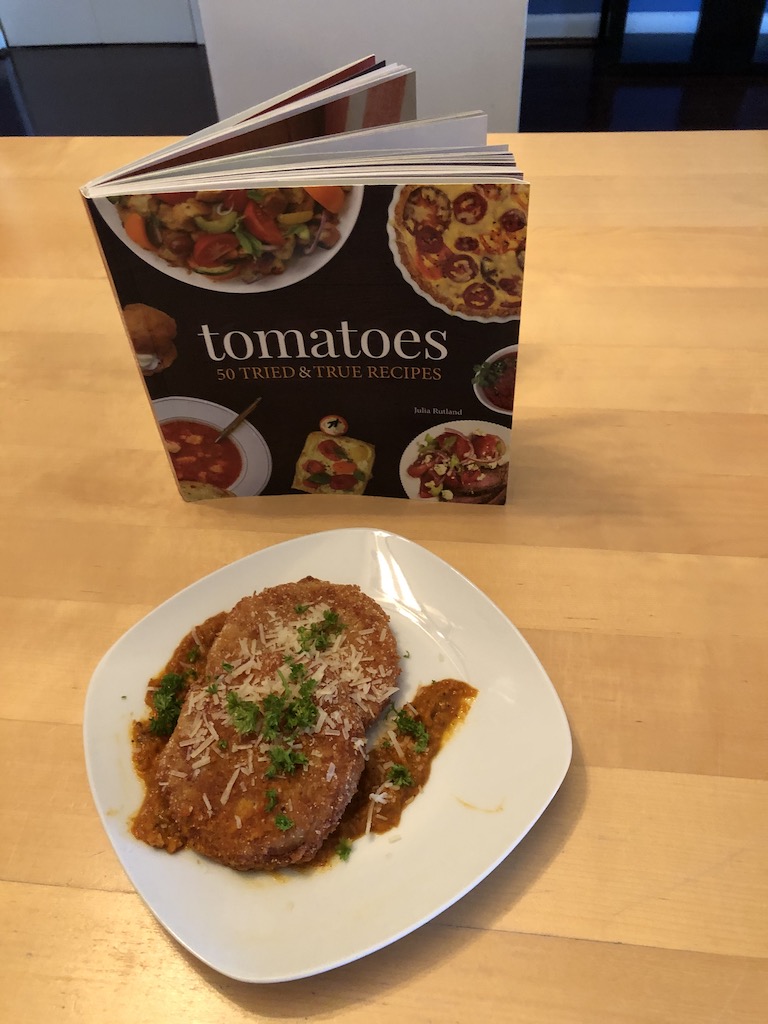 NOTE: Nuts add texture; however, for maximum flavor, toast them to a light golden brown before adding to the rest of the ingredients. Spread them out on a sheet pan and bake at 350° for about 5 minutes.
You can also use a toaster oven, but watch carefully because the heating elements are closer to the nuts and they may burn quickly. Shake the pan periodically for even browning. If desired, substitute 1 (15-ounce) can diced tomatoes (undrained) and 2 jarred roasted bell peppers (well drained) instead of the fresh ingredients and skip the roasting procedure. Serve the sauce with grilled meats and veggies, or as a dip for a crudités platter.
Tomatoes: 50 Tried & True Recipes is part of Adventure Publications' Nature's Favorite Foods Cookbooks series, which includes Apples, Blueberries, Rhubarb, Squash, and Maple Syrup.
For more recipes, our latest books, and stories, sign up for our newsletter here!