A Trip to the Falls of Whiteoak Canyon
Posted on
November 7, 2018
Join Randall Sanger, author of Waterfalls of Virginia & West Virginia: 174 Falls in the Old Dominion and the Mountain State, on a trip to the waterfalls of Whiteoak Canyon.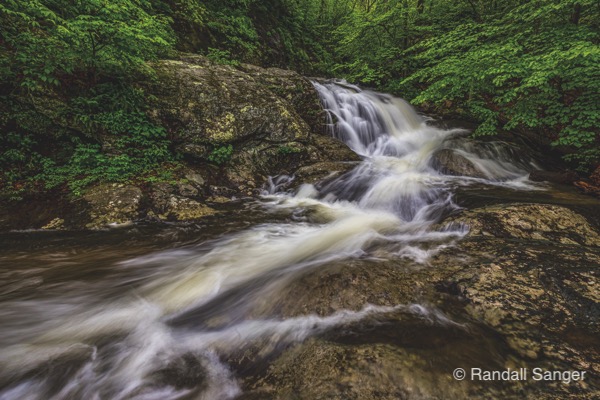 I love multiwaterfall hikes, and my friend Kevin and I were excited to see all the waterfalls in Whiteoak Canyon. We couldn't have timed our visit any better. We were there in early spring during a very rainy period; in fact, it rained on us for most of the hike.
The online sources I consulted listed six waterfalls in Whiteoak Canyon, but we saw several more, as well as some beautiful stream scenes with small cascades. In this book, I'm also featuring six waterfalls, but a couple of them aren't the ones I saw during my research. The waterfalls I've listed are ones I could safely access with the high water flow and very slick conditions. If you're there during normal water flow and the access is safe, you should definitely explore all the user-created paths to each of the waterfalls you'll see or hear along the hike—I know I'll be back again to see them all!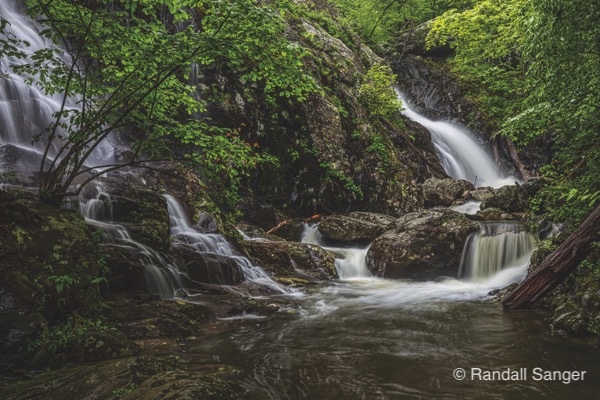 I'll go ahead and be honest with you here: I'm not a huge fan of strenuous and steep uphill hikes, and neither is Kevin. We began our hike at the trailhead, which is located at the north end of the parking area. But to avoid the return hike uphill, and to maximize our time in the park, we set up a shuttle. We left Kevin's vehicle at the lower parking area and drove my vehicle back up to the trailhead on Skyline Drive.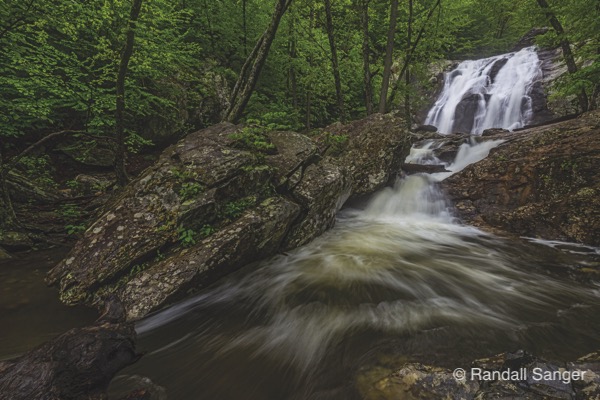 The trail begins innocently enough and is a pleasant stroll through a beautiful forest. After about 2 miles into the hike, you'll reach the Upper Falls, with a dramatic view from a rocky outcropping. I carefully made my way along the extremely slick and uneven surface to try to capture as much of the waterfall as I could. It was surrounded by a light fog that made for a nice, moody image. From here to the lower falls, you'll be going downhill—a lot.
It was at this point that Kevin and I remarked that we were glad we didn't have to hike back up, a remark we repeated quite often.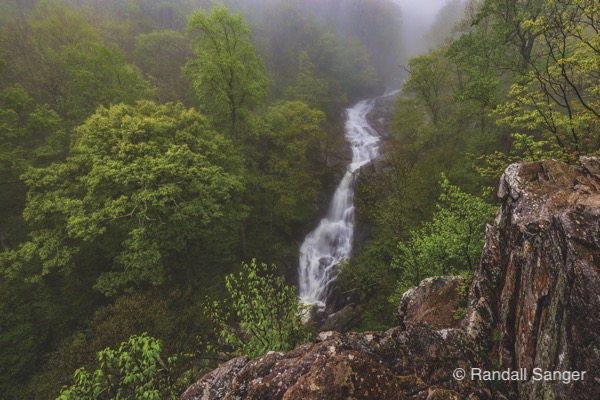 From the Upper Falls, follow the trail for about 0.3 mile to the second waterfall, where a user-created path leads you down to this 60-foot beauty. Back up on the trail, keep following for less than 0.1 mile to another user-created path down to the third waterfall I've featured. This one is a neat 15-footer that seems to appear out of nowhere from the deep green forest.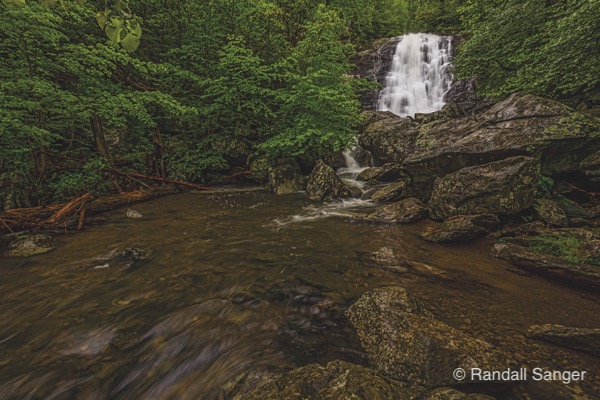 The fourth waterfall I photographed was again found after hiking less than 0.1 mile. After wading a short section of the stream and crawling over a large fallen tree, I really enjoyed shooting this little one. It had great characteristics, and I loved how the water cascaded through the frame. Back on the trail and a short distance from the fourth waterfall, you'll reach a viewing point for the fifth waterfall I photographed. We moved along down the steep trail to a better vantage point to photograph this waterfall, and in the featured photo, I included a little portion of a side stream crashing into Whiteoak Run.
From this point, we made our way along the trail, twisting and turning steeply down the canyon about 0.4 mile to Lower Whiteoak Falls. This 60-footer was my favorite of the six I photographed, and I spent a lot of time here, working on every conceivable angle. If you're doing the round-trip hike, here's where you turn back around and make your way back up to the trailhead on Skyline Drive. But if you're doing the shuttle, continue hiking along Whiteoak Run for a little over 1 mile to the lower parking area.
Getting to the Falls of Whiteoak Canyon: If you wish to set up a shuttle, or hike uphill first, the lower parking area is on Chad Berry Lane in Syria, VA. From the Thornton Gap Entrance Station on Skyline Drive, follow VA-211 East for almost 8 miles to Sperryville, then turn right onto VA-522 South for 0.8 mile. Turn right on VA-231, and follow for 10.2 miles to Etlan. Turn right on VA-643, and follow for 4.5 miles, then turn right onto VA-600 and follow for 3.5 miles to the parking area. For more information, check out the Whiteoak Canyon Area Road and Trail Map.
You might also like Randall Sanger's post about Sandstone Falls in West Virginia. If you enjoyed this post, sign up for our newsletter here.