Ghostly Tales of Mississippi
Posted on
August 15, 2018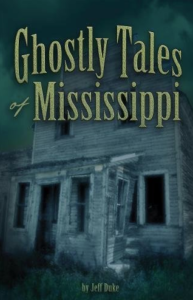 Ghostly Tales of Mississippi by Jeff Duke is our latest addition to our Ghostly Tales series.
A graveyard where the dead do anything but rest peacefully, a haunted bridge that was the site of unspeakable violence, the ghost of an ancient witch who roams the dark woods—Mississippi has long been regarded as one of the most haunted states in America. This collection of nearly 30 ghost stories by author Jeff Duke presents the scariest, most surprising ghostly tales of the Magnolia State.
Horror fans will delight in these reportedly true accounts that prove Mississippi is the setting for some of the most compelling ghost stories ever told. Read them alone at home, or share them with friends around a campfire.
About the author: Jeff Duke was raised in Tupelo, Mississippi, and began writing at an early age. He formulated a love for all things horror after spending untold hours in detention with books by Stephen King and H.P. Lovecraft.
In college, he studied creative writing under Barry Hannah at the University of Mississippi. Although he mainly pens Southern-style "grit lit" these days, he still enjoys writing about horrible things that go bump in the night. Jeff currently resides in Austin, Texas, with his dog, Boone; his cat, Gabbers; and his wife, Angelica, who is way out of his league.
Get ready for Halloween and order your copy of Ghostly Tales of Mississippi now.