Gentle Hikes of Minnesota's North Shore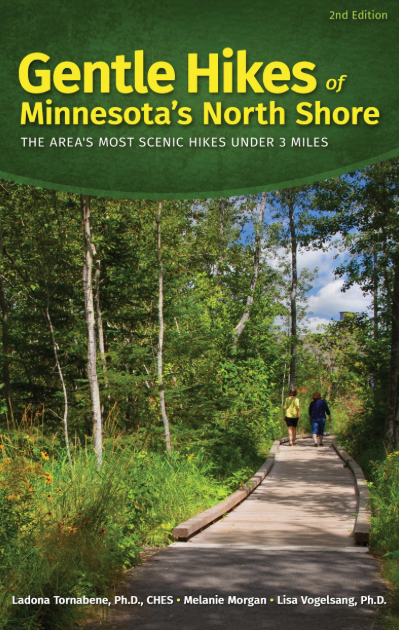 Minnesota's North Shore is renowned for its beauty. Picturesque waterfalls, winding rivers, rocky landscapes, and, of course, Lake Superior attract visitors from across the Midwest. With Gentle Hikes of Minnesota's North Shore, there's no need to fill your backpack with gear or plan an overnight camping trip to see the best of this unparalleled region.
Authors Ladona Tornabene, Melanie Morgan, and Lisa Vogelsang present the top outings under 3 miles in length. Are you short on time? Did you bring the kids? Does your group come with a range of physical abilities? No problem! With this revised and updated guidebook, you have details about more than 45 hikes at your fingertips. Each trail entry includes full-color photos, a map, and the information you want to know: total length, surface type, resting areas, trail highlights, and more. As an added bonus, the book includes details on 13 scenic walks less than a mile long, 21 waysides and scenic locales, and 15 picnic sites. There are special sections for people traveling in RVs and for people with physical challenges. Now you can plan the perfect outdoor adventures for your entire family, including small children and seniors.
About the authors: Ladona Tornabene, Ph.D., CHES, is an Associate Professor of Health Education at the University of Minnesota Duluth. She desires to promote physical activity in natural settings and believes that the North Shore, with its breathtaking scenery, is a prime incentive for accomplishing such a mission. Dr. Tornabene is also an avid photographer with a passion to empower others through her work. She has begun a scholarship fund through her print sales to help nontraditional students return to school and health education majors intern abroad. Melanie Morgan is a Minnesota native who loved walking in the woods near her family cabin as a child. Being involved in the hiking and writing of Gentle Hikes seemed like an extension of those good feelings and brought back fond memories. Melanie enjoys a sense of adventure; this love of exploration leads her to many beautiful locations. She and her husband continue to enjoy hiking and exploring whenever and wherever they happen to be. Lisa Vogelsang, Ph.D., serves as an adjunct assistant professor at the University of Minnesota Duluth in Health Education and at the College of St. Scholastica in Psychology and American Sign Language. She is also a part-time professional photographer specializing in landscapes of Minnesota's North Shore. A former two-time Olympian, she loves the outdoors. Lisa enjoys photography, hiking, biking, sea kayaking, cross country skiing, and snowshoeing. After six ankle surgeries and developing severe arthritis, she must keep her hikes short. Her disability was, in part, a catalyst in the conception of this book.