Camper Cabins at Bunker Hills Regional Park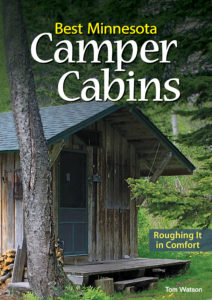 Tom Watson, author of Best Minnesota Camper Cabins: Roughing It in Comfort, talks to us about the camper cabins at Bunker Hills Regional Park, which have some of the most beautiful interiors of all camper cabins in the state.
Minnesota is known for its beautiful wilderness: pristine lakes, deep forests, flowing rivers. For those who might not enjoy the hassles and discomfort of tent camping—and for those who do—I herewith present a wonderful alternative: cabin camping!
There's something about a cabin in the woods. Maybe it's images of Thoreau at Walden Pond or Sigurd Olson writing from his Listening Point cabin on Lake Burntside. Whatever the inspiration, a cabin is the quintessential retreat in the woods—safe, secure, cozy, and quiet—all in a setting of rustic, northern beauty.
The cabins are situated among the campsites in the Rustic Loop camping section, a more spacious and woodsy arrangement of sites within the larger campground complex. Located just beyond the outer edge of the suburban ring around the Twin Cities, the oaks and pine-forested hills in this park are the perfect setting for a cabin. Spacious front yards and long and broad driveways create a niche of privacy within the heart of the campgrounds.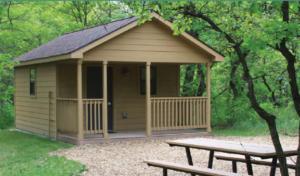 There are more than 5 miles of trails winding over the hills and through the forests here. Horse stables provide options for an equestrian experience, and for a more urban thrill, cabin campers and others are drawn to the huge water park just west of the camping area. Add in an archery range and an 18-hole golf course, and you have an incredible amount of options just minutes away. Don't miss the long boardwalk that heads out over a marsh; it's a great spot for birding.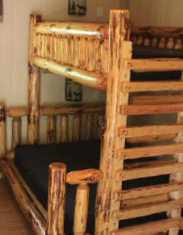 Quickly accessible from the Twin Cities, these cabins are a delight to the eye, especially for someone who has memories of quaint, rustic pine-timbered cabins far up north. Majestic stands of oaks intermixed with pines throughout these rolling hills and knolls is the perfect setting for a quick north woodsy escape from the urban buzz just a few miles south.
The classic rustic interiors of these cabins glow thanks to the golden hues of the pine log furnishings. From the bedposts to the table legs and everything in between, these are some of the most beautiful camper cabins in Minnesota, and they are as solid, secure, and comfy as they first appear. The layout is a standard floor plan offering a table, benches, and two sets of bunk beds. Large lights over each bunk add to the brightness, creating a warm glow reminiscent of a small fireplace.
Two cabins are available seasonally April through early October. The Bunker Hills Campground Visitor Center is located at 13101 County Parkway B, Coon Rapids, MN 55433. For reservations call  763-862-4970 or visit their website.
Find out all the details about the cabins at Bunker Hills Regional Park, including GPS location and much more, in Tom Watson's Best Minnesota Camper Cabins: Roughing It in Comfort.
About the author: Tom Watson is an award-winning writer who honed his outdoors skills while living in Minnesota and Alaska. He is a frequent contributor to several outdoors magazines and writes a column on camping/outdoor adventure.