Amish Country of Wisconsin
Today, we are visiting Amish Country in Wisconsin with Mary M. Bauer, author of Wisconsin Day Trips by Theme.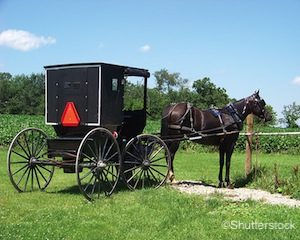 Steeped in a bygone era, the Amish are known for their traditional pacifist ways, horse-and-buggy travel, colorful handmade quilts, and plain clothes. Wisconsin has the fourth-largest population of Amish in the U.S., with the first families moving to Medford in 1920. Overcrowding in the East and increasing land prices have made relocating to Wisconsin an attractive alternative for the growing community.
Based on their concept of Christian humility, the Amish adopt a "plain lifestyle," forgoing modern conveniences, such as electricity, cars, telephones, computers, etc. Many of the Amish operate small bakeries, furniture shops, and quilt shops on their farms. Watch for signs detailing business hours; they are not open on Sundays. For a more personal glimpse into the Amish lifestyle, there are several tours available. See the Amish Tours section in this chapter for information. If you'd like to know more about the Amish, log on to this website, which also features an informative FAQ section.
Amish Country Tours
Augusta, Wisconsin, Standard Amish Countryside Tours: Enjoy a two-hour tour of the Amish way of life from the comfort of your own vehicle, but save room for the guide, as he or she will be riding with you, sharing his or her knowledge and background on these hard-working folks. Plan to see a home and farm, as well as a grocery store and other Amish businesses. Standard tours are held May through October. Call ahead for reservations and rates (715-286-5404). Closed on Sundays. The Wood Shed, 105 Lincoln Street West, Augusta.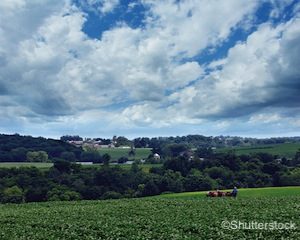 Down a Country Road: Your "Englisher" guides Chuck and Kathy Kuderer and their children live on a farm in the heart of one of the largest Amish settlements in Wisconsin. Learn about the history and customs of these gentle people on a personal tour of the Amish community. Your guide will ride with you in your vehicle for 1 1⁄2 hours as you visit farmsteads. Tours are held May through October and are scheduled by appointment Monday through Saturday. Call 608-654-5318 for times and cost.
Amish Getaways
Ages Past Bed & Breakfast and The Back Door Cafe
This elegant, historic country inn and restaurant was once a Catholic rectory. Meticulously restored antique furniture dates to the 1600s. Stained glass, an oak staircase, claw-foot bathtubs, terry robes and slippers, fresh-cut flowers (in season), gourmet dining, and wine are featured. Located in the heart of Amish Country, take your breakfast on the front porch and watch Amish horses and buggies clip-clop past. Area attractions include the Sparta-Elroy Bike Trail, Amish community and shopping, hiking, Wildcat Mountain State Park, canoeing, Kickapoo River, antiques shops, horseback riding, and two (18-hole) golf courses. Call 608-654-5850 for reservations.
Country Pleasures Bed & Breakfast
The gorgeous valley property sits smack-dab in the middle of Amish country. In fact, the five-bedroom house was once home to an Amish family with 19 children. Hike the wooded trails and explore the homestead's two ponds, or head to the barn and bowl a line or play shuffleboard. The B&B offers scrapbooking, weekend specials, weddings, retreats, and more. Families are welcome. Area attractions include canoeing the Kickapoo River, hiking, and biking. Call 608-839-4915 for reservations.