LARK Toy Store
In their book Grandparents Minnesota Style, Mike Link and Kate Crowley provide opportunities for adults and children to spend more time discovering Minnesota together. The book is designed for today's grandparents who want to use the time together with their grandchildren to laugh, have fun, create memories, and grow.
LARK Toy Store should come with a warning: Be prepared for an imagination overload! Your grandchild won't be the only one who is overwhelmed. LARK Toy Store is the place for people of all ages to let go of their inhibitions, where play is king, where design and art meld, where shopping and games come together.
Who would imagine such a place exists just outside the quiet river town of Kellogg, south of Wabasha? This grandchild's paradise has it all: an outdoor miniature golf course, an indoor carousel, a bookstore, a candy store, a woodcraft workshop and—oh, yes—a toy store!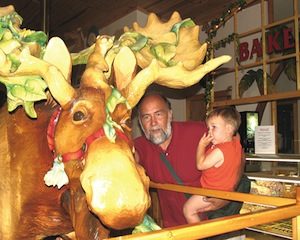 Original owners Sarah and Donn Kreofsky began making handcrafted wooden toys in 1983 for their sons, but they were appreciated by so many others that a retail store eventually came into being. In 2008 the Kreofskys retired, and a new family took over. These owners continue to operate LARK with the same attention to detail and fun.
LARK Toy Store is an indoor mall that resembles a wooden lodge. With so much to choose from, it's hard to say what the main attraction is. However, it just might be the amazing carousel. Your grandchild can choose to ride any of the carousel's 20 hand-carved wooden creatures, including dragons and otters. It's quite a sight to behold!
The Curiosity Shop is a place grandparents will enjoy because it carries some of the tin wind-up toys from their childhood, as well as wooden nesting doll sets. Continuing along that theme, there is Memory Lane, which is like an antique toy museum. Here you can show your grandchild Howdy Doody puppets, Erector Sets, and the tin dollhouses that were your favorites as a child. It's hard for grandchildren to imagine their grandparents as once being children themselves, but seeing your delight surrounded by these playthings will give them a glimpse into your past.
A trip back into our childhood isn't complete without a taste of something sweet, and that can be satisfied at The Fudge Tree. Need we say more? If you or your grandchild needs something more substantial, there is a small café near the Carousel. And, finally, head into the bookstore, where you can choose from the 2,000 titles in stock.
Remember all of those cool toys we used to play with? We didn't have Xbox games or computers. Our toys didn't talk, transform, or move on their own. But we still had plenty of fun. Kids' toys nowadays are quite different. LARK Toy Store is a chance for you to show your grandchildren how toys used to be. They will be amazed by the simple toys and their many colors and designs. Share your experiences of playing with these old-fashioned toys. You just might spark a new interest within your grandchild, and getting kids away from their computer games—even for a little while—makes for much healthier imaginations.
The carousel is a rotating work of art that cannot be described. It features wooden, finely detailed sculptures of plants and animals not commonly found on merry-go-rounds. Many sculptures have complete ecosystems. This carousel is a lesson in biology presented in a way that makes it fun for children to find the details.
Location and more information: LARK Toy Store, Kellogg
Other activities for your consideration:
Creative Kids Stuff, Minneapolis
Lego store, located at Mall of America, Bloomington
Goose Gang Toys, Perham