Crazy Critter Litter
Posted on
August 17, 2016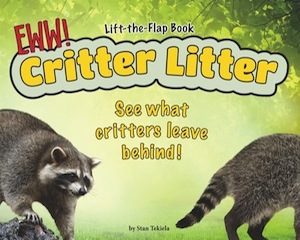 Kids will be crazy about critters after this engaging introduction to wildlife! Critter Litter: See What Critters Leave Behind is an entertaining, educational book featuring flaps that children can lift in order to see the scat (poop!), fun facts, and full-color photos of 12 mammals.
Award-winning author, naturalist, and photographer Stan Tekiela shares fun facts about 12 animals and the "litter" they leave behind.
Teaching Kids About the Natural World
Young readers will learn to tell what animals have visited the area by the signs left behind: tracks, food, and, yes, even scat. Let kids giggle as they learn to appreciate mammals and the natural world.
About the author of Critter Litter
Naturalist and wildlife photographer Stan Tekiela has written more than 130 books, including nature appreciation books and children's books. He is perhaps best known for his popular state-specific field guide series, which now includes books about birds, mammals, trees, and wildflowers. He has received various national and regional awards for his books and photographs. Also a well-known columnist and radio personality, his syndicated column appears in more than 25 newspapers, and his wildlife programs are broadcast on a number of Midwest radio stations. You can follow Stan Tekiela on Facebook and on Twitter.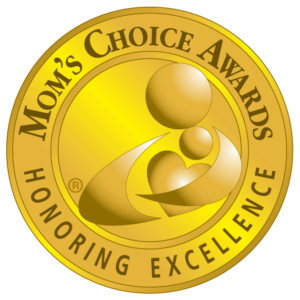 We are thrilled that Critter Litter: See What Critters Leave Behind is the recipient of a Gold Mom's Choice Award. The MCA evaluation process uses a propriety methodology in which entries are scored on a number of elements, including production quality, design, educational value, entertainment value, originality, appeal, and cost.
Testimony from The School Library Report
PreS-Gr 2—Eww is right! This lift-the-flap book presents a glimpse into the digestive systems of 13 North American mammals. Each animal is given its own spread featuring a brief introduction about where to find it and how to distinguish it from other creatures (tracks, physical characteristics). On each spread, the text is accompanied by captioned photographs, simple shadow illustrations of footprints, and, under the flap, a small photo of the animal's excrement. The use of color photographs to show real droppings sets Tekiela's work apart from other poop books, as most rely solely on illustrations of the waste matter. A simple layout with short sentences and descriptive wording makes this book easy to read aloud and to share with a group or one-on-one. VERDICT A great resource for budding ecologists or any young reader going through the feces phase.—Jennifer Wolf, Beaverton City Library, Oregon.