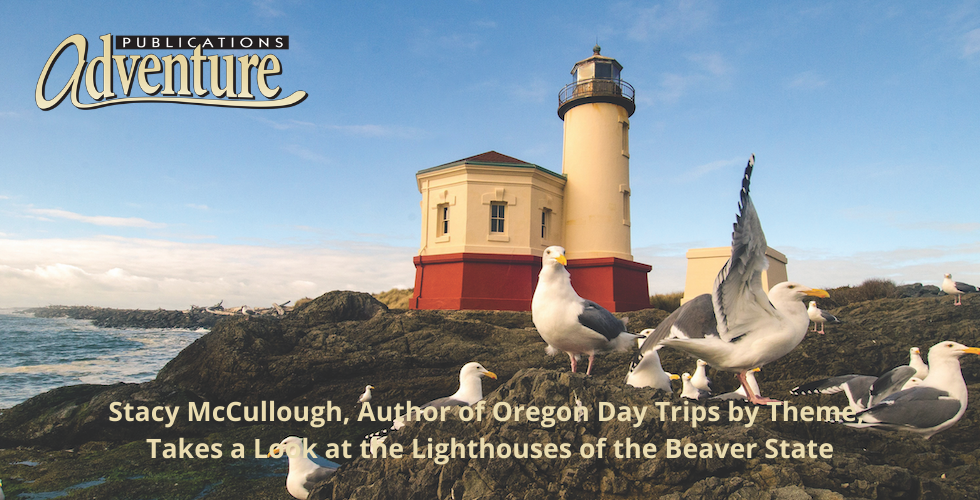 Discovering the Lighthouses of Oregon
Posted on
December 10, 2021
In her book Oregon Day Trips by Theme, Stacy McCullough helps readers to discover the state's unique attractions―beaches, caves, lighthouses, museums, and more. Today we take a look at the picturesque lighthouses of the Beaver State.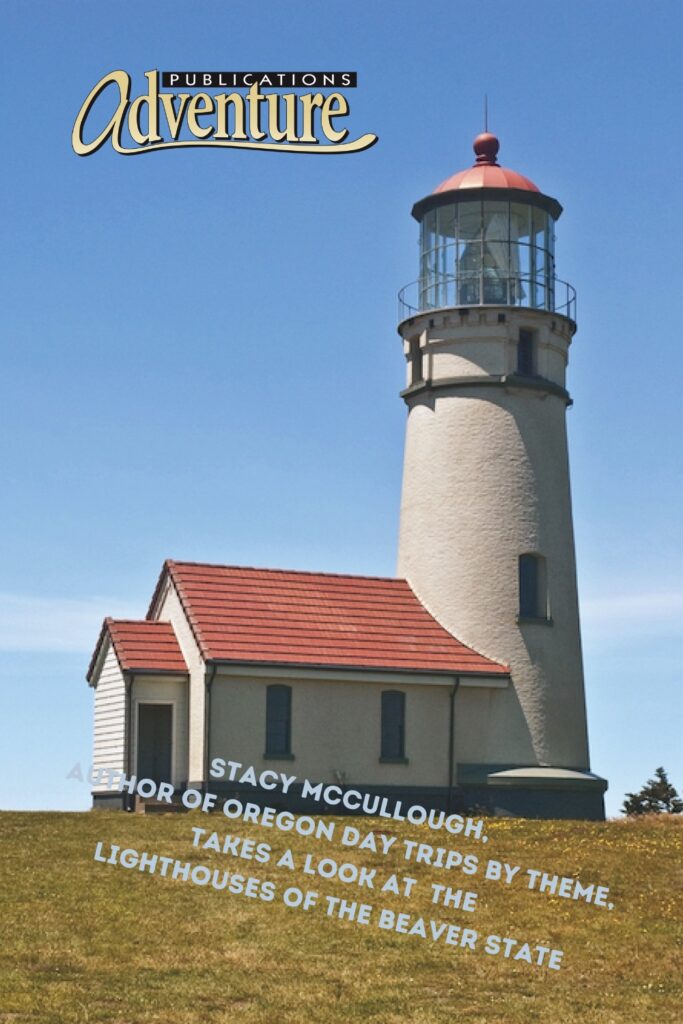 Cape Blanco Lighthouse
Cape Blanco was built in 1870 because the cape's high winds, dangerous reefs, and often-foul weather provided a real threat to shipping. In fact, a shipwreck even occurred here during the construction of the lighthouse—a vessel carrying supplies for the lighthouse sank and had to be replaced before the site was complete.
As the westernmost place in Oregon, and the second-westernmost place in the continental US (after Cape Alava, Washington), it was a difficult place to work and live. But the area was important for shipping, and this working lighthouse still operates today. Cape Blanco is perhaps best known for its pretty stunning scenery (the lighthouse towers over the sea), as well as for a historic Victorian home (built by a farmer) that is now open to visitors. After your tour, you can hike down to the beach, go fishing, or go camping.
Cape Meares Lighthouse
The view from Cape Meares is flat-out staggering. The lighthouse here was built in 1889, and unlike many other lighthouses, it's not especially tall. On the contrary, it's an oddity, as it's "only" 38 feet tall. Then again, perched on a cliff that is more than 200 feet above the water, it didn't need to be especially tall. Tours of the lighthouse are free, but check the website for seasonal information. The area is also great for viewing wildlife: Whales can be spotted at various times of the year (migration seasons are December and January, March and April, and during summer). Seabirds, especially common murres and cormorants, are often seen from spring into summer, and there are several short hiking trails and interpretive displays. One popular landmark is the Octopus Tree, a sprawling spruce that makes for a great photo opportunity. While you're in the area, check out the other scenic spots on the Three Capes Scenic Loop; Cape Meares is just one of them.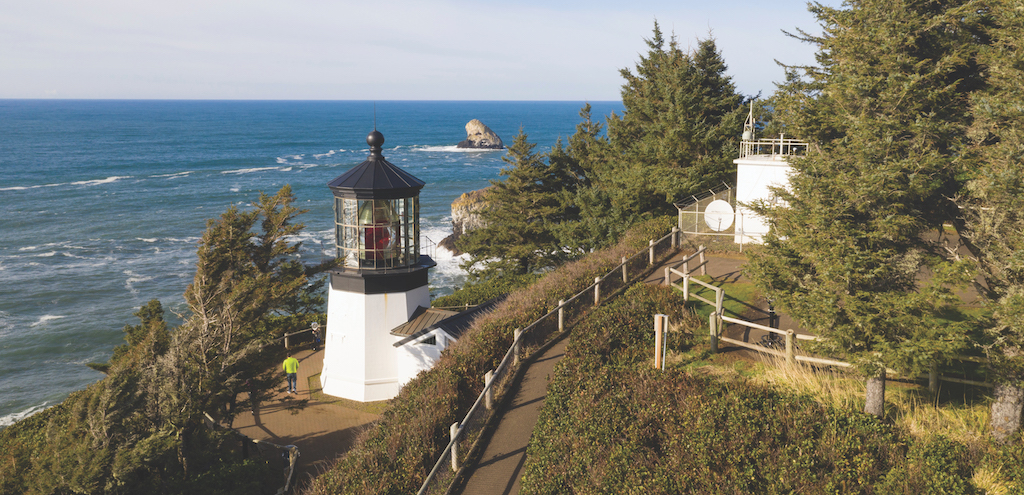 Coquille River Lighthouse
The Coquille River, named after the Native American tribe that has resided in the area for thousands of years, was once a prominent shipping hazard. The currents and winds near the river's mouth were often treacherous, and the shifting sand bar it created made it easy for ships to run aground. Recognizing the threat, the Coast Guard built a lighthouse and a jetty on-site, but even today, with a modern jetty in place, entering the harbor can be tricky. The lighthouse, first operational in 1896, is interesting because its base is octagonal. It operated until 1939 and was then abandoned for more than two decades; it was eventually restored and is now part of Bullards Beach State Park. Today, visitors can tour the lighthouse's signal room (but not the tower) from mid-May through September. The park also has miles of beach to explore, and the area is famous as a storm-watching destination.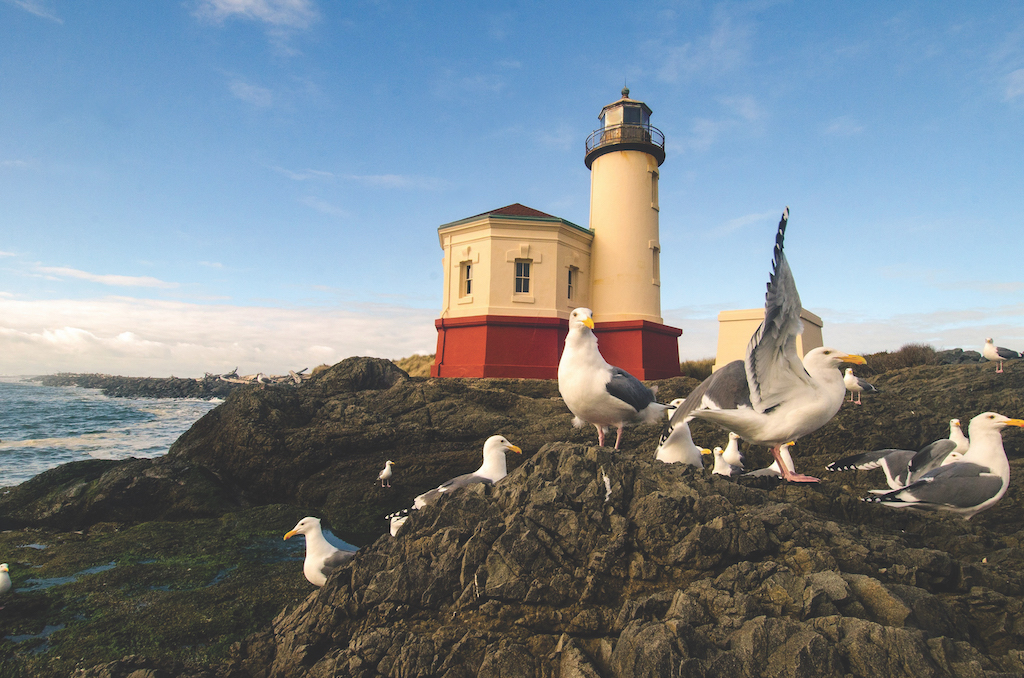 Tillamook Rock Lighthouse
Visible in the distance from a viewpoint at Ecola State Park, Tillamook Rock Lighthouse is situated a mile from shore. It had an inauspicious start when a would-be designer of the lighthouse, John Trewavas, was brought out to the rock; he slipped when trying to step onto the rock and then drowned. Nonetheless, the project moved forward, and eventually a lighthouse was built, 90 feet above the sea. Despite this great height, it was not immune from the wrath of the ocean. On the contrary, winter storms wreaked havoc on the lighthouse, and its keepers, flinging boulders and water into the rooms. Not surprisingly, the lighthouse keepers were under immense stress (physically and mentally), and the lighthouse soon earned the nickname "Terrible Tilly," with many keepers quitting or being removed due to the mental strain. Seawater from one massive storm in the 1930s even put out the lighthouse's beacon, though it was restored soon thereafter.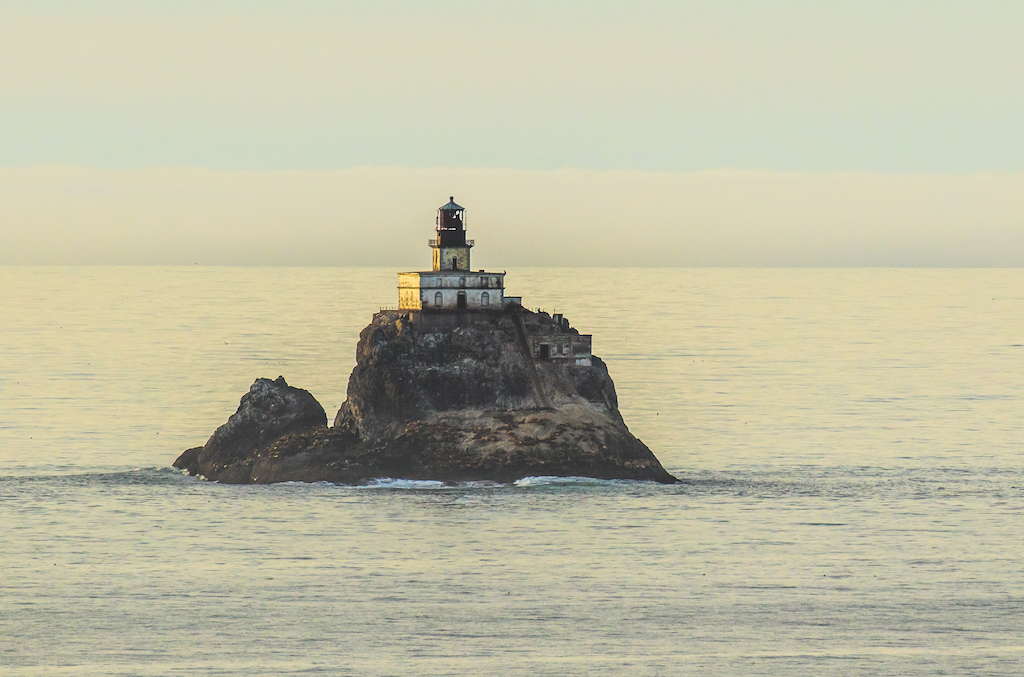 The lighthouse operated until 1957 and then cycled through a number of owners. The most recent owners turned the lighthouse into a columbarium—a repository for cremated remains—but that venture was relatively short-lived. Today, the lighthouse is in rough shape, and, for obvious reasons, tours aren't available.
Umpqua Lighthouse
The first lighthouse built here began operating in 1857 as part of an effort to protect the ships of the area's nascent lumber industry. When construction began, this lighthouse was very unpopular with the area's Indigenous inhabitants, who had lived in the area for thousands of years. They responded by using nonviolent measures— stealing tools—to slow down the construction process. Violent storms also delayed construction, but the lighthouse was eventually lit in 1857. That lighthouse wouldn't last long, however, as storms and river floods wrecked the foundation, alarming the lighthouse keepers and eventually toppling the entire structure. In 1894, a new lighthouse—this one built on safer ground—began operating, and it's still lit today; its original Fresnel lens is even still in use.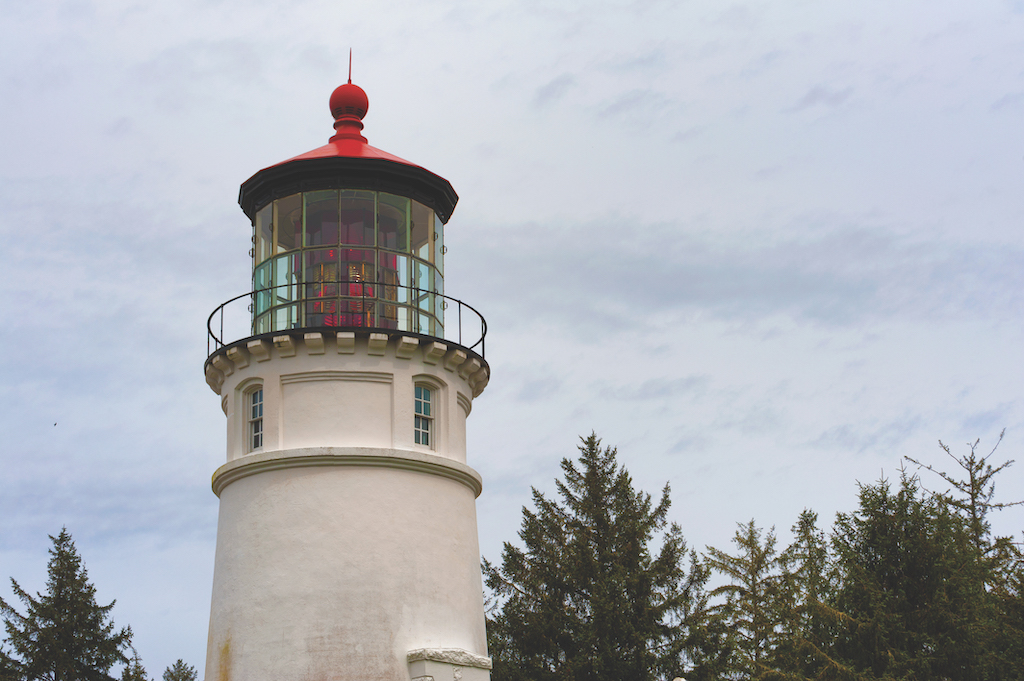 This lighthouse is operated by the county parks department, and it also features a museum, which is housed in a historic Coast Guard building. Tours are available from May through October and by appointment in the winter. As you might expect, the weather here can get a bit interesting, so check the forecast and make sure to dress warmly in winter.
Yaquina Head & Yaquina Bay Lighthouses
Newport is home to not one but two lighthouses, including Oregon's tallest, Yaquina Head Lighthouse, which has a tower that reaches 93 feet. Yaquina Head Lighthouse was first lit in 1873, and it has been an Oregon destination for decades. Part of its allure is its sheer grandeur, but it is also cloaked in legend, as it is reputedly haunted (though by whom seems to vary with each telling). One eerie feature of Yaquina Head is absolutely true: Ships that get too close to the cliff on which it's perched will see any traditional compasses go haywire.
There's a relatively simple explanation for this: The rocks beneath it are made of magnetized iron, a material that interferes with magnetic compasses. Tours of Yaquina Head are offered throughout the year when possible, but call ahead for dates, times, and what to expect. Once you're done, check out the tide pools at the base of Yaquina Head; there you can see starfish, urchins, and other sea life. (Check the website for information on schedules and safety tips.)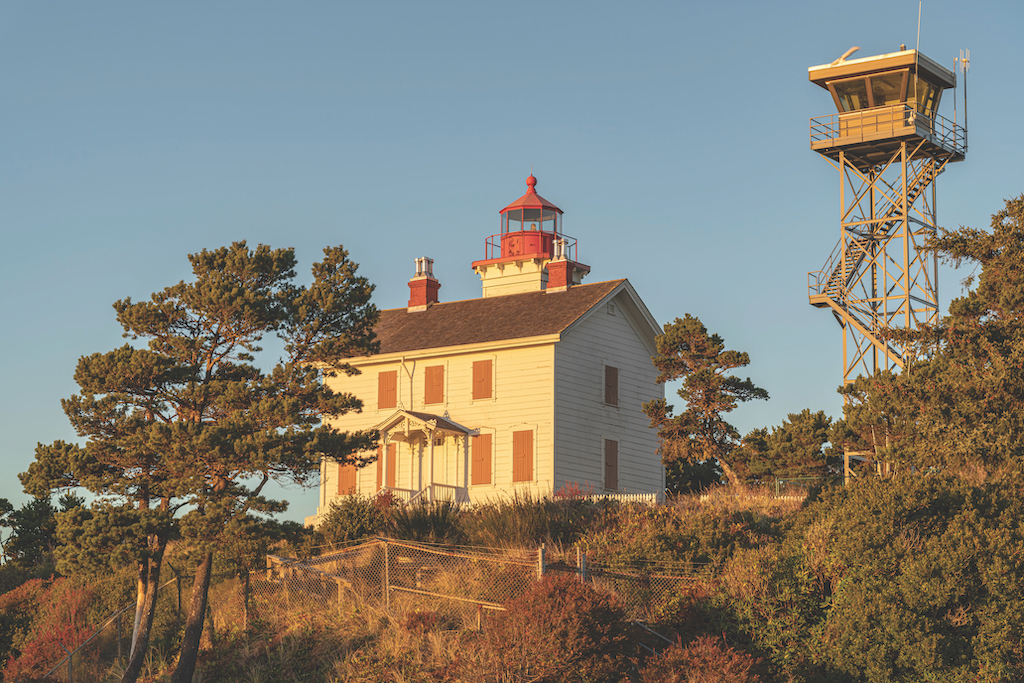 The Yaquina Bay Lighthouse has a strange history. It first started operating in 1871, but it was shuttered, and then abandoned, just three years later. The Yaquina Head Lighthouse, first lit in 1873, was in a better location, making the initial lighthouse obsolete. The lighthouse was practically falling apart within a few years. It was repaired shortly thereafter, but it wasn't used for more than a decade, when the U.S. Army Corps and, later, the U.S. Life-Saving Service (and its successor, the Coast Guard) began using the structure (but never actually as a lighthouse).
Eventually, the lighthouse was donated to the State of Oregon in the 1930s, and for the next few decades it was always on the cusp of being demolished. Happily, lighthouse fans came together to vouch on its behalf, and it was eventually not only saved, but restored and relit, becoming a private aid to navigation. It's now part of Yaquina Bay State Recreation Site, which offers tours (check the website for seasonal schedules), hiking, and whale-watching.
Discover the state's unique attractions―beaches, caves, lighthouses, museums, and more. Order your copy of Oregon Day Trips by Theme here. If you enjoyed this post, sign up for our newsletter now!