Ohio's Top Spots for Day Trips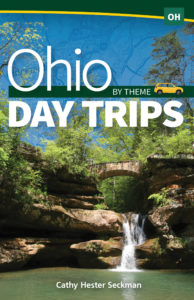 If you've ever asked, "What should we do today?" then you'll love Ohio Day Trips by Theme. This comprehensive guide to the Buckeye State is jam-packed with hundreds―yes, hundreds―of Ohio's top spots for fun and entertainment.
Ohioans believe they are at the heart of it all, and that's especially true for outdoor adventure. From the twisting motorcycle roads of southern Ohio to the Muskingum River Water Trail and the Ohio to Erie Bicycle Trail, daytrippers have no lack of choices for adventure. Hiking at more than 70 state parks and sailing Lake Erie are also popular options. Whether a daytripper prefers the adrenaline rush of a zipline canopy tour in a state forest or a sedate wagon ride through The Wilds animal conservation center, Ohio can satisfy every outdoor adventure wish.
Take a simple day trip, or string together a longer vacation of activities that catch your interest. Destinations in the book are organized by themes, such as lighthouses, orchards and vineyards, festivals, and outdoor adventures, so you can decide what to do and then figure out where to do it. Useful for singles, couples, and families―visitors and residents alike―this guide by Cathy Seckman encompasses a wide range of interests. With Ohio Day Trips by Theme at your fingertips, you'll never be bored again!
About the author: Cathy Seckman is a lifelong resident of East Liverpool, Ohio, and a graduate of East Liverpool City High School and West Liberty State College (now University). She has written for newspapers and magazines, including many travel articles, since 1985. She has written a history of her hometown for Arcadia Publishing and has indie-published two novels and an anthology. Her short fiction has been published in several magazines. As a back-of-the-book indexer, she has also written more than 150 indexes, mostly for textbooks, on a wide range of topics, from dentistry to terrorism to literary criticism. She enjoys camping and motorcycling, has seen 47 states, and looks forward to visiting the final three.
If you enjoyed this post, sign up for our newsletter here.