Minnesota Children's Museum
Posted on
January 11, 2017
In their book Grandparents Minnesota Style, Mike Link and Kate Crowley provide opportunities for adults and children to spend more time discovering Minnesota together. The book is designed for today's grandparent who wants to use the time with grandchildren to laugh, have fun, create memories, and grow.
The first children's museums were established in the U.S. in the early twentieth century, but it wasn't until the '60s that they really evolved into the type of places we are more familiar with today. The Minnesota Children's Museum first opened in December 1981 in Minneapolis. Attendance grew rapidly, leading to a series of moves. After 20 years of success and continued growth in attendance, the Minnesota Children's Museum undertook a major expansion of its downtown St. Paul space and exhibits in 2015, completing it in early 2017.
Minnesota Children's Museum One of the Most Child-Engaging Places in the State
Today, the museum boasts four floors that are jam-packed with creativity; the museum's vibrant colors, designs, and interwoven educational content make this one of the most child-engaging places in the state.
Your job on a visit here is to guide your grandchild, but let her lead the way. There are many different exhibits on site, including traveling exhibits; the following are just a few longtime favorites. "Our World" is a life-size community, a place for the child to explore a make-believe world of farmers markets, a post office, a fire station, and a light rail train. Here, role playing is key, and this can be enjoyed by both young and old.
In "Forces at Play," the concepts behind STEM education (science, technology, engineering, and math) are explored via simple machines and experiments with flowing water and air. Each activity can tap into the senses and lead to new understanding and thinking when it comes to these important areas of study. Learning has never been so much fun. "Sprouts" is designed for the youngest children. In this sensory-rich area, children from birth to age 3 are encouraged to explore a world of water, color, and light in a safe setting.
The "Scramble" is the most popular destination; it's a four-story-high tower set in front of a wall of windows where the kids can exercise their muscles and their minds as they maneuver their way through the various levels and obstacles. Seeing the Scramble was enough to make this grandma jealous when I thought of the limitations of the playground equipment in my childhood. If you feel the same way, don't worry: The Scramble is adult-friendly too.
No one likes to be corrected—including grandchildren. Fortunately, there are not any wrong answers at the Minnesota Children's Museum. The entire place is rich with activities waiting to be tried, and there isn't any one "right" way to play. Instead, the experience is about exploration and about children finding their own way.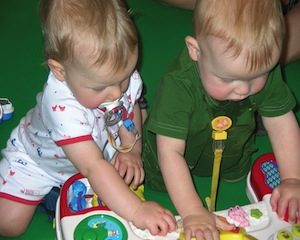 For you, this is a chance to practice the art of stepping aside. Let your grandchild experiment with different methods of problem-solving. Keep your suggestions to a minimum, and offer guidance only as a last resort. When she has completed the activity, challenge her creativity by asking, "How many other ways could you do that? Can you think of a different solution?" By doing so, you will be sending your grandchild a message that there isn't always just one answer, and it's okay to make mistakes, as long as you learn from them.
This is your day to enable and observe. Take advantage of the Studio. Here the museum staff helps children express their creative side using a variety of art materials. This is a good "slow-down" place that still engages the child. When you begin to feel tired, let your grandchild know that you'd like to take a break in one of the many quiet spaces scattered throughout the Museum where you can both settle down and read the books that are provided. After relaxing for a bit, you may both be ready for a bit more exploration and play.
Location and more information: Minnesota Children's Museum, St. Paul
Other activities for your consideration:
Children's Discovery Museum, Grand Rapids
Duluth Children's Museum, Duluth