Summer Reading: Essential for Children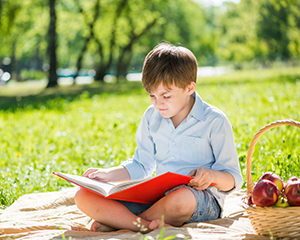 Sure, summer reading sounds like a nice idea for your children. But is it really that big of a deal? After all, there's so much else to do. Lake cabins, fishing trips, family vacations, swimming pools, and baseball games—the school-free days fill up fast. Believe me, I know how busy summer can get. But reading children's books must find its way to the top of your kids' "to-do" list, if not every day then close to it. This isn't just because it seems like a good thing; it's essential to their long-term education.
For roughly nine months of the year, children attend school—and they learn a lot during those all-important months. Summer provides a much-needed break from the barrage of facts and figures. But, believe it or not, too much down time is bad for the brain. Summer reading of children's books helps to prevent summer learning loss from setting in.
What is Summer Learning Loss?
Learning is just like exercising. When you take a long break, you lose some of what you gained. Summer learning loss is the fading of knowledge, which occurs over the summer due to a lack of practice. Essentially, a child who doesn't regularly exercise his or her brain becomes less smart. According to the National Summer Learning Association, summer learning loss can leave students (particularly low-income youth because of fewer opportunities) 2.5 to 3 years behind their peers by fifth grade!
Summer Reading is a Perfect Solution
What's the cure for this potential loss of knowledge? Reading favorite children's books! It's an ideal summer brain exercise because it's fun, it's fast—just 20 minutes per day is a great way to start—and it can be done independently. Also remember that newspapers, magazines, comic books, and letters count as reading too. So even reluctant readers can find something to pique their interest. (My son loves his Minecraft magazines.)
The news for readers gets even better—and even worse for nonreaders. We already learned that children who don't exercise their brains, summer reading or otherwise, experience learning loss. Those who do spend regular time with their favorite children's books experience a learning gain.
Ultimately, this means that your children's learning levels will either go up or down during the next three months. Get them reading every day, and they'll be on the plus side of this potentially wide learning gap.
Here are five tips to get kids reading!