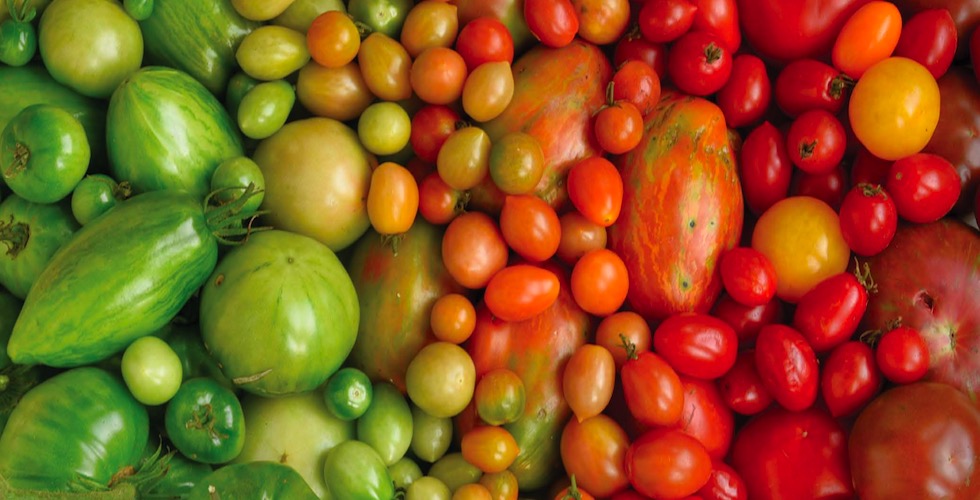 Mixed Heirlooms with Walnut-crusted Fried Goat Cheese Recipe
Check out this amazing recipe of fried goat cheese by Julia Rutland, author of our upcoming book  Tomatoes: 50 Tried & True Recipes. We tried it out and so should you, vinaigrette and all!
Ripe tomatoes paired with walnuts and goat cheese create a delightful umami experience! Smaller tomatoes are easy to serve cut into wedges, with the smaller bites fitting easily on a fork.
INGREDIENTS
Sherry-Walnut Vinaigrette (see recipe below)
1⁄3 cup all-purpose flour
1 large egg, lightly beaten
1 teaspoon water
1⁄2 cup seasoned panko breadcrumbs
1⁄2 cup finely chopped walnuts
1⁄4 teaspoon salt
1 (10.5-ounce) package fresh goat cheese
2 tablespoons olive oil
8 cups baby spring greens or torn Romaine
6 small yellow or red heirloom tomatoes, cut into wedges

HOW TO
Prepare vinaigrette; cover and refrigerate until ready to assemble the salad. Place flour in a shallow bowl. Combine egg and water in another shallow bowl. Combine breadcrumbs, walnuts, and salt in a third shallow bowl.
Cut goat cheese into 12 rounds. Coat each goat cheese patty in flour, dip in egg mixture, then dredge on all sides in walnut mixture. Place rounds on a wax paper-lined baking sheet and freeze for 30 minutes.
Heat oil in a large nonstick skillet over medium-high heat. Cook cheese rounds, in batches, for 1 minute on each side or until golden brown.
Place lettuce and tomatoes on a serving platter or individual plates; top with fried goat cheese rounds and serve with vinaigrette.
Sherry-Walnut Vinaigrette: Combine 1⁄3 cup sherry vinegar, 1⁄2 teaspoon Dijon mustard, 1 small shallot (minced), 1⁄2 teaspoon salt, 1⁄4 teaspoon coarsely ground black pepper, 1⁄3 cup walnut oil, and 1⁄4 cup extra-virgin olive oil in a jar; cover tightly, and shake until well blended. Cover and store in the refrigerator until ready to serve, up to 1 week. Makes 1 cup.
Tomatoes: 50 Tried & True Recipes is part of Adventure Publications' Nature's Favorite Foods Cookbooks series, which includes Apples, Blueberries, Rhubarb, Squash, and Maple Syrup.