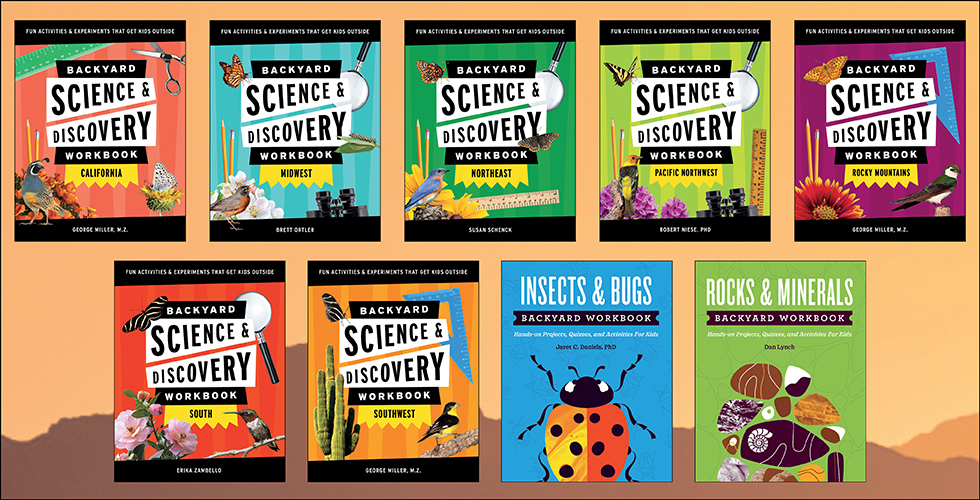 Backyard Science & Discovery Workbook: Midwest
Posted on
February 9, 2021
Brett Ortler, author of Backyard Science & Discovery Workbook: Midwest, shares with readers his love for nature. His fervent hope is that kids will get outside, observe, learn, and protect the nature of the Midwest.
In today's post, Brett shares how to teach kids to raise native butterflies and then release them.
The Midwest is a wonderful place. With 12 states, 4 distinct seasons, and a huge range of habitats, plants, animals, and fungi, there's an amazing amount to observe and learn about.
Finding a caterpillar is one of the highlights of spring and summer. But unless it's a really iconic caterpillar, like a monarch, identifying caterpillars can be tricky for beginners. Many caterpillars, including all of the classic "inchworms" will actually end up being moths. Even the name scientists use for these moths—Geometridae—is a reference to geometry and how these caterpillars "measure" as they walk.
But you don't need to identify your caterpillar to rear it; after all, one of the most fun ways to identify a moth or a butterfly is after it's turned into an adult!
WHAT YOU WILL NEED
• A butterfly house (it's best to purchase a high-quality one online first)
• An ample supply of fresh leaves
• A water source for the leaves, but one that the caterpillar can't enter (pill bottles work great)
WHAT TO DO
When you find a caterpillar, immediately note what plant you find it on; if it's on the ground, note the plants that are nearby. These are likely the caterpillar's host plants (the ones it needs to eat to become an adult). If you're unsure of which plants to gather, bring in a sampling of several different kinds. If you want an exact answer, post a photo of your caterpillar on a site like BugGuide.net and ask for help on finding out what it eats.
Once you have the caterpillar and the host plants, you'll need to ready your butterfly house. Many common commercially available houses are mesh cylinders.
First, you need to prepare your water source for the host plants. Do not provide a waterdish or another water source at the bottom of a butterfly house; caterpillars drown easily. Instead, have a parent help you drill or cut a hole in a small container like an old pill bottle and put the plant stems into the water source (but make sure the caterpillar can't fall into the water and drown).
Over time, you'll need to replace the leaves, and clean up its poop (known as frass). Eventually, the caterpillar will begin to pupate. This is a fascinating process in its own right, but watching one emerge is even better.
Of course, things can go wrong when collecting wild caterpillars. Parasitic wasps often attack/infest caterpillars. If your cage is dirty, they can get sick, and if you find a caterpillar in late summer, it might be one that overwinters as a pupa. Still, with practice, there's a good chance that you'll get to watch moths and butterflies all summer long if you work at it hard enough!
Backyard Science & Discovery Workbook: Midwest is part of seven region-specific workbooks that include California by George Miller, Northeast by Susan Schenck, Pacific Northwest by Robert Niese, Rocky Mountains by George Miller, South by Erika Zambello, and Southwest by George Miller. The books are complimented by the Insects & Bugs Backyard Workbook by Jaret C. Daniels, and the Rock & Minerals Backyard Workbook by Dan R. Lynch.
If you enjoyed this post, sign up for our newsletter now and order your Backyard Science & Discovery Workbook: Midwest here.