Let's Discover the Birds of Florida
Posted on
October 9, 2020
Learn to identify birds in Florida, and make bird-watching even more enjoyable with Stan Tekiela's famous Birds of Florida Field Guide. This book features 140 species of Florida birds organized by color for ease of use. Do you see a yellow bird and don't know what it is? Go to the yellow section to find out.
This new edition includes more species, updated photographs and range maps, revised information, and even more of Stan's expert insights.
Here are some amazing birds to watch out for:
The Crested Caracara is the largest member of the falcon family. The bird is often found in the open savanna or in tropical scrubland habitat.
The Crested Caracara mainly feeds on roadkill, often coursing (patrolling) at low elevations on roads at sunrise. It is very different from all other raptors in North America, using its legs to stalk and chase prey such as mice.
It is often seen in the company of vultures, but it glides on flat wings, unlike vultures in flight, which hold their wings upward in a semi-V shape. At night it roosts in trees.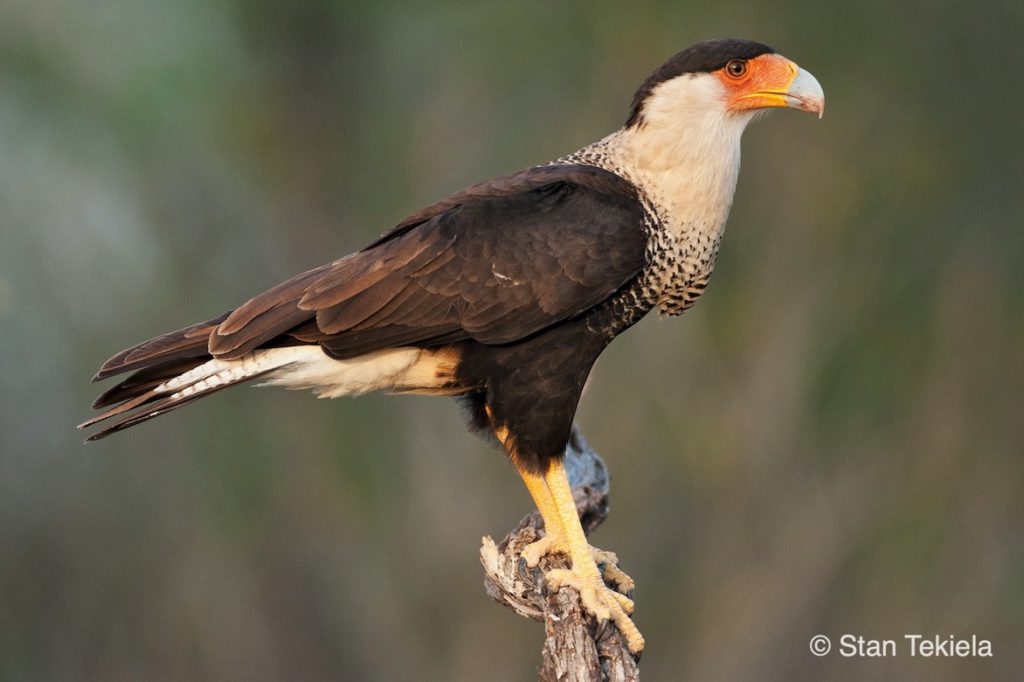 One of Florida's most dramatic-looking birds, commonly seen in the Everglades, is the Purple Gallinule. The bird uses its extremely long toes to walk on floating vegetation in freshwater and saltwater marshes, where it hunts for grasshoppers and other insects, seeds, and frogs. Family groups stay together, and the first brood sometimes helps raise the second. The Purple Gallinule moves out of northern Florida during winter and can be seen year-round in the southern part of the state. Individuals are known to wander well north of Florida.
Found in central Florida and nowhere else, the Scrub-Jay is well known for its cooperative breeding system in which the young from one year help to raise the young of the new year. The bird has a wide variety of raspy, hoarse calls and prefers a transitional scrubby habitat, usually of oak trees around 10 feet (3 m) tall with some openings. The Scrub-Jay is not a backyard bird, like the Blue Jay. Sadly, it is a threatened species and its population has declined up to 90% over the last century due to habitat loss.
So grab Birds of Florida Field Guide for your next birding adventure―to help ensure that you positively identify the many birds that you see.
About the author: Naturalist, wildlife photographer, and writer Stan Tekiela has written more than 175 field guides, nature books, children's books, wildlife audio CDs, puzzles, and playing cards, presenting many species of birds, mammals, reptiles, amphibians, trees, wildflowers, and cacti in the United States. With a Bachelor of Science degree in Natural History from the University of Minnesota and as an active professional naturalist for more than 25 years, Stan studies and photographs wildlife throughout the United States and Canada. He has received various national and regional awards for his books and photographs.
Also a well-known columnist and radio personality, his syndicated column appears in more than 25 newspapers, and his wildlife programs are broadcast on a number of Midwest radio stations. Stan can be followed on Facebook and Twitter. He can be contacted via www.naturesmart.com.
For more stories about wildlife and nature, sign up for our newsletter now!