Award-Winning Children's Books
Posted on
August 10, 2016
The Mom's Choice Awards® (MCA) evaluates products and services created for children, families, and educators. Around the world, parents, educators, retailers, and members of the media look for the Mom's Choice Award mother-and-child Honoring Excellence seal of approval when selecting quality products and services for children and families.
We are thrilled that this year alone, three of our children's books are gold award-winning books.
We have a bit of a humble-brag here on the blog. Superhero expert (and one of the illustrious members of our Adventure Publications blog team) Ryan Jacobson joined forces with award-winning naturalist and photographer Stan Tekiela to spotlight 13 North American animals and their astonishing super powers. Can you say "laser eyes?" Any interest in "super speed?" It's an amazing book and we're all honored that the Mom's Choice Award committee agrees with us!
The Mom's Choice Awards® named Super Animal Powers: The Amazing Abilities of Animals by Ryan Jacobson with photography by Stan Tekiela a gold award recipient ahead of publication.
"We are happy to award deserving books like Super Animal Powers," said Dawn Matheson, Executive Director, Mom's Choice Awards. "Our panel of evaluators really felt that this clever book merited a place on our list of the best in family-friendly products that parents and educators can feel confident in using."
Travis Rosenberry, the Library Director of The Peregrine Fund, a national leader in raptor research and education, says this about Maggie the One-Eyed Peregrine Falcon: A True Story of Rescue and Rehabilitation, another gold award-winning book: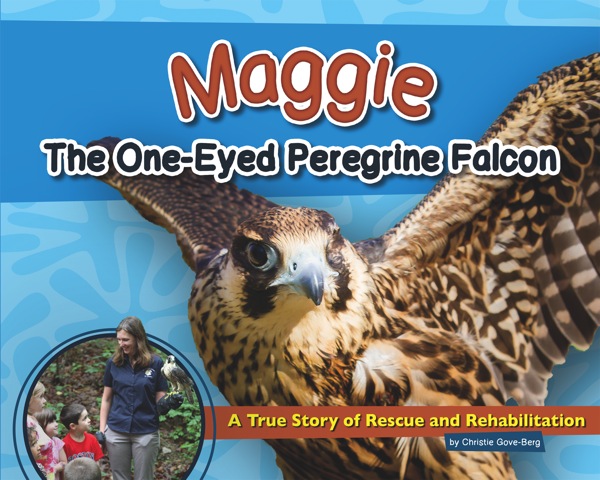 "I love a book that causes me to stop and think for a minute about my surroundings, and that is exactly what Maggie the One-Eyed Peregrine Falcon does. It is an excellent account of the challenges that some of our wildlife have to deal with, living in urban environments. As I watch a resident pair of Peregrines each spring in my home city, I will always think of Maggie. The photos documented her journey so well that even small children will be able to follow her along in such a way as to bring understanding. Certainly more than just a children's picture book, the last section answers many questions that I am sure older children and even adults will find very interesting. Too many authors are satisfied with a few cute pictures and a simple story, but Christie has obviously set out to educate anyone who reads this book, or has it read to them, and inspire them to look up and think about the difficult lives that our urban wildlife experience. A book that deserves to be in every grade school classroom and even grandma's house!"
Teaching kids about nature is the focus of another award-winning book. Young readers will learn to tell which animals have visited the area by the signs left behind: tracks, food, and, yes, even scat. Let kids giggle as they learn to appreciate mammals and the natural world.
We are thrilled that Critter Litter: See What Critters Leave Behind is also the recipient of a Gold Mom's Choice Award, and we invite you to check out the testimony of Jennifer Wolf, of the Beaverton City Library:
"Eww is right! This lift-the-flap book presents a glimpse into the digestive systems of 13 North American mammals. Each animal is given its own spread featuring a brief introduction about where to find it and how to distinguish it from other creatures (tracks, physical characteristics). On each spread, the text is accompanied by captioned photographs, simple shadow illustrations of footprints, and, under the flap, a small photo of the animal's excrement. The use of color photographs to show real droppings sets Tekiela's work apart from other poop books, as most rely solely on illustrations of the waste matter. A simple layout with short sentences and descriptive wording makes this book easy to read aloud and to share with a group or one-on-one. VERDICT: A great resource for budding ecologists or any young reader going through the feces phase."